Star Ratings
| | |
| --- | --- |
| | Amazing |
| | Well good |
| | Fun |
| | Meh |
| | Rubbish |
| | | |
| --- | --- | --- |
| Another Year | | |
Written by Selina Pearson
Tuesday, 02 November 2010 07:31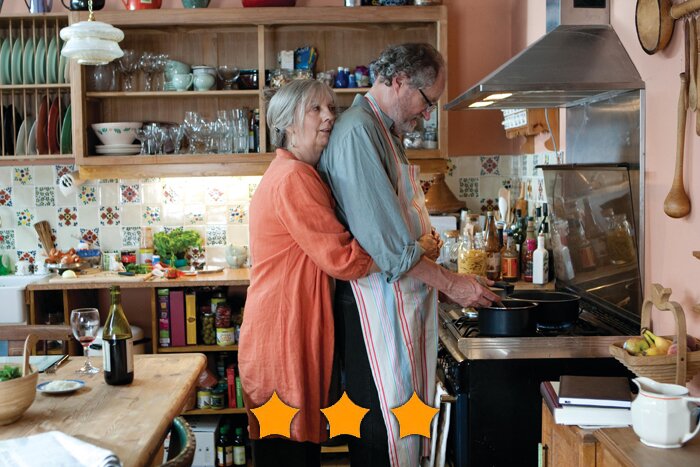 Director: Mike Leigh
Cast: Ruth Sheen, Jim Broadbent, Lesley Manville, Peter Wight
Certificate: 12A
Renowned film-maker Mike Leigh follows up his uncharacteristically cheery Happy-Go-Lucky with Another Year, a good-natured kitchen sink drama, depicting a year in the life of two sixty-somethings, Gerri (Sheen) and Tom (Broadbent).

You couldn't meet a more content couple than Tom and Gerri. Their time spent at home and in the allotment is split up into four seasons, each segment consisting of a couple of scenes from the couples' life. In each tableau we see them interacting with those around them.

Much of the action focuses on the relationship of the couple with Gerri's colleague and friend, Mary (Manville). She's initially bright and bubbly, but it only takes a few drinks (and she has those few drinks a lot) to dissolve her thin veneer of cheer. A desperately lonely middle-aged woman, her clinging neediness is tolerated with great empathy by Gerri and Tom. But she descends inexorably into absorbed self-pity, testing the patience of everyone - including us.

Tom's old pal, Ken (Peter Wight), is bitter and lonely man, edging towards retirement but resenting his younger bosses. He's depressed and stuck in a rut, tied to a job he loathes. His deep-fried diet and shunning of vegetables illustrate his stubbornness and foreshadow what must undoubtedly be his fate.

We also get drawn in to Tom and Gerri's family: their 30-year-old son, Joe, shares his parents' pleasant disposition with a good humour and relaxed attitude. Other family members don' t have such easy natures, their encounters evoking a realism characteristic of Leigh's work. Few writer-directors can create characters as rich and flawed. These qualities make the characters more sympathetic; it's the audience's empathy that keeps them involved in the film.

Unfortunately, the limitations of the set-up let it down; the short segments depicted for each season don't enable large amounts of story to develop, the realistic dialogue sometimes feels mundane, and Gerri is especially patronising when she sinks into counsellor mode.

At times, Mike Leigh ably turns dull scenarios into something gentle and engrossing. It's testament to the helmer's talent that Another Year is so likeable and confident. It's a good Mike Leigh, but not one of his masterpieces.

VERDICT

Allotments, oboes and awkward conversations. Another Year is two hours of everyday drama, but you couldn't spend it with a nicer couple.
Your rating
( 1 Vote )
Tags:
another year
jim broadbent
lesley manville
lff
london film festival
mike leigh
peter wight
review
ruth sheen