Star Ratings
| | |
| --- | --- |
| | Amazing |
| | Well good |
| | Fun |
| | Meh |
| | Rubbish |
| | | |
| --- | --- | --- |
| The Death and Life of Charlie St Cloud | | |
Written by Ivan Radford
Friday, 08 October 2010 17:23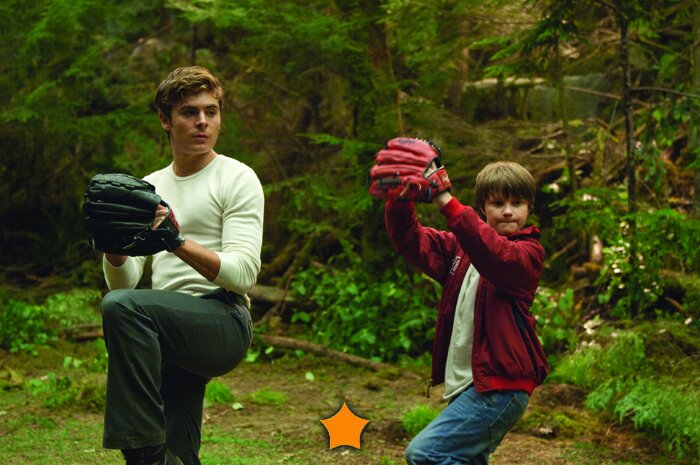 Director: Burr Steers
Cast: Zac Efron, Charlie Tahan, Ray Liotta, Amanda Crew
Certificate: 12A
The High School Musical heartthrob tries to top Time Traveller's Wife with this slushy piece of drivel that should drop the third and fourth words of its title. Charlie St Cloud (Efron) is a lovely young man. He has a brother, Sam (Tahan), who he likes to punch a lot. He tells his mother how beautiful she looks. He sails boats fast, faster than a black man. He even punches a black man in a bar too. Then one day, he and little Sammy get killed in a car crash. Sadly, the movie doesn't stop there.

Brought back to life by the magical hands of Ray Liotta (a paramedic who looks like he's seen one too many ghosts, or one too few rehab centres), Charlie does the only thing a young man can do in his situation: get a job in a cemetery and start talking to dead people. Committed to his promise to meet his annoying dead brother at sunset every day to play baseball, Charlie is less saddled by emotional baggage and more chained to the clingiest corpse in cinema history.

And so the film spends a lot of time in a sun-bathed field with a ball, a glove and a clearly mental twenty-something. In fact, virtually the whole thing takes place at sunset, giving events the kind of orange glow you associate with sentimental garbage. Director Burr Steers ladles golden syrup onto the screen until no more sugar will stick. It's prettily shot, but that's part of the problem. It's like watching an advert for breakfast cereal. A breakfast cereal that makes Zac Efron take his clothes off.

When he isn't busy stripping or going all Mr Darcy in the nearby lake, Efron does his best to do some earnest emoting. He's quite likeable as an actor, but it has nothing to do with the script. It's because of his eyebrows. Shave them off and he loses his acting powers. He waggles those darts of charisma all over his face, but even they can't redeem this stupid pile of mush. And that's without mentioning the existence of Tess Carroll (Crew), a young bereaved girl he meets by a tombstone.

Trying to move on from the past without ignoring his friends from the other side, you wonder when exactly Charlie St Cloud will snap. Living on his own in a cabin in the woods, he lures females there with the offer of beer or wine and then shows them boxes of things that belong to dead children. Then he chases them around a graveyard in the dark before taking his clothes off. If this wasn't such a soppy 12A, Charlie St Cloud would have all the makings of a solid slasher movie. You may want to kill yourself halfway through, but it's not worth an eternity of playing catch with these people.

VERDICT 

Mawkish with an extra helping of mawk, The Death and Life of Charlie St Cloud is a big chocolate box of a movie. And the chocolates are filled with vomit.
Your rating
( 1 Vote )
Tags:
amanda crew
burr steers
charlie tahan
eyebrows
high school musical
iflicks
review
the death and life of charlie st cloud
zac efron