Star Ratings
| | |
| --- | --- |
| | Amazing |
| | Well good |
| | Fun |
| | Meh |
| | Rubbish |
| | | |
| --- | --- | --- |
| The Last Exorcism | | |
Written by Ivan Radford
Friday, 03 September 2010 08:25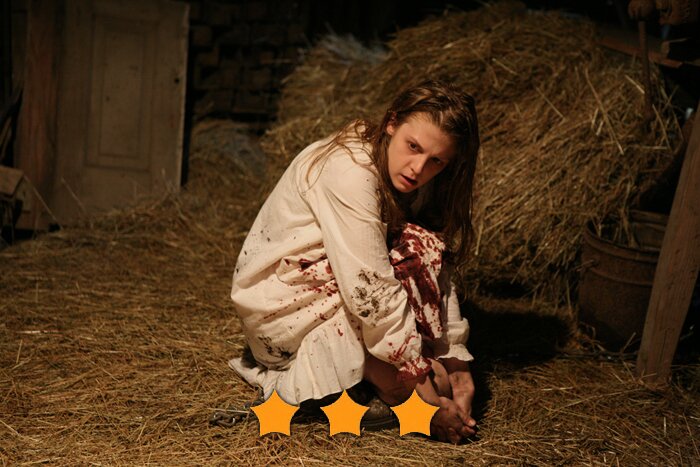 Director: Daniel Stamm
Cast: Patrick Fabian, Ashley Bell, Louis Herthum
Certificate: 15
Trailer
Handheld horror rears its head once again with The Last Exorcism, a faux-documentary set in a post-Exorcist world. But while the Eli Roth-produced film is pitching itself as a cross of William Friedkin's classic and The Blair Witch Project (or Paranormal Activity, depending on who's doing the pitching), that kind of sells it short: The Last Exorcism is very much its own beast.

Things start off brilliantly in the opening 30 minutes, slowly introducing us to the key characters through the fly-on-the-wall format. Reverend Cotton Marcus (Fabian) is a priest with a cynical eye for showmanship. The kind of smooth talker who could shout out a recipe for banana bread mid-sermon and still get a "Hallelujah!" from his congregation.

Cotton's been doing exorcisms since the age of 10. As you do. Not that he believes in any of that possession stuff these days. Which is why he's got a camera crew following him around on his last day on the job, just to prove it's all a sham. So he travels out to the sticks, to the backwater farmyard of Louis Sweetzer (Herthum), who's convinced his daughter Nell (Bell) is possessed by the Devil.

At first, it's mostly played for laughs as Cotton delicately lays wires and tricks around the room before inviting the family in. Praying, swaying and playing spooky tracks on his hidden iPod, Marcus gets the bed shaking as he works his magic. He even has a Fisher Price My First Book of Demons. Every now and then, he looks at the camera, giving us a knowing wink. It's only once it's all over - and we're completely on his side - that the bad stuff starts to happen.

Daniel Stamm keeps his burn set to slow for the most part, never answering the question of whether it's a demon or something a little closer to home that's scrambling Nell's brain. Bringing out flashes of violence and animal cruelty as the tense minutes tick by, the real fear comes from giving his cast the bulk of the workload; we don't have lots of make-up and effects to suggest Nell might be possessed. Instead, we get her darting eyes, double-joints and disturbing little smiles. All of which freak you the hell out.

Opposite the crazy girl, Patrick Fabian is impressive as the skeptical man of the cloth - falling in and out of faith as things escalate, his fast-talking front soon drops, carrying us along with his committed performance. Combined with the very shaky camera (none of Paranormal's static timelapse shots), Daniel Stamm does spooky well with such a low budget, despite some minor inconsistencies in the film's narrative framework (a few odd cuts to a second camera here; an effective, if impossible, orchestral score there).

But sadly The Last Exorcism builds up to a slightly duff ending. It's not that it isn't expected, but more that it almost cheapens the chills that have gone before by switching the film's focus. It gives a great chance for some final character progression, but something more conventional would have left the pared-down storyline in tact. As it is, you'll be scratching your brain more than sleeping with your eyes open.

VERDICT

The Last Exorcism blends belief, doubt and humour to produce some seriously scary cinema. 86 great minutes, let down by a dubious 1.
Your rating
( 1 Vote )
Tags:
ashley bell
blair witch project
daniel stamm
eli roth
exorcism of emily rose
fly-on-the-wall
handheld
last exorcism
louis herthum
paranormal activity