Star Ratings
| | |
| --- | --- |
| | Amazing |
| | Well good |
| | Fun |
| | Meh |
| | Rubbish |
| | | |
| --- | --- | --- |
| The Switch | | |
Written by Ivan Radford
Friday, 03 September 2010 08:17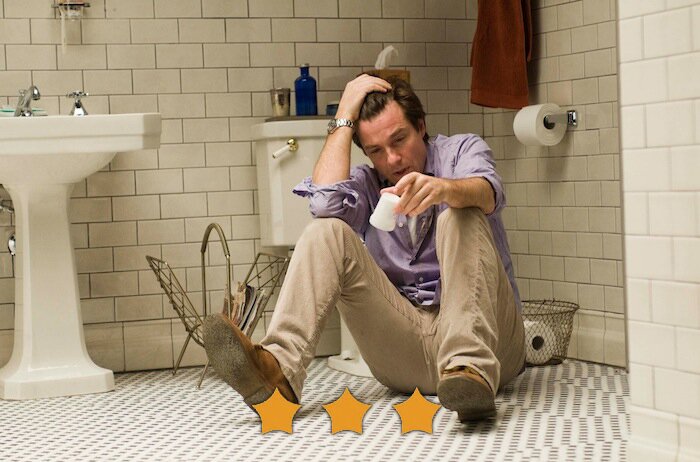 Directors: Will Speck, Josh Gordon
Cast: Jason Bateman, Jennifer Aniston, Thomas Robinson, Jeff Goldblum
Certificate: 12A
Trailer
Who's up for seeing a film about fertilisation called The Baster? Thought not. Good thing, then, that the title got changed to something more palatable. The Switch is a romantic comedy about Jennifer Aniston artificially inseminating herself with some guy's sperm. Still up for seeing it? Well, you should be: unlike J-Lo's The Back-Up Plan, this is actually quite amusing. Not the sperm bit, though. That's still gross.

Kassie (Aniston) is getting on to the 40-year mark. She's got no hubby, no baby and no time left on the old body clock. What she does have is BFF Wally (Bateman), a neurotic and lonely Wall Street worker who carries a long-term torch for her. When she plans to get herself preggers using a randomer's seed, he naturally disapproves. She, in turn, decides to go ahead anyway.

Come the donating party, we get to meet the lucky life-giver: Roland (Patrick Wilson), an over-emotional sporting man with a receding hairline to match his tiny brain. But chaos ensues when Wally gets drunk and spills the sample down the sink. To solve the problem, he promptly conjures up another batch. Yes, this movie is a 12A.

Skip forward seven years and Sebastian (Robinson) has grown up in his father's image. He hunches, he mumbles and looks out on the world with sad little eyes that Kassie adores. Roland, who she's now getting jiggy with, isn't so keen. But when Wally meets Sebastian, sparks start to fly. The kind of sparks that make this formulaic movie work.

Forget Bateman and Aniston – the real chemistry is between him and young Thomas Robinson, the two echoing each other's downbeat vocals with an eerie cuteness. As Sebastian lists off a ream of illnesses he probably has, Wally mentions he's often battled with hypochondria. "What's that?" "It's when you think you have diseases that you don't." "I think I have that," sighs Sebastian, all negative and adorable.

But the best turn of the film goes to Jeff Goldblum, who plays Wally's friend Leonard. Delivering every line in the trademark Goldblum style, he steals the show with his inspired comic timing. He even gets to finally show the world his piano skills on the big screen. Put Jeff in a room with a performer like Bateman and you'll always end up with something worth watching. Even if Jennifer Aniston's in it.

As for everyone's favourite actress from Friends, Aniston is actually quite likeable. Allan Loeb's script, based on Jeffrey Eugenides' short story, paints everything from the male perspective, leaving her little to do with what soon becomes a supporting role. But hey, at least for once she's playing a character that isn't a carbon copy of Rachel Green. Long may that trend continue. As for cinema's semen trend? That'll hopefully stop sometime soon.

VERDICT

Thanks to Goldblum and the young'un, the year's second sperm donor rom-com leaves no embarrassing stains. The Switch is ill-conceived but entertaining.
Your rating
( 1 Vote )
Tags:
arrested development
friends
jason bateman
jennifer aniston
josh gordon
patrick wilson
review
rom-com
sperm donor
the switch
thomas robinson