Star Ratings
| | |
| --- | --- |
| | Amazing |
| | Well good |
| | Fun |
| | Meh |
| | Rubbish |
| | | |
| --- | --- | --- |
| The Crazies | | |
Written by Ivan Radford
Friday, 26 February 2010 14:30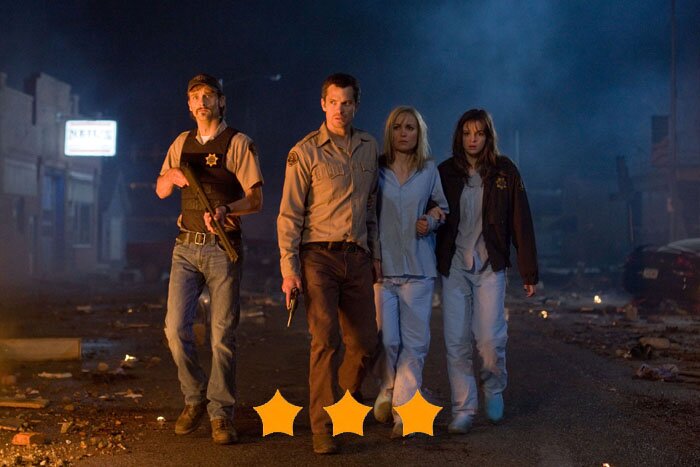 Director: Breck Eisner
Cast: Timothy Olyphant
Certificate: 15
Trailers/Clips
You've got to feel sorry for Timothy Olyphant. If his evil plans aren't being thwarted by Bruce Willis, he's a mass-produced hitman with a barcode and no personality. Now, when he finally gets the chance to play a human lead - a good guy, no less - his town gets wiped out by a crazy virus. Literally, it makes people go crazy. Then kill people. The Crazies like killing people. And director Breck Eisner likes showing it.
Welcome to Marsh Ogden, the happiest town in America. That is, until the residents take a turn for the funny, laughing uncontrollably, staring blankly at nothing and burning down their own houses. Sheriff David Dutton (Olyphant) thinks he knows what's causing it, but when the Mayor refuses to cut off the town's water supply, the population are pretty screwed.

A military move to contain the infection doesn't really help. Although it does ramp up the tension. And it also gives us a cinema first; a valid reason for no-one getting a mobile phone reception. That's about as intelligent as it gets, though.

A remake of George A Romero's film of the same title, The Crazies is a by-the-numbers update; blood gets spattered, shotguns get wielded. There's even a bit in a supermarket. It's all done before but it's done rather well here, as Eisner earns some solid shocks and jumps. Swapping Romero's themes for a modern shoot-fest, The Crazies soon opts for gung-ho Army hunts over claustrophobic villager tension. But as the second half loses some of the initial eerie edge, the Sheriff's fight for survival continues to entertain.

The cast helps a lot with that. Timothy Olyphant has a good screen presence and his slightly off-the-wall deputy sits alongside him well. The zombies may not have the best make-up job ever, but give Timmy a gun and he definitely looks the part.

VERDICT

Nowt special but far from mediocre, The Crazies gives you good scares for your money. And a lot of Timothy Olyphant. He's good for your money too.
Your rating
( 1 Vote )
Tags:
george a romero
iflicks
ogden marsh
remake
review
romero
the crazies
timothy olyphant
zombie