Star Ratings
| | |
| --- | --- |
| | Amazing |
| | Well good |
| | Fun |
| | Meh |
| | Rubbish |
| | | |
| --- | --- | --- |
| Solomon Kane | | |
Written by Ivan Radford
Friday, 19 February 2010 17:09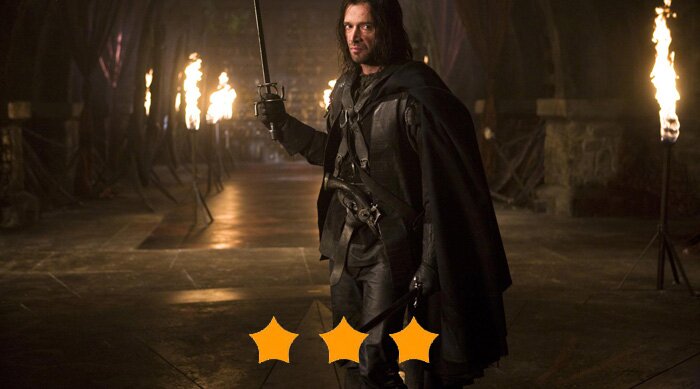 Director: Michael J Bassett
Cast: James Purefoy, Jason Flemyng, Pete Postlethwaite
Certificate: 15
Think swords and sorcery and you think Viggo Mortensen. Maybe Hugh Jackman. Think Bassett and you think Liquorice Allsorts. But this fantasy adventure, based on Robert E Howard's novels from years back, isn't exactly your average creature. Sure, there's swords and sorcery aplenty. But there's also blood, violence, and West Country accents.

We first meet Solomon Kane (Purefoy) in full swing as Captain, mid-siege against dark forces. The aim? To get as many riches as possible. And kill a lot of folks too. His army succeeds, but Kane is confronted by the Devil's Reaper, who tries to destroy his damned soul as payment for his life of sin and greed. Kane declines, fleeing for a quite life of peace in a monastery. But it's only a matter of time before revenge and evil witchcraft call him back to what he does best: slaughtering everyone who crosses his path.

Ok, so not everyone. Not quite. There's a humble Puritan (Postlethwaite) and his family - including a pretty and innocent daughter - who put Kane on the path back to bloodshed. Otherwise, it's all fair game for the fearsome warrior; knives, axes, fists, he'll use anything to clobber anyone to death. And he'll do it in the most gory way possible.

The brutality is all part of Bassett's charm. A rough and ready piece with grit aplenty, it never shies from spilling the red stuff all over England's bleak and grey hills. And it does it without relying on expensive CGI - the visual effects are wonderfully shoddy in a likeable way (a brilliant hall of mirrors sequence certainly stands out). As its charismatic lead, Purefoy portrays Kane's anguish and anger with textbook style, bringing gravitas and guts to a largely unfamiliar role. He's so genuine with his chiselled looks and stubbly face, even his native accent doesn't distract from the drama. If anything, it adds to it.

The only sad part is the unoriginal script. Writing Robert E Howard's character into a bog standard origins story, it struggles to set up a franchise with a future. Bringing in a typical bit of family melodrama is perhaps a mistake, but it's one that redeemed by the low-budget feel of this raw, enjoyable romp. There's no major studio here, and Purefoy may not be Viggo Mortensen, but by heck he can cut a man's head off just as well. He even wears a hat and a cape. Bassett's beginnings may be slightly forced, but if it means more of this, there's no point complaining.

VERDICT

Solomon Kane is small in scale but large in ambition; what it lacks in originality it makes up for with bucket-loads of blood. A sequel? Hell yes.
Your rating
( 1 Vote )
Tags:
conan
fantasy
iflicks
james purefoy
review
robert e howard
solomon kane
west country