Star Ratings
| | |
| --- | --- |
| | Amazing |
| | Well good |
| | Fun |
| | Meh |
| | Rubbish |
| | | |
| --- | --- | --- |
| Precious: Based on the Novel Push by Sapphire | | |
Written by Ivan Radford
Friday, 29 January 2010 17:30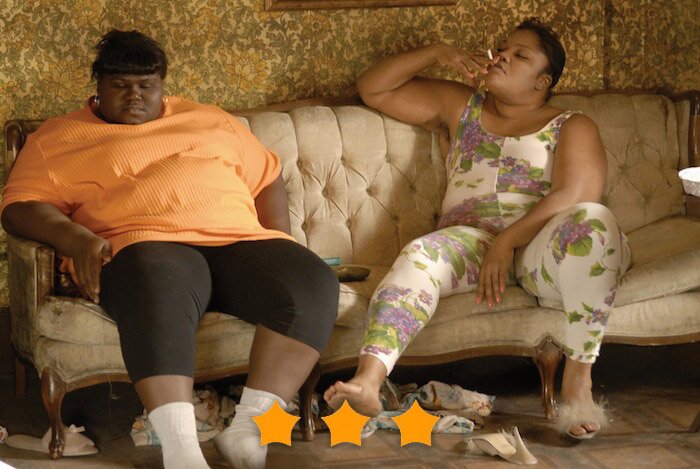 Director: Lee Daniels
Cast: Gabourey Sidibe, Mo'Nique, Paula Patton, Mariah Carey, Lenny Kravitz
Certificate: 15
Life is hard when you come from a broken home. Especially one where your mum ritually beats you, your dad raped you and you're vastly overweight. For Precious (Sidibe), this is life. Then, to top it all off, she discovers she's pregnant with her father's baby again. So she gets kicked out of school and into 'alternative' education, where she can become an educated woman - all is not lost, it seems, because she's good at Maths. Can you feel your heart warming yet?

It may take a while, but those strings are already being tugged from the film's opening frame. As Precious gets bullied in the street, her face shoved into the mud, she daydreams of being famous - a star. Cutting away to flights of fantasy, Lee Daniels is keen to show us the hopes of our young protagonist. The hopes that are repeatedly crushed by a mother (Mo'Nique) who chases her up the stairs with a frying pan and hurls abuse at her in between eating bits of chicken. But just when all happiness is lost, in steps socially conscious teacher Ms Rain (Patton). She's a moral icon who encourages Precious to read and write down what she feels. She's also sexy and thin. Still not feeling those heartstrings?

The problem with Precious is that it can't shake its Oscar nomination; playing on sentimental dramatic cliches (and sidestepping weight issues), it all feels a bit derivative - perhaps unfairly so. The performances by Gabriel Sidibe and the wonderfully malicious Mo'Nique are undeniably affecting, but it reeks just a tad of awards baiting. It doesn't help that every time Geoffrey Fletcher's screenplay steps into a classroom, it suddenly turns into Sister Act 2 - one student ribs another for confusing the words "incest" and "insect", laughing out loud. Wasn't that a serious source of trauma 10 minutes ago?

It's an odd jump in tone, which must come down to an attempt at being positive and life-afflirming. All that Oscar-friendly stuff. But all it does is blunt the impact of a harrowing and well-acted story. Let's not even talk about Mariah Carey's turn as a social worker. Or the fact that Oprah Winfrey's name is all over the end credits.

VERDICT

Put-upon and pushed right down, Precious' story is powerful, moving stuff. Exactly what Oprah Winfrey would have wanted.
Your rating
( 2 Votes )
Tags:
award
bafta
lee daniels
novel
oscar
precious
push
review