Star Ratings
| | |
| --- | --- |
| | Amazing |
| | Well good |
| | Fun |
| | Meh |
| | Rubbish |
| | | |
| --- | --- | --- |
| Edge of Darkness | | |
Written by Selina Pearson
Friday, 29 January 2010 09:38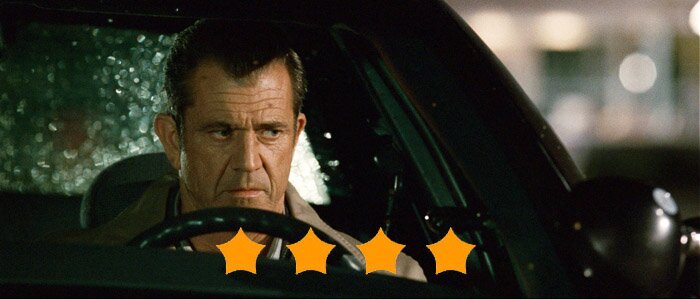 Director: Martin Campbell
Cast: Mel Gibson, Ray Winstone, Bojana Novakovic
Certificate: 15
Trailers
Tom Craven (Gibson) is a widowed Boston homicide detective. Having raised his daughter Emma (Novakovic) on his own, he thinks the world of her. When she returns home, everything is hunky dory. Until she gets blown through his front door with a shotgun. Cue gritty revenge thriller.

While the cops think that daddy Craven was the intended target for a con with a grudge, our protagonist thinks different. He digs around, talking to the slimy suit running Northmoor, the company Emma worked for doing "Top Secret Research". Did that have big flashing lights around it?

Searching through his daughter's phone, Papa Craven finds a shifty looking boyfriend ("you wouldn't like him") and an oddball bunch of inept tree-hugging activists. But when the enigmatic Brit Darius Jedburgh (Winstone) questions him about Emma's death as well, he realises he's onto something. Jedburgh has been brought in by unnamed entities in order to clean up any loose ends, a sort of clandestine pooper-scooper. Who carries a gun.

The film is based on the 1985 BAFTA winning TV series, also directed by Martin Campbell (Casino Royale). Given this context and the film's content, comparisons with State of Play are inevitable. And it holds its own against Kevin McDonald's movie well. The action has been moved to Boston, so it seems only fitting that The Departed's William Monohan should script this gripping shoot-fest. In fact, there are a lot of guns. Even though guns are illegal in Massachusetts - as Jedburgh gruffly points out, everything's illegal in Massachusetts.

Full of serious faces and shoot-outs, Edge of Darkness could not have been cast better. We need a Dad out for revenge - what's Mel Gibson doing? Opposite him, Ray Winstone is fantastic as the shifty hitman. Throw their conversations in with the expert direction of Campbell and you've got one heck of a film.

VERDICT

A watchable mesh of The Departed and State of Play, Edge of Darkness is a gripping revenge thriller that blasts you through the front door with a shotgun. Satisfying stuff.
Your rating
( 1 Vote )
Tags:
casino royale
daughter
departed
edge of darkness
father
iflicks
martin campbell
mel gibson
ray winstone
remake
revenge