Star Ratings
| | |
| --- | --- |
| | Amazing |
| | Well good |
| | Fun |
| | Meh |
| | Rubbish |
| | | |
| --- | --- | --- |
| 44 Inch Chest | | |
Written by Ivan Radford
Friday, 15 January 2010 13:50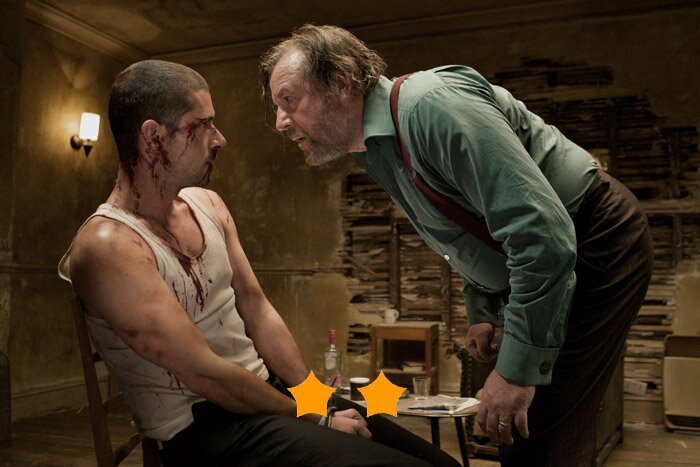 Director: Malcolm Venville
Cast: Ray Winstone, Tom Wilkinson, John Hurt, Stephen Dillane, Ian McShane
Certificate: 18
Trailer
"You listen to me. You're alright, alright? You're alright. Right? Listen to me. You're a good man. Got that? Never forget that. Cling to that. You've been wronged. You're in the right. Remember that. Right? Right." This is the kind of dialogue that knows it's dialogue. The kind that walks a line between cool and crass. The kind of dialogue that needs to be spoken by top-class actors in order to work. Fortunately, they don't come much classier than Ian McShane, who delivers that line with killer timing. The rest? Well, it's all fucking swearing, isn't it.

Colin (Winstone) is a married man whose wife has been fucking another man. He isn't married. He's tied up in a wardrobe. Because Colin's mates are fucking pissed. Fucking pissed at the fucker who fucked his wife. The wife fucker. So gay gangster Meredith (McShane), shifty geezer Mal (Dillane), mummy's boy Archie (Wilkinson) and Old Man Peanut (Hurt) do what's fucking right. They fuck this guy up. 

Stuck in a dingy room in a dirty building, they stand around swearing like there's no tomorrow. If there was a tomorrow, they'd fucking spend that swearing too. Because this isn't just a British revenge flick - this is a film from the writers of Sexy Beast. The writers who write like people fucking talk. People who talk and say fuck a lot anyway.

Spat out with relish by its top-notch cast, the words fizzle round the frame with artful leaps - Lovejoy and Hurt in particular stand out as the best of the bunch. Reeking of a tense night at the theatre, it owes a lot to Mamet and Pinter. But while the profanities playfully poke at your eardrums, the plot doesn't really go anywhere. Director Malcolm Venville does his best with the single location, and the editing matches the script well. But when they put in fantasy sequences and flashbacks you can see they're running out of ideas. A rambling monologue about love and marriage doesn't help convince you otherwise.

Still, there's a fucking great atmosphere. The atmosphere is fucking great. What an atmosphere it is. The atmosphere it has? It's great. Fucking great. But take out all the swearing and you're left with little else. It's a bit fucking pointless really. You get to the end and you think "what's the point?" And the point is that there isn't a point. It's all a bit pointless. As for Colin being in the right? He pushed his wife through a glass window when she asked for a divorce. That's not fucking right. Right?

VERDICT

Gleefully profane and deliberately dark, 44 Inch Chest is well-spoken but poorly structured - say fuck all you like, but this beast is far from sexy.
Your rating
( 1 Vote )
Tags:
44 inch chest
ian mcshane
iflicks
malcolm venville
ray winstone
review
sexy beast
tom wilkinson
william hurt