Star Ratings
| | |
| --- | --- |
| | Amazing |
| | Well good |
| | Fun |
| | Meh |
| | Rubbish |
| | | |
| --- | --- | --- |
| Daybreakers | | |
Written by Selina Pearson
Wednesday, 06 January 2010 16:30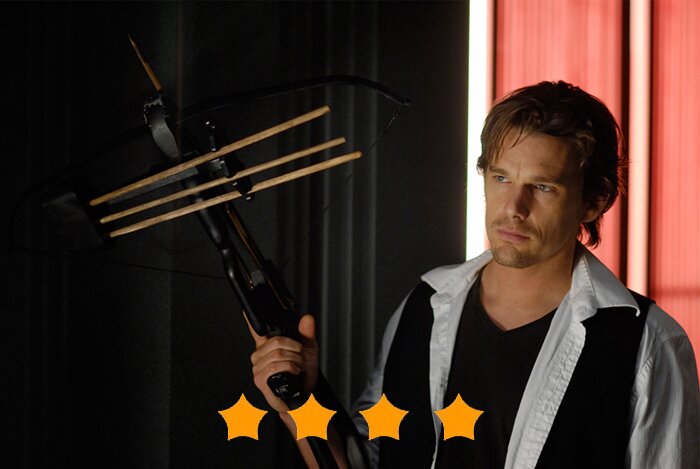 Directors: Michael Spierig and Peter Spierig
Cast: Ethan Hawke, Sam Neill, Willem Defoe and Claudia Karvan
Certificate: 15
In the not-too-distant future, vampirism is a disease, which has infected 95% of the human race. In 10 years, the whole planet has adapted to the vampiric life. Society tends towards nocturnal activity, though modifications like light-proof plus-15s connecting buildings and heavily filtered cars enable day-time activities.

This weird, dysfunctional system has shuffled along, hunting and harvesting the remaining humans for blood. When Charles Bromley (Neill), head of the evil Bromley Marks corporate blood-farm, announces to his board that there is only enough blood to last to the end of the month, the desperate search for a blood substitute continues in earnest, lest the entire population turn into hideous blood-starved bat-creatures ("subsiders").

Guilty veggie vamp Edward Dalton (Hawke) is a smarty-pants haematologist working for said Evil Corporation; he is on the cutting edge of blood-substitute research, despite the fact that whole concept of vampirism disgusts him. The appearance of a band of humans, including Audrey (Kavan) and ex-vampire Lionel, AKA Elvis (Defoe), gives him another option: the cure. While the blood shortages cripple the third world and make monsters of the rest, the cure option isn't favoured by businessman Bromley ("Immortality is the miracle").

This is a new take on old-fashioned vampires - reminiscent of Blade - at times seeing them deteriorate to the level of zombies in their bloodlust. On the surface their world is bright and shiny, evocative of Bladerunner, with its seething underground of hideously deformed beasts. The vamps themselves are the kind with distinct aversions to sunlight and wooden stakes - not those rubbishy, romantic, pretty-boy, sparkly ones. It's highly enjoyable, bitey, bloody, gory fun, with Willem Defoe almost stealing the film.

VERDICT

A dystopian vampire flick set in the future? You had me at dystopian.
Your rating 
( 2 Votes )
Tags: