Movie Cupcakes
| | | |
| --- | --- | --- |
| Christmas Movie Cupcakes: Die Hard | | |
Written by Ivan Radford
Friday, 07 December 2012 00:24
Oh, the weather outside is frightful... and you need some emergency Christmas foodstuffs to feed the terrorists who have just invaded your workplace and are holding everyone hostage. You ask for miracles. I give you: Die Hard cupcakes.
Read more...
| | | |
| --- | --- | --- |
| Christmas Movie Cupcakes: The Nightmare Before Christmas | | |
Written by Ivan Radford
Tuesday, 04 December 2012 00:04
Don't know what to get someone for Christmas? Stuck for ideas for post-Turkey snacks? Need an excuse to eat cake?
Our Advent Calendar continues with the first in a set of Christmas movie cupcakes based on seasonal classics. Everything from Die Hard and Home Alone to Rare Exports made tiny and edible. Nom.
First up, something quick and simple: The Nighmare Before Christmas cupcakes.
Read more...
| | | |
| --- | --- | --- |
| Skyfall Week: Licence to Nom: James Bond Cupcakes | | |
Written by Ivan Radford
Saturday, 27 October 2012 19:28

Fact: The Spy Who Loved Me was originally called The Spy Who Loved Cupcakes.
Ok, that's a total lie. I made that up. But you know what else I made up? These James Bond cupcakes - because when you go and see Skyfall, there's nothing more annoying than crunchy, noisy, messy food. Movie cupcakes? Not a problem. Especially when they look this good. Yes, like Daniel Craig these baked goods are suave, sexy and can't wait to punch you in the mouth. Unlike Daniel Craig, they're edible. (Although that wouldn't stop Javier Bardem having a go.)
How can you make your own Bond cakes? Now pay attention, 007. And read on for the usual mix of pictures, ingredients, instructions, nudity, cars, guns and blood.
Read more...
| | | |
| --- | --- | --- |
| Dial N for Nom: Alfred Hitchcock Cupcakes (Hitchcakes) | | |
Written by Ivan Radford
Saturday, 22 September 2012 14:09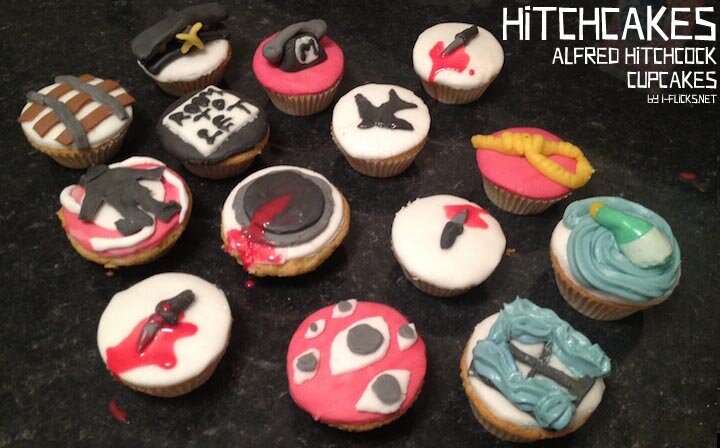 Pick up your phone and Dial N for Nom, because it's National Cupcake Week in the UK (until tomorrow) and it coincides brilliantly with the BFI's Genius of Hitchcock season. And so we continue our series of movie-inspired cupcakes with my most ambitious idea yet: Alfred Hitchcock cupcakes. Hitchcakes.
From Vertigo to The Lodger, I crammed as many Hitchcock references on top of tiny cakes as is humanly possible. Read on for the usual pictures, recipes and instructions to make your own Hitchcakes.
Read more...
| | | |
| --- | --- | --- |
| The Dark Knight Cupcake Rises | | |
Written by Ivan Radford
Wednesday, 25 July 2012 17:03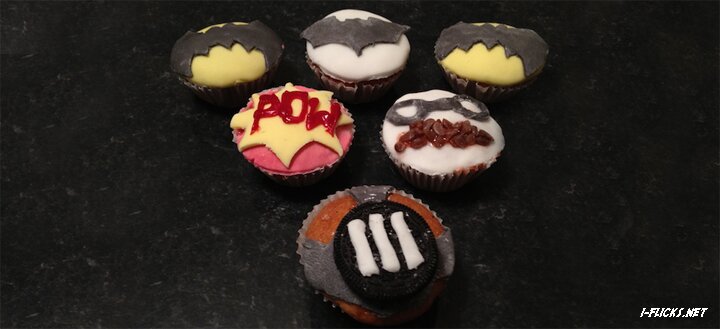 Na na na na na na na na Batnoms...
Need some nibbles to go with your Nolan? Why not try baking your own the Dark Knight Rises cupcakes?
All you need is:

100g Butter
100g Self-raising flour
100g Sugar
2 Eggs
Vanilla essence
1/2 tsp baking powder
Mix them together, shove them in the oven (180ºC) for 15-20 minutes - and don't forget the baking powder. You know, just to make sure the Dark Knight cupcake (ahem) rises.
Then you can start having fun with the icing... 
Read more...
| | | |
| --- | --- | --- |
| The Amazing Spider-Man cupcakes | | |
Written by Ivan Radford
Monday, 02 July 2012 12:38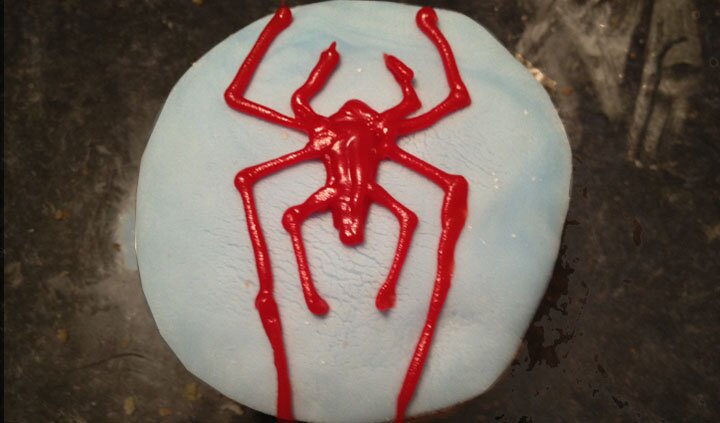 The Amazing Spider-Man is out in UK cinemas from tomorrow - and, one month on from Prometheus, it's the perfect excuse to bake some more movie cupcakes.
Marc Webb's reboot may slip up towards the end, but the tasty ingredients are all there: Rhys Ifans, Emma Stone, Andrew Garfield's hair. So it was easy to find inspiration for these Amazing Spider-Man cupcakes. But not as easy as it was to gobble them all up afterwards.
Read on for the full recipe/instructions on how to bake your own edible baked Spidey goods.
Read more...
Start Prev 1

2

3 Next > End >>


Page 2 of 3