| | | |
| --- | --- | --- |
| 5 Shocking Things from the We Need to Talk About Kevin LFF Press Conference | | |
Written by Selina Pearson
Tuesday, 18 October 2011 13:50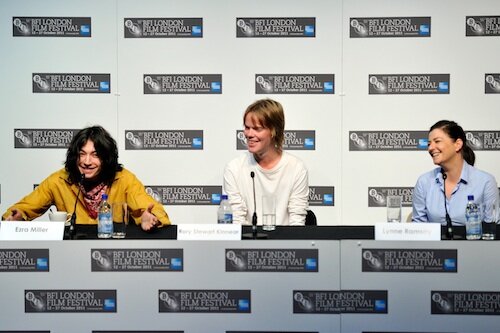 We Need to Talk About Kevin is an oddly British film. It's filmed with British money, helmed by a British director, and scripted by British writers - but it's made in the States.
It's also a rather good argument against procreation (spawning a child of pure evil is enough to put even the broodiest mother off parenthood). But even with all the resentment on show, We Need to Talk About Kevin is a compelling watch. So the question remains: why would anyone want to make this film? And is the answer as disturbing as the story's violent climax?
Here are the five most shocking things from the We Need to Talk About Kevin LFF press conference: 
1. Lynne Ramsay finds abusive relationships and psycho sons "interesting"
Lynne Ramsay actually enjoyed Lionel Shriver's book, calling it interesting and original: "It tackles quite a taboo subject I don't think has been explored much, especially in film..."
2. Ezra Miller is actually a psycho
To play Kevin, "it would be hard for any actor that wasn't darkly psychotic," admits child actor Miller. "For me it was actually a breeze." So he didn't have to do much preparation, then? "It was an internal search, we all have killer brains."
3. Kids don't like Lynne Ramsay either
One of the youngest incarnations of Kevin was played by three-and-a-half-year-old Rocky Duer. "I didn't know if I could direct a three and a half year old... I don't think that kid said one word to me! He just took direction."
4. Kevin believes in Father Christmas
Even psychos believe in Father Christmas. Jasper Newell, playing the early-teen incarnation of Kevin, lost the plot once as Kevin, but Duer was easy to motivate: Miller just made a 45 minute phone call... to Santa. "I told Rocky that if he finished the scene he'd be such a hero he would be rewarded with all of the gifts he could possibly ever want from Father Christmas."
5. Lionel Shriver stole Lynne Ramsay's hat
Shriver wasn't much involved in the filmmaking process, aside from a chat with Ramsay early on. The author was a little stunned by the film "in a good way", claims Ramsay. "We went for a nice glass of wine and I gave her my hat. I don't know why. I thought it looked better on her than me, so she stole it. Lionel Schiever stole my hat."
Miller exposes the truth of the theft: "We bribed Lionel schriver to like the film with a very nice hat" admits Miller.
We Need to Talk About Kevin is in UK cinemas this Friday. For more on psychotic child-parent bonding, read our We Need to Talk About Kevin review.
Here are the press conference highlights: