| | | |
| --- | --- | --- |
| 5 Things We Learned from the Coriolanus LFF Press Conference | | |
Written by Selina Pearson
Monday, 17 October 2011 15:33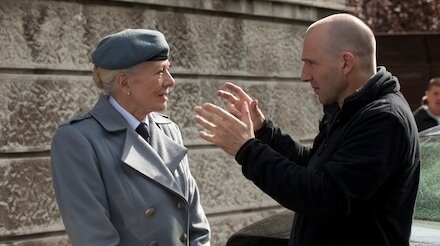 Ralph Fiennes has been wowing audiences with his directorial debut Coriolanus - including us. Taking Shakespeare's Rome and replacing it with Serbia, screenwriter John Logan has kept the play's themes of war and betrayal firmly relevant to the modern day.
So what's the secret to updating Shakespeare? And was Jon Snow the most talented newsreader on set?
Here are five things we learned from the Coriolanus LFF press conference:
1. Brian Cox loves undressing Shakespeare
We all know Shakespeare can be dense (or even incomprehensible) to the normal person, so the best way to make people go see Coriolanus is to make it simple, argues Brian Cox: "I think we sometimes overdress Shakespeare", says Cox, who loves taking The Bard's clothes off.
Fiennes agrees. "With a ten line speech, you keep two lines that are great and it lands really strongly... it helps to cull a lot of difficult bits," he says, adding that's "utterly obsessed" with Coriolanus.
2. To tweet or not to tweet is the next big question
"We were saving it for Anthony and Cleopatra..." admits John Logan after we ask about Twitter and the use of social media in modernising Shakespeare's work. "We were looking for modern metaphors for everything, our currency was modern media. We should just have it be as if I were to turn on the TV if there was a revolution - which there actually was while we were working."
3. It took 32 takes for Jon Snow to get his lines right
You'd think daily readings of an autocue would mean that Jon Snow would be a natural at reciting Shakespearean verse. Not so, says Brian Cox: "I just met Jon Snow while filming in Manchester, he was up there for the Tory Party conference. I congratulated him on his verse-speaking - he completely bowed to Ralph. He said 'After 32 times, I was bound to get it right!'"
4. Belgrade will let anyone into government buildings
After visiting both Serbia and Romania, Belgrade was chosen as Rome. "It's very hard to get around Bucharest, the traffic is terrible," Fiennes commented. "Shooting in Belgrade was fantastic. We had access to the parliament, which was my favourite piece of location casting."
5. Ralph Fiennes is terrified he'll never work again
"The anxiety that you may never work again always lurks," confesses Fiennes. "It never goes away," agrees Cox. "You worry that you're going to be discovered, that your history is going to catch up with you. What keeps you going is the work. You're only as good as your next job."
Head this way to read our Coriolanus review - or our piece inspired by Jon Snow's Coriolanus cameo, suggesting other newsreaders who should star in Shakespeare.
Hear are the highlights of the press conference: