| | | |
| --- | --- | --- |
| 5 Things We Learned from the LFF 360 Press Conference | | |
Written by Ivan Radford
Thursday, 13 October 2011 08:59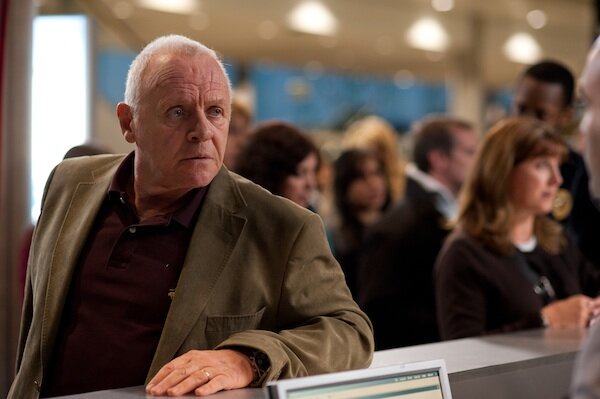 The London Film Festival opened last night with 360, Fernando Meirelles' globe-trotting tale of interconnected romances. Unfortunately, it's a little bit pants (read our 360 LFF review). 
But while this modern take on Schnitzler's play La Ronde lacks the sexual tension of syphilis-ridden Vienna or Contagion's risk of catching rabies off Gwyneth Paltrow, writer Peter Morgan is pleased with the script, and the cast enjoy the global scale of events - even if no-one else does. 
So why on earth did Meirelles and Morgan make 360 in the first place? And where did it all go wrong?
Here are five things we learned from the London Film Festival's 360 press conference:
1. No-one likes the film
In case the half-empty press conference audience and the slagging off on t'internet wasn't enough of a clue, Fernando Meirelles made it even more obvious that people don't like 360 very much.
"I have no control over how my film is received", he told the small crowd of journalists. Some Canadians even found it laughable: "In Toronto we had some laughs in moments that I never expected. People thought it was funny."
But after the major flop of Blindness, the City of God director doesn't seem to mind. "I love seeing people's different reactions to my films," he added. Which is probably for the best.
2. It could have been more boring
Without the dangerous sting of disease or shocking social commentary, Peter Morgan's drama of tenuously-connected characters is hardly riveting stuff. But it could have been worse.
"The domino effect of the credit crisis, and banking insolvencies, and the way in which we're all entirely connected now… that made me think about our interconnectivity internationally," explained Morgan. Fortunately, he "didn't watch to write a film about financial contagion" - a minor consolation, given the drivel that he did serve up. 
3. Slovakians don't appear in many films
While the aimless plot ain't up to much, 360 does boast a decent ensemble of international talent. In addition to the excellent German actor Moritz Bleibtreu (Run Lola Run, The Baader Meinhof Complex, Munich) and reliable Russian Vladimir Vdovichenkov, Meirelles's cast also features two Slovakian women. And according to Lucia Siposova (the eager prostitute to Gabriela Marcinkova's innocent sister), that doesn't happen very often.
"It was big luck that someone wrote a story where there are two Slovakians. It's crazy. I'm very grateful about that."
4. The actors didn't even read the script
"To be in a situation where I get an email from Fernando Meirelles is part of a dream," said Bliebtreu. "Peter Morgan wrote the script, so I didn't even read it. I just said I'd do it!"
That would explain a lot. 
5. Fernando Meirelles hasn't seen Hannibal
The highlight of the press conference came when one man asked about Anthony Hopkins' reputation. Inspired by a shot of Hopkins on a plane (there are lots of planes in 360), the journalist asked Fernando if he was ever worried that the memory of Hannibal Lecter could hang over the Welsh actor's performance.
After several drawn-out minutes of confusion (much like watching a slow-motion car crash), Fernando's reply was to the point: "I've never seen Hannibal". No-one knows if he's seen Red Dragon. 
Watch the best bits of the 360 LFF press conference:
360 is part one of Maths double-bill. For more recommendations from the LFF line-up, check out 12 LFF Double-Bills You Should See.
Tags: