| | | |
| --- | --- | --- |
| Interview: Thomas Lawes (The Last Projectionist) | | |
Written by Ivan Radford and Selina Pearson
Wednesday, 21 September 2011 08:48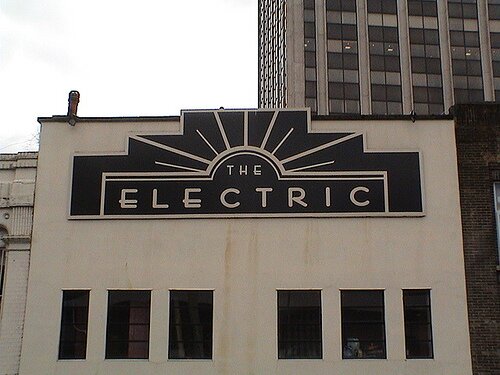 Premiering at the Cambridge Film Festival this year, The Last Projectionist is a documentary detailing the history of cinema, all the way from silent film and old newsreels to the modern multiplex and digital technology.
Revealing the decline of the projectionist and the rise of independent cinemas, it's a fascinating piece from Tom Lawes, a man who knows a thing or twelve about film and indie picturehouses. Why? Because he owns one.
Yes, this is the man who bought The Electric in Birmingham, the UK's oldest working cinema, in 2004 and refurbished it to create a fantastic place full of atmosphere and absinthe.
We grabbed him for a chat in Cambridge about his film, The Last Projectionist. Here's what he had to say about digital projectors, native 3D, and owning a cinema.
Why did you make the film?
I didn't set out to make a feature film to start off with. We were coming up to our centenary and I thought it would be great to find people who had been involved with The Electric and show some videos of them talking about the cinema's history. So I interviewed my step-grandmother - she was 99 years old - and it turns out she had been at the cinema in 1917.
Wow.
Yeah, she must have been the oldest living customer. So I interviewed her and a few others and when the centenary came about, the BBC got hold of the story and took some of the footage and it ended up being the fourth most-watched news item on that particular day. So after that I thought there would be some interest in a film. The other thing is that I was outside the screening of A Single Man, the Colin Firth film, and I could hear the music coming through and I love the soundtrack to that film. And I heard that and thought that it could work really well alongside the footage if we turned it into a feature film rather than a TV piece, which at the time it was. And so I tried to make it as different to a TV programme as possible - no voiceover or anything, and use silent title cards instead, which update gradually to match the decade.
So how did you come to buy The Electric?
Lots of people always say they want to own their own cinema, but I never thought about it. I had a recording studio at home where I was writing music and mixing soundtracks and I was annoying the neighbours! I needed a new studio, and I happened to find The Electric at an auction - I wasn't rich, but it missed its reserve price, so over the next few months I negotiated, got the price down, remortgaged my house and bought a derelict cinema!
You opened in 2004 - how did it go?
At first, it was a complete disaster. Nobody went, especially in the first year. But because one screen was a recording studio, I managed to pay for it - that was the main business. Then, three years later, we've moved the studio into the basement and reopened screen 2. And now the cinema, just on Friday and Saturday, we've had four or five sold-out screens. It's a dream.
The Electric's still got one 35mm screen - what are you thoughts on the digital upgrade on cinema?
I'm very pro-digital, I've always been a digital film-maker.  When we opened screen 2, we knew digital was on the rise. 
You don't show post-converted 3D films at The Electric. Are you pro-3D?
Well, we thought we'd give Clash of the Titans a go when it came out because our system had just been installed, and it was awful, and so dark... And so we introduced our policy to show only native 3D films. We had a discussion over Harry Potter, but we went for 2D, and we didn't have a single customer asking to see it in 3D. Having said that, there are exceptions, like Cave of Forgotten Dreams, which was great; I think it has its place, but The Electric tends to show things in 2D.
Do you agree with the argument that it's primarily a studio-driven move?
I think it's easy to look at it cynically as a gimmick, but there are cinemas who are benefiting as well as the studios. When Avatar came out, people attributed its success to 3D, but it takes a lot of time to make a film, so everything coming out now is stuff that was being made while Avatar was still selling tickets. 
I'm not a fan of wearing two pairs of glasses...
Yeah, I have to wear two pairs of glasses! It's annoying. But if you can shoot a film in 3D, if you can afford it, you may as well, because at some point there'll be systems without glasses, and you'll be able to supply the film. 
Do you think that we will soon be facing the extinction of the last projectionist?
As the film documents, there won't be any projectionists one day, but a lot of them right now are men in their 50s and 60s - I'm generalizing, but that's true in smaller cinemas - so a lot are effectively taking early retirement.
You wrote the music for The Last Projectionist. Which was your first love: cinema or music?
The first film I saw was The Rescuers in the 1970s and I also saw Star Wars too. I have those early memories - and I remember seeing The Sound of Music on the telly and thinking "That was really good!" But I didn't pick up a camera until I was 17, shooting low-budget horror with a security camera, in a little bedsit. But I was also playing music. So I started directing films as a teenager, then I got a job writing music for the BBC and SEGA, so the two things go side by side. And, of course, I got to write The Last Projectionist soundtrack, which was fun.
What's your favourite indie cinema?
It's a weird one that, because The Electric is the only one I can go to on a regular basis. In London, I love The Gate in Notting Hill, The Phoenix in East Finchley and The Rex in Berkhamsted. It isn't just about the architecture, but also the feel of the place and the staff.
Head this way to read our The Last Projectionist review - and here for the rest of our Cambridge Film Festival reviews.
(Photo of The Electric stolen from Dan Pope.) 
Tags:
35mm digital
cambridge film festival interviews
the electric
the last projectionist
thomas lawes