| | | |
| --- | --- | --- |
| Press Conference: The A-Team | | |
Written by Ivan Radford
Thursday, 29 July 2010 08:55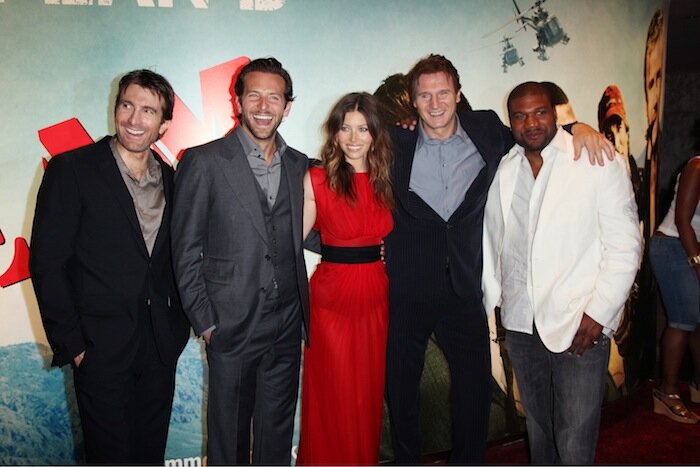 We love it when a press conference comes together. Especially if it involves four men accused of a crime they didn't commit, struggling to answer questions after a crazy premiere in London the night before. But answer questions they did, covering everything from quitting smoking to getting a suntan.

They even touched upon the recent decision to axe the UK Film Council, which Liam Neeson (Hannibal) described as "quite appalling".

Neeson was joined by Bradley Cooper (Face), Sharlto Copley (Murdock), Quinton "Rampage" Jackson (B.A.), Jessica Biel (Col. Sosa) and director Joe Carnahan to discuss bringing the iconic 80s TV show back to the modern day.

The A-Team is in cinemas now, and you can read our review over here, but why would you do that when you can hear about Sharlto Copley talking to plants?
Given the popularity of the original show, what's it been like bringing The A-Team to the big screen?
Joe: It's fantastic – the reception we got last night was wonderful!
Was it a challenge to cast the film? 
Joe: Once I got Liam, he's what they call the business attractor, so once he was involved people realised what we were doing, that we weren't going to lampoon The A-Team. You can't satirize a satire anyway.
One of the best things about the show was obviously the camaraderie between the characters – did that come easily between you guys?
Liam: The chemistry on screen was there very palpably. There were no egos or anything – they were all left at the door. There was no room for that stuff.
What was it like playing such iconic characters?
Sharlto: It was moving in a way. The show was certainly a big part of my childhood. Murdock had a lot of influence, he was the inspiration for me to get into film, back when I was 12. It was a real honour. I just tried to play a Murdock I thought I would like.
Did any of you have any other TV shows that influenced you? Characters you've always wanted to play?
Bradley: Well, no one can recreate Angie's performance, but for me, Murder She Wrote was the best character on TV. [Laughter] I know her personally, so it's ok!
Quinton: We should do MASH next! [Laughter] I could be an extra. One of the guys who die early on. [Laughs] What about Knight Rider? I could play KITT! 
Bradley, the character of Face is quite vain, was that easy for you to do, what with your super sexy good looks and all?
Joe: Someone earlier used the word "torso-tactic" to describe Bradley earlier, which was awkward...
Bradley: Maybe I missed the boat there, but I didn't see him that way. Maybe I was too busy tanning! [Laughs] I just thought of him as more sort of bored in the prison, that he liked being outdoors, and, you know, getting some sun. I didn't see him as an... exfoliator or anything.
Joe: There were a lot of beauty products, off-screen, on the prison wall above the sink that you didn't see....
As an ex-smoker, Liam, how hard was it to smoke Hannibal's trusty cigars?
Liam: It was tough. I'm a nicotine addict, I haven't smoked in 16 years, but Joe insisted on having real cigars. They were Cuban. After a while, I got what cigars were all about – it was dangerous for a couple of days...
With all the training and work involved in an action film, did you get any bad injuries?
Bradley: Liam and I bore the brunt of that stuff.
Liam: The first week, I tore my rotator cuff... getting out of the van. [Laughs]
Bradley: We've gotta change that story! I tore my hamstring. Going back to my trailer. After lunch. It was a brutal shoot... [Laughs]
Jessica, how was it being surrounded by men on set?
Jessica: It was interesting, I enjoyed it. I like action movies, and liked being a part of an action movie. I don't have any insecurity about being on set with lots of men. These guys, you can see, are very cool and a lot of fun. It was very comfortable.
As another minority on set, Sharlto, just how difficult is that Southern America accent?
Sharlto: I grew up fascinated by accents and dialect, performers like Robin Williams and Eddie Murphy. When I was at school, from about 10 to 19 years old I would do them regularly, 19 or 20 different caricatures. I studied speech and drama, so I'm very interested in phonetics and dialect - from a creative as well as a technical point of view.
You did a lot of improvisation on District 9. Were Murdock's little sketches scripted?
Sharlto: There was a huge amount of improvisation. That was why I wanted to do it. When I met Joe and sent him my audition video, he was just very comfortable with improvisation.
[At this point, Quinton "Rampage" Jackson's head falls forward]
Bradley: Rampage is sleeping!
Quinton: I don't understand why y'all have a premiere one night and the very next morning have interviews and a press conference... We don't do that in fighting, take someone out then first thing in the morning go "Fight!" The thing is, Liam and I, we like going out. But Bradley and Sharlto, in the evening, they're probably off reading a book or something.
Were there favourite parts of the characters that you drew upon for the film?
Liam: It was more about acknowledgement, really - we all took iconic bits, like Quinton and his mohawk, my salt and pepper wig, and the cigar...
Joe: There's a point where if you start treating The A-Team like The Dead Sea Scrolls, well, you have to be able to have some fun with it. Keep it lively.
Bradley: The Dead Sea Scrolls are hilarious! I don't know what you're talking about! [Laughter]
Liam: It was great with Joe, because on set he would always be open to ideas, saying "Try this or this." Every scene was so alive.
Quinton: I didn't even bother rehearsing - I gave up on the script. I just showed up!
Liam, as an actor who has worked with the UK Film Council before, what's your view on the government's recent decision to close them down?
Liam: I just heard about it last night. [Explains it to the others]. I don't know all the technical details, but I think it's quite appalling - that's just my knee jerk reaction. It's totally shocking. It makes me worried that this government would actually do that. 
Finally, Sharlto, what exactly was on that tape...?
Sharlto: Lots of bits that wouldn't end up in the film. Different stuff. Examples of doing a range of characters and voices. Like hygiene issues going into the bathroom, Murdock getting stuck in the bath, having to call B.A. to get him out. You know, talking to a plant, counselling the plant. Or this invisible dog, which kept barking at B.A. and B.A. thought the dog was racist. [Laughter] But they wouldn't that bit in the movie!
Joe: And there was this one with hotel room service sending him up tortillas, and was stuck out the top like a shark's fin, and he's running around thinking there's this shark in his salsa. They're great - they have to be on the DVD!
Tags:
a-team
bradley cooper
face
hannibal
jessica biel
joe carnahan
liam neeson
murdock
press conference
quinton jackson
rampage