| | | |
| --- | --- | --- |
| Jennifer Speak: The Diablo Cody Dictionary | | |
Written by Ivan Radford
Friday, 06 November 2009 12:57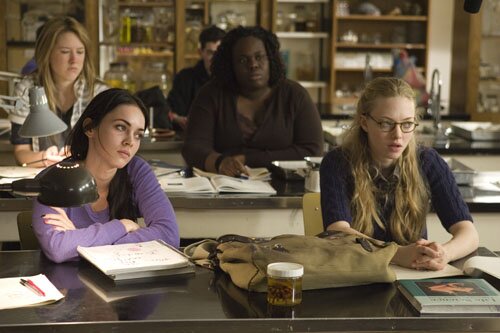 Lesbian kissing, male disembowelling, grey slime puking - all are found in Jennifer's Body, but these are not the things that Diablo Cody is famous for. The Oscar-winning screenwriter of Juno, Cody's claim to fame stems from her scabrous wit and ever-quotable dialogue. Popping cultural references out of her pen with serious panache, she comes up with words that are born to be used in your own conversation. But hell, half of them need some explanation. And so we bring you the definitive Diablo Cody Dictionary, a glossary of "Jennifer Speak". Forget "your eggo is preggo" and start spouting these babies...
Sandbox Love
The affection that develops between small children in a sand pit and lasts for eternity.

Lesbigay
A rather close relationship between two girls at high school, who may or may not be playing doctors and nurses instead of doing their homework.

Extra Salty
Salty means attractive but there is a sexual connotation here. So when Chip, Needy's boyfriend, says she's soy sauce, that's a lovely compliment.

Smells like Thai Food
Meaning the whiff of sexual activity is evidenced in the air.

You're Lime Green Jello
The emotion Iago attempts to generate in Othello; the green eyed monster – jealousy.

Morsels
Boys, men, that can be devoured as a mere starter rather than a main course. An extra salty morsel would denote a very attractive boy.

Smart Bombs
Breasts. As Jennifer explains, "point 'em in the right direction and shit gets real".

Shutties
No, don't speak. Or in cockney, "shut your gob".

Move-on Dot Org
When one has had enough of talking about a particular subject or emotion.

Crossing you out [with hand gesture]
When deeply irritated by a friend, you are metaphorically eradicating them.

Slam you Later
See you later, but with more impact. i.e; it's impossible to see Jennifer without being stunned.

A Wettie
Referencing female arousal, this is a woman's equivalent to the 'hard-on.'

They Went Benihaha on my Ass
They cut and shredded her like they were preparing mass-market and rather cheap sushi.

She's about as Emo as a Breast Implant
A derogatory description of a woman whose angst is as profound as silicon.

Varsity Moves
When you have sexual competence beyond graduation.

You Seemed Like You Might Be Pluggin'
To have "the painters and decorators in", surfing the crimson tide, in the middle of your period.
Jennifer's Body is out in UK cinemas now. Check out the trailer over here.