| | | |
| --- | --- | --- |
| Match Point: Cinema's Top Tennis Tussles | | |
Written by Ivan Radford
Tuesday, 23 June 2009 22:32
The British public are going crazy. John McEnroe's back on the telly. It must be Wimbledon once again. But with Rafael Nadal out of the race and Federer looking to reclaim his crown, is this year's tournament really a foregone conclusion? Not if the British press have anything to do with it; hyping up their hero with a whole lot of hope, everyone's placing their faith in a certain Scotsman. But while he works on his ground strokes and tops up his serve, here are cinema's top tennis tussles from over the years - a list that won't mention Andy Murray by name once. Oh, wait.
4. Annie Hall (1977)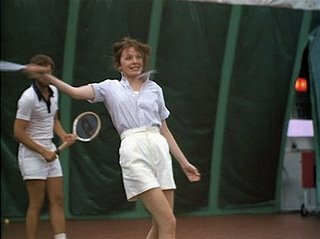 In 4th place, it has to be Woody Allen's hilarious rom-com, which brought a whole new level of significance to the term "love". After all, if Alvy Singer never played that game of mixed doubles, he never would have met Annie. Sure, his life might have been in less danger, but cinema's greatest (and funniest) romance wouldn't exist. Lah-de-da, indeed. Special congratulations to Annie Hall, too, because it ousts Allen's Match Point from the list; a more tennis-centric thriller, for sure, but not quite on the same level...
3. Wimbledon (2004)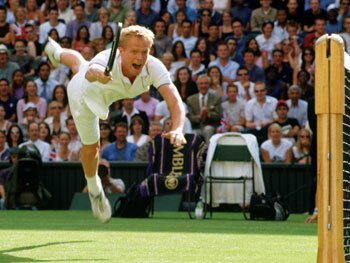 If only for its namesake, this likeable bit of lightweight lawn tennis is sure to be on the list. With Paul Bettany firing off aces as the alternative Hugh Grant (ranked 119th in the world), Kirsten Dunst kicks up the turf as spoilt, sassy pro Lizzie Bradbury. She could hit into my tramline any day. As could Billy Bob Thornton - on top form as her overbearing dad. Predictable and fuzzy it certainly is, but the leads (and locations) more than make up for any formulaic flaws. A real winner.
2. The Squid and the Whale (2005)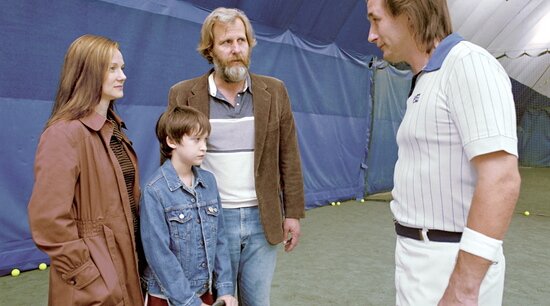 Baumbach's cutting family drama is hysterically painful, but never more so than when on the court ("Try to hit it at your mother's backhand. It's pretty weak.") With conflicts coming into play, its far more than a competitive game - just one drop of serve has the potential to rip this family apart. And that's before William Baldwin's laidback coach enters the frame: "Your serve, my brother". The fact that he's named Ivan clearly has no bearing on my choice for number 2. (You can watch it on Youtube, but this is one DVD that deserves your money.)
1. Strangers on a Train (1951)
The master of suspense brought us the master of matches, with his adaptation of Patricia Highsmith's wonderful Strangers on a Train. With its criss-crossing murders carrying on off-court, the tension mid-play becomes absolutely unbearable. Watched by the police and planning his escape, amateur player Guy Haines is keen to clear his name and stop the crazy Bruno from butchering his wife, Miriam. But first he's got to get to match point... It's no wonder that this is one of my favourite Hitchcock films. Yes, I even rank it above Vertigo.