| | | |
| --- | --- | --- |
| Who shot first? Non-heroic heroes in The Place Beyond the Pines | | |
Written by Ivan Radford
Thursday, 11 April 2013 17:16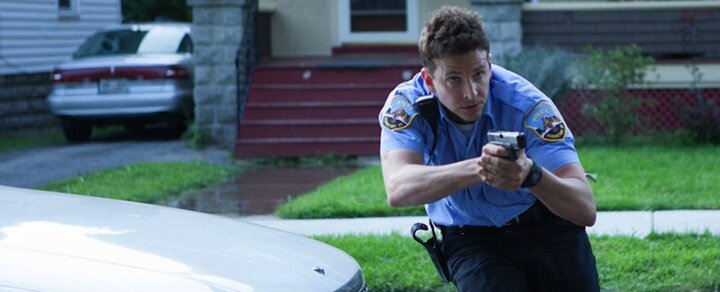 Who shot first? It's been a debate for decades among Star Wars fans, who found their love of Han Solo's roguish ways challenged by George Lucas' insistence upon presenting him as a noble hero when the director inserted an extra shot years after the original release.
Viewers of The Place Beyond the Pines will face a similar dilemma.
Derek Cianfrance's quietly astonishing follow-up to the devastating Blue Valentine seems to revolve around that question, a central event that brings together families in Schenectady, New York. It's a subject that haunts virtuous rookie cop Avery (Bradley Cooper). Playing the hero card, he finds himself swept up by a corrupt police force (led by detective Ray Liotta) and a politicking father. It also troubles Ryan Gosling's stunt biker, Luke, who represents the other side of society - a violent man willing to do anything to look after his son, whose only friend is another dubious loner (Animal Kingdom's excellent Ben Mendelsohn).
Cooper. Gosling. It's a calculated piece of double casting by the director, who takes two of Hollywood's hunkiest, most-adored baby-faced leads and leaves us deciding whether to like them or not. They revel in the ambiguity, turning in two electrifyingly unpredictable performances. Then, just as you work out who's your favourite, he walks away from them altogether.
An unexpected leap forward by 15 years introduces us to two schoolboys instead. Acted fantastically by a brooding Emory Cohen and a seething Dane DeHaan (who resembles an unexploded land mine more than a human), their awkward friendship plays out as an absorbing high-school tale that seems unrelated to the first two acts. But as conflicts arise between the antagonists, it all starts to resound in The Place Beyond the Pines' echo chamber of guilt and responsibility - and Derek's low-key drama reveals itself as something far bigger than you might expect.
From the striking opening shot, the director's long takes, accompanied by Mark Patton's deceptively bright score, lend events a grand, soaring tone - a timeless slice of quaint Americana (vaguely reminiscent of Paul Thomas Anderson) that simultaneously celebrates and undermines his non-heroic heroes. But this is an epic story made up of tiny details. Like Blue Valentine, it's ambitious in its intimacy, painting a bigger canvas by focusing on small character moments; even as they ride off into the fabled sunset, they are followed by that giant, unknowable question of culpability.
Sins of the fathers? Inherent faults of man? Like Star Wars fans still reinterpreting their favourite saga and posting it on YouTube, the question of who shot first is asked again and again. Whichever answer they choose, it will hang over them for generations.