| | | |
| --- | --- | --- |
| Shakespeare behind bars - unlocking the power of performance | | |
Written by Ivan Radford
Wednesday, 27 February 2013 06:35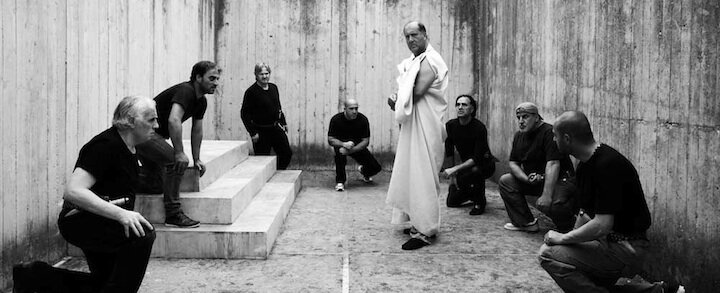 Shakespeare in prison. It may sound like an Alan Partridge idea, but as Caesar Must Die shows as it hits in the UK this week, it's no laughing matter. It's an incredibly powerful, provocative film that follows a group of Italian inmates in Rebibbia Prison rehearsing for a production of Julius Caesar.
But while Paulo and Vittorio Taviani won the Golden Bear at last year's Berlin festival with their documentary, Shakespeare has been behind bars for many years. The project itself came about after the filmmaking brothers saw a production by a prison and wanted to capture its impact on film.
Last year, Paul Schoolman presented a similar idea at the Raindance Film Festival: StringCaesar, a prequel to Shakespeare's political play. Production began at England's Dartmoor Prison in 1984 – and continued for over 20 years. When the project, which involved a crew of up to 30 men recording in a prison, was banned by the Home Secretary, Schoolman went abroad to Cape Town and continued filming there. Then he went to Alberta and even Cardiff, each prison representing a different country.
Since then, Shakespeare in prison has become increasingly widespread. Wisconsin's Racine Correctional Institution performed King Lear in 2005 as part of The Shakespeare Prison Project, followed by The Tempest and Julius Caesar. Shakespeare in Prison, by the Magenta Giraffe Theatre Company, launched its own Shakespeare initiative in February last year. Even in India, a troupe of inmates performed King Lear – a production visited by Felicity Kendal for the BBC.
What makes Shakespeare behind bars so powerful?
"They learn how to live, how to respect together," the scheme's artistic director told Kendal. "Learning not to be alone?" she asked.
Around the world, performing Shakespeare and interacting with each other has been used as a way to help inmates rethink their behaviour and approach to situations.
"Have we never known bullying Caesars in our own home?" says one in Caesar Must Die.
But it's more than just identifying with the machinations of power in Will's work: it's a transformative act in itself.
"As I sit in my cell barred and bolted… my soul finds release like a nomad," writes Tony, an inmate in Schoolman's StringCaesar with a gift for poetry, "and wanders for me in the night."
Speaking to me after the Raindance premiere, Tony passionately explained the effect acting – and filmmaking – had upon him and the others in the prison. The collision of drama and reality, of artistic freedom and real life incarceration, is colossal. It's astounding to witness, whether it's live on stage or on screen.
No wonder, then, that the subject's already been tackled by another documentary in 2005: Shakespeare Behind Bars, which follows 20 male inmates in a Kentucky prison, who form an unlikely Shakespearean acting troupe. But what the Tavianis manage to do so well is capture that blur between the inmates' identities and their characters.
"He's really good playing the schemer," says one halfway through. "What the fuck are you saying?" comes the reply. "You're messing up your lines."
That's when you realise that half of Caesar Must Die's stark black-and-white story is staged; from the incredible auditions, in which inmates act out a sad memory, to the final confrontations in the yard, this is a piece of performance art as much as it is a documentary.
Are the rehearsals really happening? Are these prisons are actors? Of course, that's the point. They're human beings. And staged or not, Shakespeare has never felt so real.
Caesar Must Die is in cinemas this Friday. Please go and see it if you can.
Read our full Caesar Must Die review from the London Film Festival – and a Q&A interview with Vittorio Taviani. Alternatively, head this way to read an interview with Paul Schoolman for Little White Lies.