| | | |
| --- | --- | --- |
| Watch: 2013 Oscar-nominated short films (animation) | | |
Written by Ivan Radford
Monday, 04 February 2013 08:04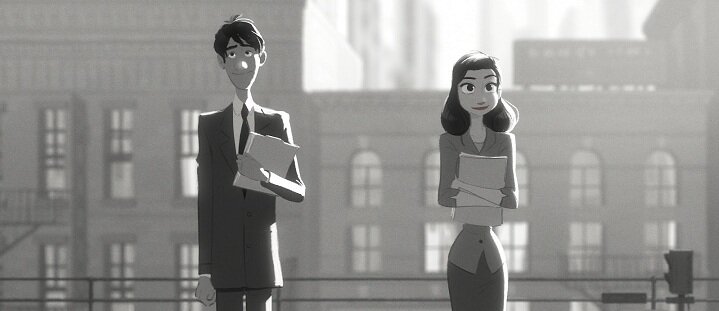 UPDATED: After a week or so, I've tracked them all down.
The Oscars are getting nearer. You're almost ready to submit your #Oscarnomnomnom predictions, but you've still got some films left to see. The problem? They're the shorts.
It's easy to catch the feature film contenders for Best Picture or Best Actress, but the short films you have to track down. In the UK, there's normally a theatrical tour of all five, often at Curzon Cinemas, on the weekend of the ceremony. But what if you can't make it? Well, the below videos may help. 
They'll be available to buy in glorious HD via iTunes soon - I'll let you know when. Until then, read on to watch the 2013 Oscar-nominated animated short films.
Paperman

John Kahrs' monochrome animation about a chance meeting between a man and a woman at a train station is one of the most adorable things you'll see this year - more adorable than two tiny puppies playing with My Little Pony figures on top of Justin Bieber's hair. A black-and-white romance blending CGI and hand-drawn pictures that gives hope to lonely commuters around the world? By a first-time director? Amazing. 
Fresh Guacamole
What's your recipe for guacamole? It's got nothing on PES, who chops up all kinds of household objects to make his food. An imaginative, colourful, endlessly fascinating stop-motion. It only lasts for 2 minutes - but that just makes it easier to watch again.
Adam and Dog
Plinky celestas, naked men, dogs. Minkyu Lee's sumptuous Adam and Dog won the Annie Award for Best Animated Short (which may well make this the Oscar frontrunner to beat) and you can see why. From the jaw-dropping landscapes to our silent, shaggy lead, this is a sharp, smart look at the creation of man - told from the perspective of his original partner. Unconditional love with a tail? Beautiful. Just, beautiful. (A more in-depth look at Joey Newman's score is here.)
Head over Heels

How do you share a house with someone you don't like? Timothy Reckart's stop-motion (made at - and uploaded by - our very own National Film and Television School) has a wonderfully creative solution: Walter lives on the ceiling. Madge lives on the floor. Or is it the other way round? Breakfast, presents, picture frame - Reckart's wrecked marriage gives everything a smart new twist, before it all comes tumbling down around the couple in a moving climax. Jered Sorkin's music is gorgeous too.
The Longest Daycare
Maggie gets a starring role in this amusing Simpsons spin-off, which sees the toddler trying to protect a butterfly from a psychotic kid at the Ayn Rand School for Tots. It's not as good as her last adventure there - the Great Escape-laced subplot in A Streetcar Named Marge - but it's a charming reminder that The Simpsons can still do good things.
Which short are you most looking forward to seeing? And which would you like to win the Oscar?