| | | |
| --- | --- | --- |
| Actual things that actually exist: Run for Your Wife | | |
Written by Ivan Radford
Tuesday, 08 January 2013 07:25
After watching Splash! on ITV on Saturday night, a show in which Tom Daley teaches celebrities to dive (NB. It's not diving, it's falling without style), I thought nothing could surprise me. Then I remembered this film: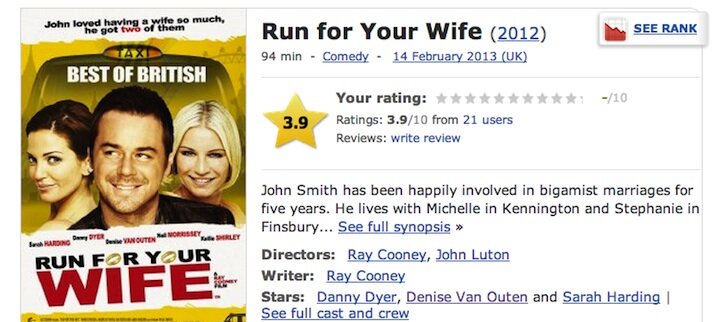 Danny Dyer. And Denise Van Outen. In a rom-com. Called Run for Your Life. Yes, this is an actual thing that actually exists. It has a poster and everything.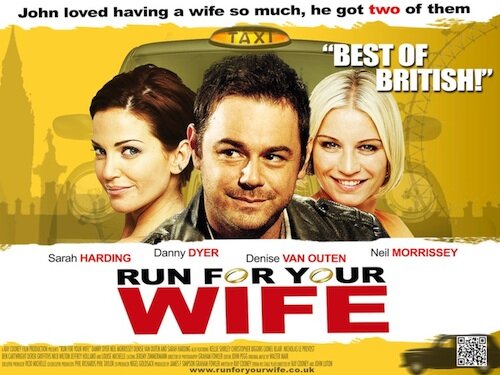 But posters can easily be faked using Adobe Photoshop, so I scrolled down the cast list to double check this whole thing really was real. Which only made it seem even more unlikely...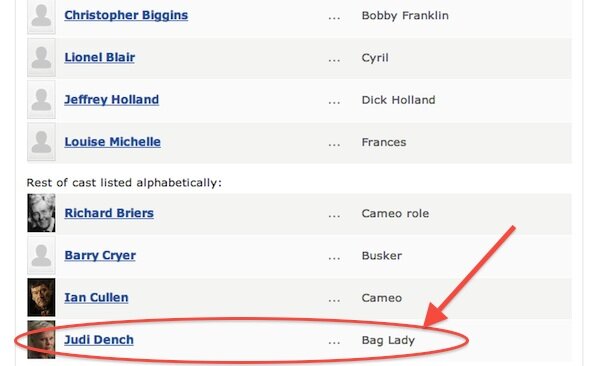 Judi Dench? As a bag lady? In the same film as Girls Aloud singer Sarah Harding? It turns out even that bit might be true. Why else would someone record a song, featuring the timeless lyrics "Run for your wife / You mess up your life / If you double your trouble"? And if it is one big prank, Denise Van Outen must be in on it too, because she's lip-syncing to the track in this promo video:
But no, like Tom Daley endorsing a celebrity gameshow in which Jo Brand heads up a judging panel of diving experts, it's not a prank. Run for Your Wife, it turns out, is based on a play by Ray Cooney. That farce sold out theatres in London's West End for eight years. You can even see a raft of scenes from amateur dramatic companies around the UK on YouTube. One of them's in French.
In fact, the play was so successful that Ray Cooney claims (on the official site) that several studios approached him to adapt it into a film.
"Early on in the London production I was approached by several Hollywood companies to acquire the Film Rights and to set the movie in New York. Finally, I optioned it to 20th Century Fox.
"During the next five years three draft screenplays (of varying quality), were penned by Hollywood writers, several 'star' actors purported to be interested and budgets proposed ranging from 10 million to 25 million dollars!
"So, when Fox asked me for a further year's option I, (very politely!) said 'No, thank you. I'll set it in London, have a go at the screenplay myself and have in mind a budget whereby those involved might possibly see a profit!'"
"So, despite further approaches for the film rights from Columbia Pictures and a couple of European movie makers, I have come up with what my colleagues all think is a terrific screenplay."
This screenplay then prompted a raft of celebrity cameos (who are all apparently giving their fees to a theatre charity), including not just The Dench, but also Barry Cryer, Lionel Blair and, erm, Sir Cliff Richard.
In case your brain is still imploding trying to conjure up any rational explanation that could possibly disprove the existence of this absurd production, I present two final pieces of irrefutable evidence.
First, the tribute song from Assistant Director Roger Bruce to everyone who worked on the film – not even Alan Partridge could come up with something so awkward.
And second, the trailer for Run for Your Wife, which popped up online this week thanks to Ball Park Films.
If you watch that trailer carefully enough, you'll spot this halfway through: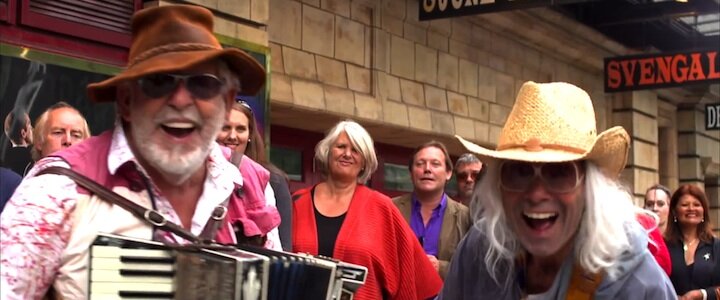 Yes, that's Cliff Richard grinning like a mad man. Wearing a hat. And a wig. Standing next to Rolf Harris.
Oh, Rolf's in it too.
"None of the humour has been lost from the original stage version," promises Cooney, "but it has been 'opened up' in a way that anyone who missed seeing the stage version (is there anyone?!) would never guess its 'theatre' background."
Well, I'm not sure I believe any of that. (I, like millions of people in the UK, missed seeing the stage version.) But just like Omid Djalili jumping into a swimming pool in a skintight suit on primetime telly – an image that is permanently etched in my memory – I can confirm that Run for Your Wife is an actual thing that actually exists.
Only one thing now will convince me otherwise: if Judi Dench gets an Oscar nod for her 10-second cameo as "Bag Lady".
The nominations are announced on Thursday. I can't wait.