| | | |
| --- | --- | --- |
| Best in Show: Cinema's Top Dogs | | |
Written by Ivan Radford
Friday, 13 March 2009 13:00
Let it never be said that I don't love animals. Maybe not in that way, but I challenge you to find anyone who watched Free Willy more times than me when I was a kid. I loved that whale. I even bought Free Willy 2 on VHS. It was rubbish. But one animal I love more than most others is the dog - they're attentive, funny, bouncy. And they drool. What's not to love? (I used to ask my parents upon repeated refusals to get a family dog.) And so, with Marley and Me released - the latest in a line of recent canine capers - it seems the time is ripe for a dutiful Top Ten of Cinema's Best Friend...
10. Winky the Norwich Terrier / Beatrice the Weimaraner / Hubert the Bloodhound / Rhapsody in White the Poodle / Miss Agnes the Shih Tzu - Best in Show (2000)

Christopher Guest's mockumentary never quite turned it up to 11, but for the sheer range of dogs and owners, it easily qualifies for this list. Five entrants, each more laughable than the next, all hope to win the Mayflower Kennel Club Dog Show. The end result? One couple releasing dog-themed records (a la Wallace and Gromit), another making a magazine for lesbian dog lovers, and an all-new Shih Tzu-based calendar, featuring the miniature puffballs reliving classic movie scenes. Including Gone with the Wind.
9. Copper the Bloodhound - The Fox and the Hound (1981)

Disney's (oft-overlooked) animation tells of Tod the fox and Copper the Bloodhound, two animals who become the best of friends despite nature's pressures telling them otherwise. A story of hard-fought friendship? Against prevailing social winds? This is such a soppy and cute affair that it's easy to forget that the message is actually quite a good one - if a little cliched by today's standards. And is that Kurt Russell I hear as Copper? Why, yes it is!
8. Bruiser the Chihuahua - Legally Blonde (2001)

Thought Beverley Hills Chihuahua was the bees knees? You're forgetting your Chihuahua heritage, people! What about Reese Witherspoon's fantastic pet-wielding blondie, Elle Woods? Bruiser the Chihuahua is an integral part of this pink puffy tapestry. Ok, perhaps more in the sequel. Known in Japan as Cutie Blonde 2: Happy Max, the sequel saw Bruiser come out, reunite with his mam, and get a bill passed through Congress outlawing animal testing. I didn't know I could be this happy without incurring credit card debt! 

7. Lassie the collie - Lassie Come Home (1943)
Lassie's been separated from his family (the Carracloughs) due to financial hardship and sent away to Scotland? That's nothing for this border collie: making her way back home to little Joe Carraclough, she is faithful to last, braving dog poachers, and even a storm. Good, girl, Lassie. Awww. With this black-and-white version of Eric Knight's novel, MGM knew they were on to a classic. So much so they made 7 Lassie films altogether. Undoubtedly one of cinema's most iconic canines - where did Bolt's formula come from, huh? Huh?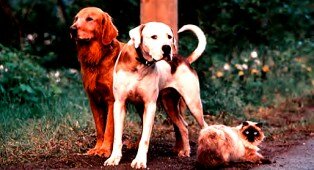 6. Shadow the Golden Retriever / Chance the America Bulldog - Homeward Bound: The Incredible Journey (1993)

Ok, so this was a remake of the original Homeward Bound film (from 1963), but it's still a great family film: two dogs and a cat are left a friend's ranch in Oregon (yuck) for a year when step-dad Bob gets a job in San Francisco. Naturally, the animals break out and travel across America to see their beloved kiddie owners once again. Much like the first film (and like Lassie before it), except this time they talk. Love it. 
5. Lady the Cocker Spaniel / Tramp the Mutt - The Lady and the Tramp (1955)

Another dog, another Disney movie. But this one is without a doubt a classic romance about two star-crossed pups. Spaghetti? Meatballs? Anyone? I bet you welled up too.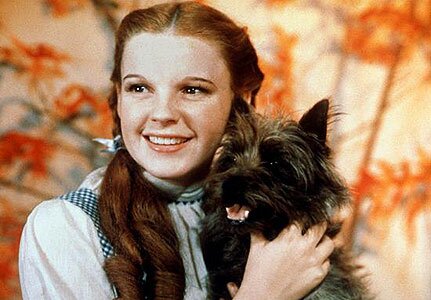 4. Toto the Cairn Terrier - The Wizard of Oz (1939)

Forget Rintintin: who needs a Warner Bros-saving German Shepherd when you can have the dog who saved Dorothy? Little Toto (destined to forever be pronounced in a July Garland voice) was the dark heart and soul of a Technicoloured triumph. A marvellous MGM affair, it all came to pass because of the little dog - Toto bit the woman who took the dog who escaped to home who made Dorothy run away where the old man made her go which led to the farmhouse in the storm which took her a long way from Kansas. See?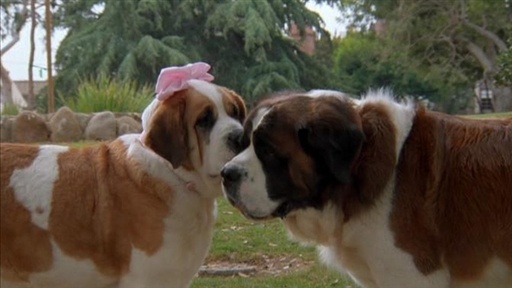 3. Beethoven the St Bernard - Beethoven (1992)

Universal's universally loved tale of a reckless dog who transforms a family life (hello, Marley and Me) is a brilliant slice of pure 90s happiness. He's called Beethoven, get it? He's named after Beethoven! Awesome! Cue much antics, angry-looking father figures, and a deliciously slimy (and EVIL) veterinarian - Herman Varnick, clearly an evil name - who likes to stick needles in dogs. His comeuppance at the composer's paws is classic feel-good fare. Too bad that the ingenious name allowed an excuse for lots of sequels, leading up to the inevitable (and annoyingly wonderfully titled) Beethoven's 5th.
2. The Dalmatians - 101 Dalmatians (1961)
Disney's best friends (dogs, in case you hadn't got the theme by now) return once again to the big screen with this legendary tale of a ton of tearaway tail-waggers. It all starts with Pongo and Perdita, who produce a litter of 15 gorgeous spotty puppies. So gorgeous Cruella De Vil (inspired name) wants her filthy mutts on them, to turn them into a coat (this is civilised fashion, darling, we don't eat dogs in America). She steals them, but the dogs get away, joining ranks with a host of other Dalmatians targeted by De Vil, thus making up the titular number. A horde of unwanted dogs? Hiding in an old building? Who end up adopted in a happy-ever-after ending? Hotel for Dogs was original, wasn't it? At the age of 14, I had the chance to re-watch Disney's Dalmatian fest on a boat between England and Spain. A teenage boy passing up the wind and the waves for 79 minutes of spotted goodness? Yes, it is that good.
1. Baxter the Jack Russell Terrier - Anchorman (2004)
Baxter is perhaps the wisest dog of all time. He's so wise, he's like a miniature Buddha covered in hair. He can walk with the animals, talk with the animals (including bears), and once ate a whole wheel of cheese. You may scoff at this choice of Cinema's Top Dog, but Ron's best friend is everyone's best friend. And if your best friend was drop-kicked off a bridge in San Francisco, I bet you'd end up in a glass case of emotion too. Even a very small one.