| | | |
| --- | --- | --- |
| All I Want for Christmas Is... Tinker Tailor Whack-a-Mole! | | |
Written by Ivan Radford
Friday, 16 December 2011 10:24
All I want for Christmas is... Tinker Tailor Whack-A-Mole.
From the makers of Drive Scalextric and Buried: The Board Game, Tinker Tailor Whack-A-Mole is the perfect present for anyone who loves John le Carre, enjoys novelty arcade games and really hates moles. Couldn't follow the plot of Tomas Alfredson's film? Not a problem! Tinker Tailor Whack-A-Mole takes all the intricacies and subtlety of uncovering a Communist traitor and turns it into one easy-to-understand Whack-A-Mole game. See a mole? Whack it! It's that simple. Lasting only 90 seconds, it's the most accessible way to share the thrill of George Smiley's witch-hunt.
Can't get a job at The Circus? Neither can the makers of Tinker Tailor Whack-A-Mole! That's Tinker Tailor Whack-A-Mole - out in shops now for Christmas. Because sometimes, all you need to find a double agent is a really big hammer. And a mole.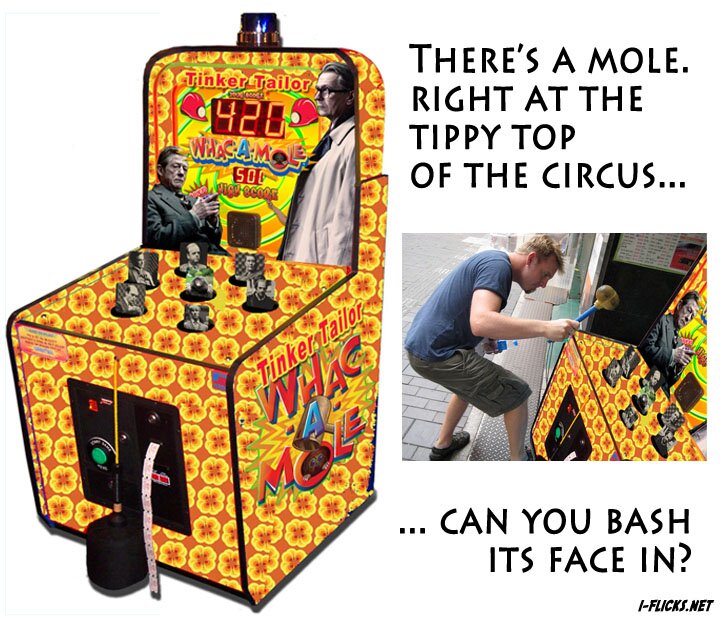 For more Christmas gift ideas, keep opening the i-Flicks Advent Calendar.
Note: The man pictured playing Tinker Tailor Whack-a-Mole is TPapi. 
Tags:
christmas gift ideas
tinker tailor