| | | |
| --- | --- | --- |
| Scala Forever Season - Worth a Look | | |
Written by Ivan Radford
Tuesday, 16 August 2011 21:04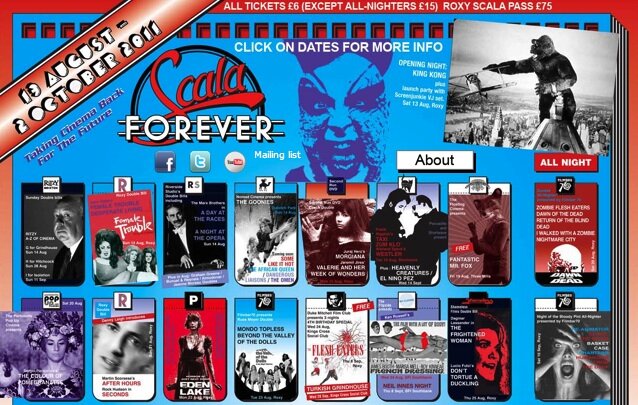 If you're an old person who used to hang around the dodgy end of King's Cross in the 1980s, you may be familiar with the iconic Scala Cinema. These days, if I want to see a film, soak up some grubby Soho atmosphere or get propositioned by a woman of the night, I have to hang around Wardour Street. It's not the same.
But all is not lost! You can now relive the crazy mix of cult, foreign and arthouse movies of Scala's heyday with Scala Forever, a season spanning a stonking 26 venues in London.
It launched last weekend and runs to Friday 2nd October, covering everything from Western double-bills and zombie all-nighters to work by Werner Herzog and The Marx Brothers.
Highlights include:
Marx Brothers Double Bill (A Day at the Races / A Night at the Opera) - Sunday 14th August
Western Double Bill (The Great Silence / Once Upon a Time in the West) - Sunday 28th August
Kieślowski's Dekalog - Tuesday 20th September - Tuesday 18th October
A Clockwork Orange - Sunday 2nd October
We may well be offering tickets in a competition later this week (spoiler: we are definitely giving away tickets), but until then head over to the Scala Forever website and check out the full festival listings. Alternatively, read on to appreciate the awesome retro programme in full, as well as the trailer for the festival.
Tags:
film festival
scala forever