| | | |
| --- | --- | --- |
| Whisky + Boat + Free Film = Isle of Wight Win | | |
Written by Ivan Radford
Thursday, 11 August 2011 08:31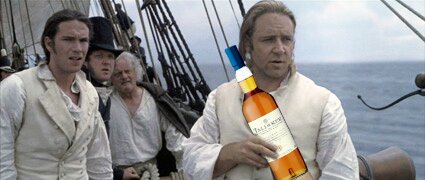 Those who know me will be well aware that I'm not the hugest fan of film screenings held in tenuously-linked locations. Special screenings are great, but until someone shows Cliffhanger while audiences hang off the side of a cliff, or arranges a broadcast of How to Train Your Dragon while audiences fly on the back of a dragon, I'm not that convinced location-themed events are worth the expensive ticket price.
But an email dropped in my inbox yesterday and it might be one of be the best screening events I've seen in a while. Why? Because it involves boats.
Yes, there is a screening on the Isle of Wight (a place surrounded by water, fact fans) on Friday 12th August claiming to be "the world's first Sail-In cinema". Quite simply, you grab a boat, sail in, and watch a film at 7pm on a giant screen erected on the esplanade at Cowes. That's moderately cool in itself, but there are three simple reasons why this "Sail-In Cinema" is worth your time:
1. They're not showing Pirates of the Caribbean 2 or 3. They're showing Master and Commander: The Far Side of the World, a much better boat-themed film.
2. It's sponsored by Talisker single malt whisky. Whisky on a boat? What could possibly go wrong?
3. It's free. None of that £40 per ticket malarkey. This is more like a bit of outdoor community cinema.
To be allowed in, you have to be over 18 - and presumably own your own boat. Hopefully they'll sort you out with some whisky once you're there. So that leaves one obstacle: getting to the Isle of Wight. But if you're the kind of rich person who already owns a boat anyway, then transport won't really be an issue.
I sadly don't own a boat and won't be in attendance but if you can make it (head this way for the Talisker's Sail-In Cinema Facebook page), let me know how much fun you had - and maybe Talisker will give me some free whisky for sending you their way. Or a free boat. Whatever. I'm not picky.
Tags:
isle of wight
master and commander
russell crowe
secret cinema