| | | |
| --- | --- | --- |
| Home Videos: Homeward Bound (1993) | | |
Written by Ivan Radford
Tuesday, 09 August 2011 08:19
With Rise of the Planet of the Apes and Project Nim approaching, this week I turned to the first animal-based VHS I dug out from the stash in my attic: Homeward Bound, the remake of Disney's 1963 film, The Incredible Journey.
"What's the matter, did you get up on the wrong side of the litter-box?" So said the talking animal to the other talking animal. Because animals use litter-boxes. And these animals can talk. It's not the worst joke of the film (there are lots of "sniffing butt" gags), but it sums up Homeward Bound quite well: it's certainly no Finding Nemo, but hey, it sure ain't Zookeeper.
Directed by Duwayne Dunham, Homeward Bound is the story of a group of pets (called Courage, Adventure and Friendship, if the box is anything to go by), who run away from their temporary carers in order to get back to their owners - exactly the kind of mushy sentimental plot that you'd expect from the editor of Blue Velvet. Sort of.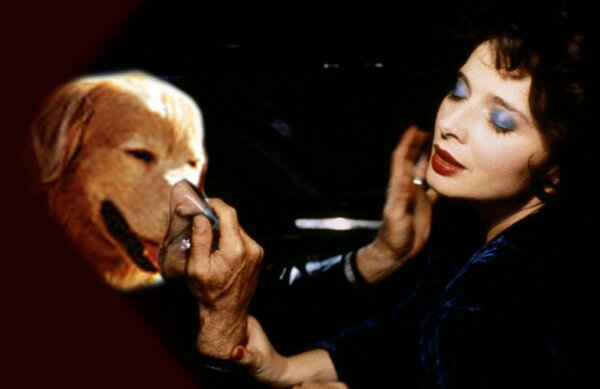 This mental image is all kinds of wrong. 
The three animals are two dogs and a cat, the latter inevitably belonging to the girl in the family. (Three kids with one pet each? I was lucky enough to share one baby rabbit with both of my siblings.) Of course, in keeping with talking animal tradition, the trio are voiced by famous actors. Chance, the happy-go-lucky immature bulldog, is voiced by Michael J. Fox. Shadow, the mature, wise Golden Retriever is played by Oscar-winner Don Ameche, and Sally Field is Sassy. 
As the animals run across pretty landscapes, they encounter danger of Lassie proportions. One of them gets washed down a waterfall. One of them gets stuck in a hole. One of them has a close encounter with a BEAR. They even interrupt a primary school rehearsal for a play and accidentally destroy the magic pumpkin. It's all pretty hair-raising stuff. Just look at this thrilling heist set piece: 
Using a neat line in low-level photography, Dunham follows the animals closely through the mountains and fields - given the bizarre array of stunts and potential animal harm, Disney deserve a pat on the back for training the dogs/cats and carrying off the production so smoothly. They get bonus points, too, for allowing all the poor kids in the audience to believe that one of the animals is dead for a whole three minutes. That's 180 seconds of anxious squirming and awkward questions for parents. Brave, indeed.
Naturally, Homeward Bound avoids the temptation to go all Bambi - after all, this is modern, feel-good family stuff, even if it does present the scary notion that actually, it's the animals that own the humans. "It has been since the beginning of time, when a few wild dogs took on the responsibility to watch over man and protect him…" explains Shadow, ever the Obi-Wan Kenobi to Chance's young Skywalker. As long as kids don't believe that unhistorical rubbish, Homeward Bound is harmless fun.
What would be great, of course, is if they made an adult version, with David Mitchell and Robert Webb adding Peep Show-style voiceovers. Alternatively, they could just make Peep Show: The Movie, in which Mark and Jeremy are accidentally turned into animals. Or in which they eat two dogs and a cat.
(Any excuse to post that clip...) 
Maybe it's because the animals talk to each other and not to humans. Maybe it's because it features the line "We're sorry about the magic pumpkin!" Or maybe it's just because Kevin James isn't in it, but Homeward Bound remains a very likeable movie 18 years on, with three rather cute talking animals. Awwww.
Let's just not talk about Homeward Bound 2: Lost in San Francisco, when the studio ran out of ideas and introduced the world to street-talking dogs. And the Snakes on a Plane/Final Destination director David R. Ellis. When it comes to talking animals, Disney really do have an odd taste in directors.
Tags:
disney
don ameche
home videos
homeward bound
michael j fox
sally field
vhs