| | | |
| --- | --- | --- |
| Home Videos: The Pagemaster (1993) | | |
Written by Ivan Radford
Tuesday, 02 August 2011 08:46
With Captain America captaining it up across the world, it's easy to forget that Joe Johnston has done a lot of movies over the years. And not just The Wolfman. A case in point? The Pagemaster, the 1994 animated film. Amazingly, I actually own it on VHS. I don't know why, but it's apparently a Turner Family Favourite. I do know that whoever the Turner family are, they're idiots.
The tale of a young boy learning to overcome his fears, it's a painfully obvious film. It may teach you to appreciate books, but watching it is only likely to make you less intelligent. Ironic, you might think. Then again, it is made by Fox.

In a revolutionary turn of events, The Pagemaster divided itself into two sections: animated (directed by Pixote Hunt) and live action (directed by Joe Johnston). It was a groundbreaking decision for anyone who hadn't seen Who Framed Roger Rabbit? and it almost makes the whole film seem clever. (It isn't.)
Take the lead character, a boy with less depth than his 2D pixelated counterpart. He's called Rich. And he's played by Macaulay Culkin.
You can tell Macaulay isn't playing Kevin McCallister in Home Alone because he wears glasses. And spends his time reciting safety statistics. "8% of all household accidents involve ladders," he drones, staring blankly ahead. It's almost neurotic enough to be entertaining (his bedroom has two signs, one saying "In case of fire break glass", the other "In case of broken glass wear these shoes"), but statistically speaking, Rich is 8% more boring than Horrid Henry: The Movie.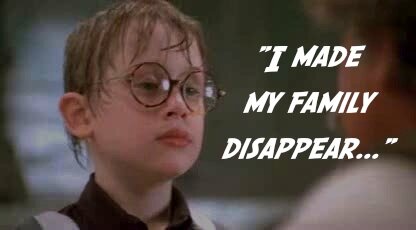 Things take a turn for disturbing when Rich happens upon an abandoned library in the middle of a thunderstorm. Enter a librarian, an old man with a twisted beard and piercing stare (none other than Christopher Lloyd). "I know what you want…" whispers the man, leaning towards the boy.
Then, quicker than you can say stranger danger, Rich runs off, library card in tow, and gets attacked by a splodge of CGI in a corridor. Turned into a cartoon, he enters the world of fiction, accompanied by three talking books called Fantasy, Horror and Adventure. (Knowing that two of them are voiced by Patrick Stewart and Whoopi Golberg only makes things more painful.)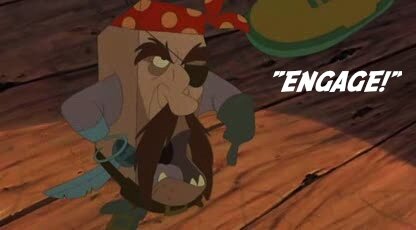 With the talking books in tow, Rich travels through classics such as 20,000 Leagues Under the Sea and The Hound of the Baskervilles. Given the 80 minute runtime, it's no surprise that they ruin all the novels completely. Rushing to cram in as many literary references as possible, they turn Dr. Jekyll's Mr. Hyde from an intriguing alter-ego into a demented golliwog: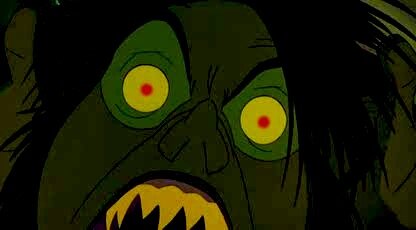 As for Treasure Island and Gulliver's Travels, the cameos from each novel have no bearing on the plot whatsoever. Rich simply runs through the world of Horror and Adventure like it's a slightly naff computer game - of course, there is a slightly naff Pagemaster computer game available. Then they enter the world of Fantasy, which looks like a weird TV spin-off from Ridley Scott's Legend. But even more annoying. 
(Before you ask, yes - there is a centaur playing the pan pipes.)
Strangely, it all seems to build up to a big romantic climax, where Adventure snogs Fantasy, right on the front cover (oo er). Turning to Whoopi, Patrick Stewart purrs: "How would you like to curl up with a good book?"
Fast forward a couple of minutes and Rich is back in the real world and cured of all of his fears. The moral of the story? If you're a lonely boy who needs to get out more, spend time on your own in a dark room snogging books and everything will be fine. It's a mixed message to send to children. Maybe I've got it slightly wrong. Either way, getting off with a paperback would be a better use of your time than this silly film.
Oh well, at least Joe Johnston moved on from the live action segment of The Pagemaster and made Captain America instead. I dread to think what would happen if he continued working with Macaulay Culkin...
Tags:
christopher lloyd
home videos
macaulay culkin
patrick stewart
the pagemaster
vhs
whoopi goldberg