| | | |
| --- | --- | --- |
| Home Videos: Free Willy (1993) | | |
Written by Ivan Radford
Tuesday, 19 July 2011 12:37
When it comes to watching a VHS every week, sometimes you need a little bit of moist feel-good action to keep you going. Which is why I turned this week to Free Willy, a film that for a long time I considered to be The Greatest Movie Ever Made.
Watching it now, I can confirm that it is not the greatest movie ever made. It is, however, The Greatest Movie Ever Made About Interspecies Relations Between Man and Orca. Or, to put it another way, it's How to Train Your Dragon. But with a whale.

Of course, proclaiming it the greatest man-meets-mammal movie may not be saying much, considering that its main rivals in that departments are Free Willy 2: The Adventure Home and Free Willy 3: The Rescue. Having seen all three like the Free Willy obsessive I am, I can confirm that they're all basically the same film, but with slightly different (and yet identical) titles.
At its heart, Free Willy is probably a cynical piece of formulaic animal entertainment, designed to milk money from children and their unsuspecting parents. But when you're a little kid, sometimes that's all you need from a film. And with Simon Wincer at the helm (yes, THE Simon Wincer - the man who directed Billy Zane's The Phantom), it really does hit all the right buttons.
Meet Jesse. He's a stray kid with no parents and a life of begging on the streets and dodging social services. In other words, the kind of character that a child raised in Essex (i.e. me) can identify with. Plus he plays the harmonica - something that makes up for the fact that he looks a bit like a young Anthea Turner. 
Child star Jason James Richter was so good at playing the role of he's-quite-nice-really-once-you-get-to-know-him-as-long-as-you're-a-giant-whale Jesse that he didn't really get much further in his career. Unless you count The NeverEnding Story III. Many wouldn't.
As a result, the poverty-stricken opening scenes of Free Willy have an added poignancy: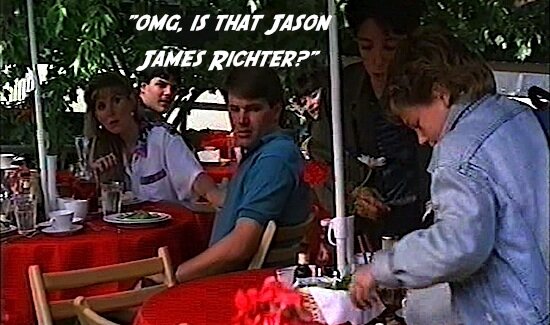 But luckily, Michael Madsen and his wife come along and take pity on Jesse, whipping him into shape with the stern iron rods of foster parenting and unconditional love. Awww.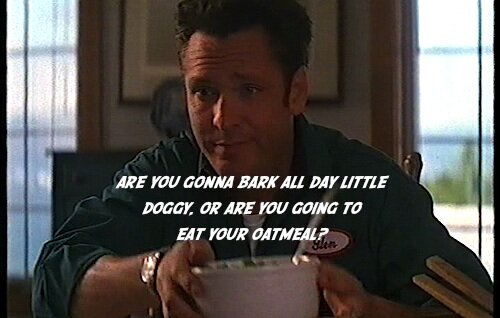 At first, Jesse doesn't like his new foster parents, but things change when Jesse meets Willy. You see, there's a special bond between the two lonely souls. A subtle theme that's barely noticeable to the untrained eye.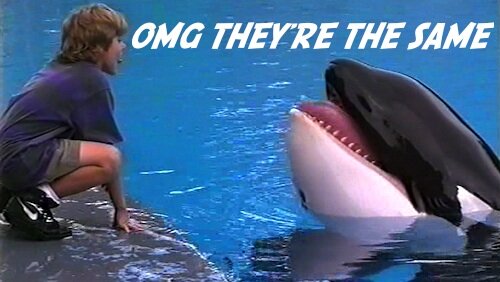 And Jesse learns this as he gets to know Willy, play with Willy and touch Willy. (Of course, back then I was far too innocent to make a joke about the fact that "Willy" sounds a bit like "Willy". Now I'm a filthy adult, I'll let you make that joke yourself.)
A short training montage later and things go all How to Train Your Dragon and become very awesome. There's even a cool "learning to fly" scene, accompanied by the rousing sentimental score of Basil Poledouris (the Simon Wincer of film composers).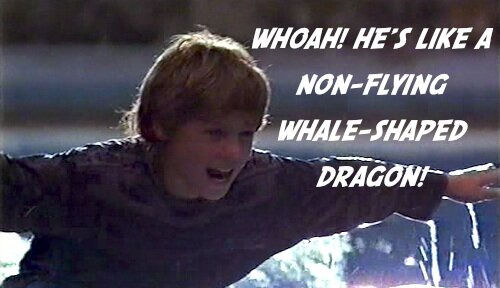 But there are evil men who want to kill Willy and keep him captive (oh no!). Poor Willy. He just wants to be free. And so it all climaxes in an exciting car chase to get the whale to the nearest port and dump him back in the ocean.
The end result? The most famous moment of the whole film, when Willy jumps over Jesse and escapes to freedom. (Does that count as a spoiler? It IS on the box...)
The sequence is a weirdly obvious combination of the (sadly dead) real life killer whale Keiko, a giant animatronic orca, and some really shoddy CGI. But the emotional payoff? Boy, it feels good. 
It felt so good, in fact, that The Simpsons had to go and ruin it for everyone. As a result, I can no longer watch Free Willy without thinking of this:
But the Simpsons parody isn't as annoying as the fact that not only was there an animated TV series about my favourite orca, but also another sequel released last year called Free Willy 4: Escape from Pirates Cove.
When will people stop and realise that trampling all over my inner childhood killer whale is a horrible and heartless thing to do? I'll start up a campaign one of these days. "SAVE IVAN'S INNER CHILDHOOD KILLER WHALE" the placards will read. One of them may even have a pun on the word blubber.
So if you're need of some watery fun this summer, don't forget Willy and his freedom. Even if you're a heartless whale hater, Simon Wincer's excellent family film is moving stuff. Plus it stars a guy with a ponytail called Randolph. That's worth the 50p VHS price on its own.
(Fans of Michael Jackson may also be interested in the Free Willy theme song that plays over the end credits. It's over here.)
Tags:
free willy
home videos
how to train your dragon
jason james richter
michael madsen
the simpsons
vhs