| | | |
| --- | --- | --- |
| Home Videos: The Watcher (2001) | | |
Written by Ivan Radford
Tuesday, 05 July 2011 10:41
After a short break for Wimbledon last week, the quest to work through my pile of old VHS tapes continues. Picking this week's video at random, I stumbled across the most disturbing thing in the attic since I walked in on Aunt Meryl and her pet goldfish in 2007. It was a copy of The Watcher.


"Clever and Slick"? That's the second worst thing I've seen the News of the World do this week.

In case you haven't heard of it, The Watcher is a 2001 psychological thriller - in that if you find it thrilling, you need psychological help.
It's a provocative movie. After sitting through 93 minutes of Keanu Reeves pretending to be a serial killer, I couldn't stop asking myself questions: Did someone in my family actually go out and buy this VHS tape? And (most provocative of all) was that someone me?
As you can tell from the photos on the box, The Watcher is one of those cat-and-mouse films, although calling it that is probably an insult to both cat and mice. Basically, Keanu Reeves is a serial killer, and James Spader is the loner cop who's tracking him down - a nice, original idea. You can tell that from the groundbreaking opening credits, which are all jerky and "modern", several years after Fight Club and Se7en did it, but did it well.
With grainy images jump-cutting all over the place for no reason, Joe Charbanic goes all out with his super-stylish visual palette. His favourite thing? Negatives. You know back when you were 11 and someone introduced you to Microsoft Paint? And then you started inverting all your photos because you thought it looked cool? The Watcher is 93 minutes of that.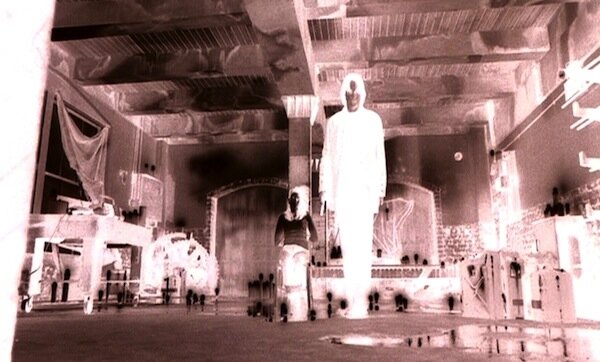 Keanu Reeves proves his acting range by playing the world's first X-Ray serial killer
Add on top some synth music, plinky xylophone noises and the odd wailing female, and you've got one annoying bunch of audio-visual tics. It's like watching the opening credits to Silent Witness over and over again. But with Keanu Reeves staring at your face.
Of course, the cast try their bestest with the dreadful script. While the audience plays Spot the Cliche, James Spader is working hard to make his burned out FBI agent convincing. Living in his empty apartment (IT'S SYMBOLIC, DUH), he pops pills, self-injects medication, stumbles around the living room with his eyes half open - the whole shebang. He even forgets to open his Fedex deliveries for four days. Four days. This is clearly a man on the edge. Although if he was really suffering from emotional trauma, he'd grow a beard too.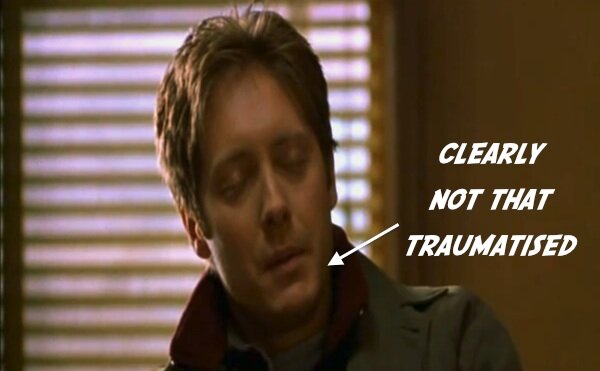 Of course, it turns out that those Fedex envelopes contain photos of our serial killer's victims (well done, Fedex! Foiling crime through the world's most punctual postal service!) and these then lead to a nationwide scramble to identify each girl before they're garroted with piano wire at 9pm.
But this hackneyed plot is obviously second fiddle to the emotional bond between Spader and Reeves. This is explained when Keanu Reeves phones James Spader in the middle of night, probably while drunk. It's a bit like Frost/Nixon. And every other film ever made. (We all remember that legendary drunk phone call scene from Bambi.)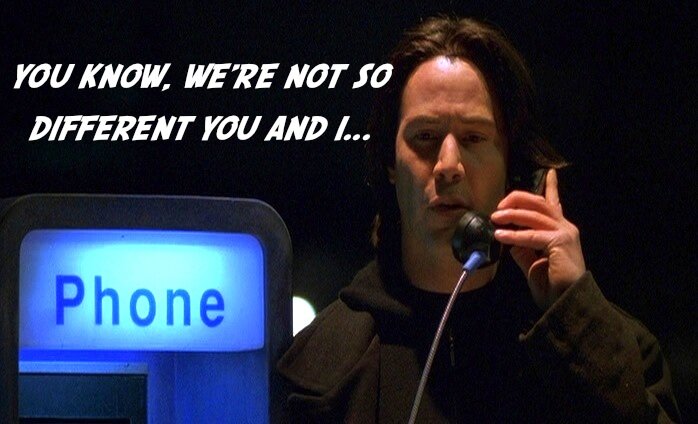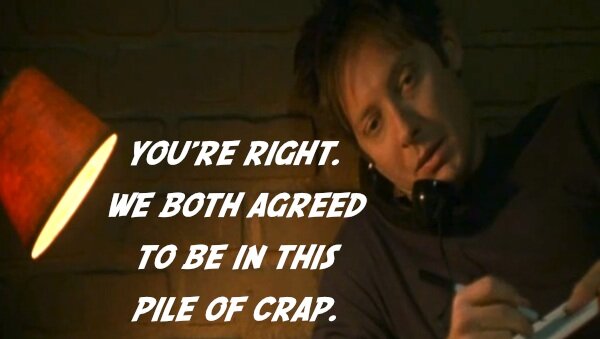 The rest of the film is spent listening to James Spader talk in a husky voice to Marisa Tomei. She's a psychiatrist who helps him talk through his traumatic back story like the good plot function she is. Think Skippy the Bush Kangaroo. But with breasts. What's that, Marisa? James Spader's wife was killed by Keanu Reeves in a big fire years ago? Strewth, I didn't see that coming.
Hinting that he may suffer from psychological problems and stress, the scenes in her office are very subtle pieces of exposition: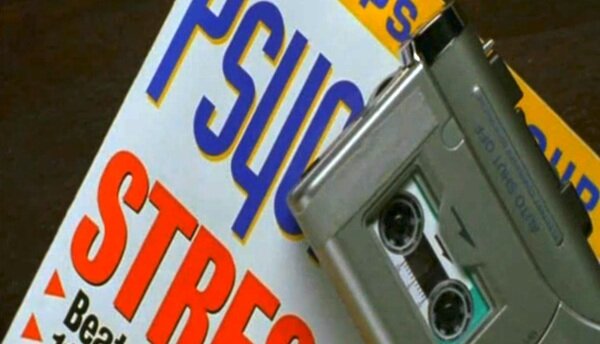 "Cycling Weekly" magazine had another bad typo on their front cover.

"I'm lucky to make it home from the grocery store," laments Spader. "If I do, I've forgotten my groceries." Won over by his tales of forgotten cucumbers, Marisa develops a crush on James. "Yet you manage to get here every week without a problem," she replies, staring lovingly into his eyes while waiting for Keanu Reeves to come along and kidnap her.
As soon as he does, we find ourselves in another against-the-clock manhunt, led by James Spader, who's suddenly wearing a suit again and combing his hair properly. As he runs around trying to save her life, the police tear up the town: they run the wrong way down escalators, drive cars slightly above the speed limit and demand that other things get done very quickly too. "I need your employees' names and numbers right now," demands one policeman. "I'll have to call my boss," stammers a nervous shop attendant. "Do it! Do it!" he shouts, sticking it to the man with his ruthless need for speedy and efficient paperwork.
If the entire film was like this, it might work (it probably wouldn't) but alas, everyone thought it was a good idea to give more screen time to Keanu Reeves and his long hair and leather jacket. Still, at least we get to see Keanu's incredible impression of a bunny rabbit: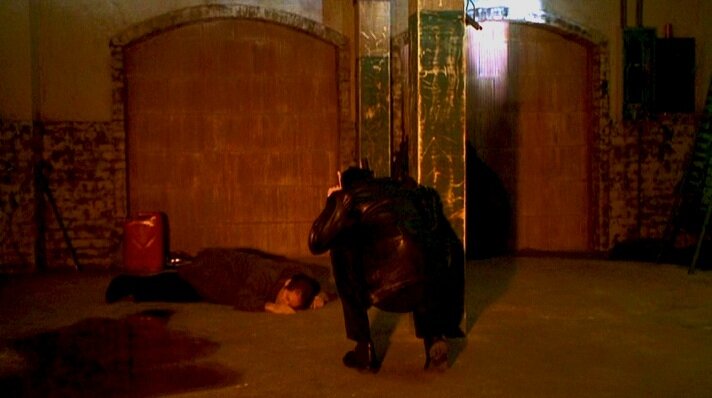 (This photo needs no caption.) 
It's this kind of thing that prompted people to declare that Reeves was showing the world his versatility as an actor.
Now, we all know that Keanu is the real life version of Derek Zoolander, and that his facial expressions are exactly the same at all times, but there is a surprising moment in The Watcher where he smiles. Yes, he displays some form of happy emotion. It looks a bit like this: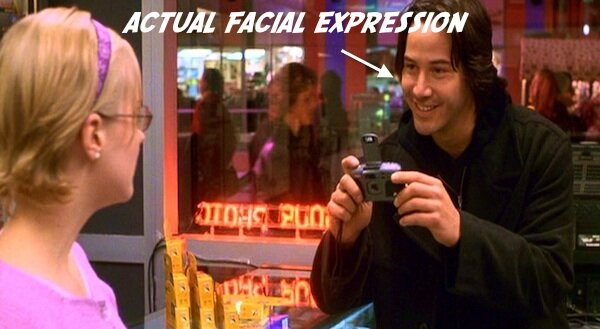 It's conclusive proof that like Ben Affleck, Keanu Reeves is at his best when he's standing behind a camera.
In case you're still thinking that The Watcher on VHS would be a bargain purchase for only 50p, let me make this clear. Out of the 93 minutes, there's one bit worth watching. And that's because you can hear a song that sounds a bit like No Doubt's classic Don't Speak on a radio in the background. For 10 seconds. That's it. Otherwise, this is Grade A bollocks.
Looking back, it may not be a surprise to learn that The Watcher was music video director Joe Charbanic's first feature film. It was also his last. I hope I have a copy of Stargate on VHS somewhere so I can remind myself what a good James Spader film looks like...
Tags:
james spader
joe charbanic
keanu reeves
the watcher
vhs