| | | |
| --- | --- | --- |
| Home Videos: American Pie (1999) | | |
Written by Ivan Radford
Tuesday, 28 June 2011 12:39
With Bridesmaids now in cinemas and The Hangover Part II still raking in the box office moneys, it seemed about the right time to revisit the VHS of that archetypal gross-out comedy, American Pie.
Back in 1999, the idea of watching a bunch of guys trying to lose their virginity was a bit of a racy novelty for 15 year olds. Now, it's clear that American Pie has influenced practically every facet of modern culture you can think of. 

Still, the people who bought the VHS weren't worried about such lofty cultural considerations, and Universal knew it. They even stuck an advert on the videotape before the film started, just to remind viewers that the film was about to come out on VHS - in case they had forgotten to buy it. Yeah, get your head around that one.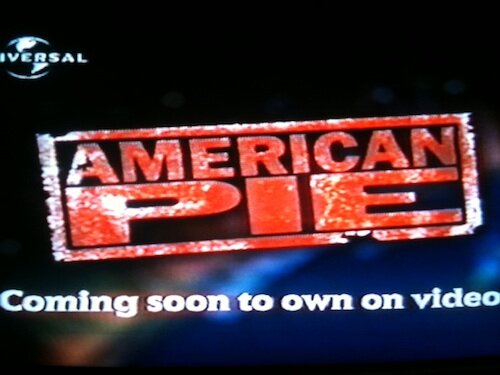 Of course, American Pie was a big hit on video and in cinemas. The tale of Jim (a role that Jason Biggs will never escape from) and his friends making a pact to pop their collective cherries by prom night resonated with a generation of sex-mad youngsters. But that was no fluke. To make sure the key theme of sex came across clearly for the hormone-addled audience, the word "sex" appeared throughout the film approximately every 2.4 seconds.
But don't worry: those wanting character development and witty one-liners from this VHS are catered for too. They need look no further than lines like "You coming to my party, fuck face?" spoken by Sean William Scott, a guy who's likeable because of one important talent: he looks like Andy Roddick.
| | | |
| --- | --- | --- |
| |   | |
| Former Tennis World Number One Andy Roddick |   | Steven Stiffler |
One of these men went on to win hearts the world over and triumph in several major tennis tournaments, including the US Open. Another one starred in Cop Out, Role Models, Dude, Where's My Car? and Mr. Woodcock.

Of course, no article about American Pie can go without mentioning the movie's most famous moment: the part where Jason Biggs shoves an apple pie up his penis to see how hot things get. Right before it happens, someone tells Jim that sex is like apple pie - thus clearly justifying his behaviour. His response: "McDonald's or home made?" It's either a very clever satirical comment about commercialism and branding, or it's a request for practical advice. Either way, McDonalds now include a health warning on their packaging: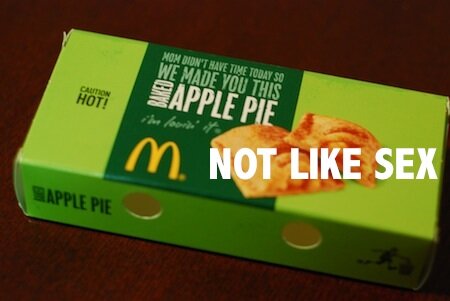 Aside from such awkward adolescent angst, the apple pie scene also gives a chance for Eugene Levy to display his comic talents as Jim's Dad - a character more famous than Jim himself. To date, six American Pie sequels have been churned out, just so Jim's Dad could return and waggle his suggestive eyebrows. By now, Martin Scorsese is probably wondering what happened to his estranged half-brother after he left the house for an audition 12 years ago.
| | |
| --- | --- |
| | |
| Academy Award-winning director Martin Scorsese | "Jim's Dad" |

But forget about the embarrassing fathers and constant talk about sex, because American Pie is actually a deep and serious film with real characters. These poor kids just want sex. That's all. Just some sexy, sexed-up sex. After 90 minutes of talking about how they'll have sexy sex with sexy people on prom night, they then suddenly turn around and decide that they don't want sex at all, that sex doesn't matter. It's a beautiful moment of moral awakening. 10 minutes later, they're rewarded for this revelation with sex.

Ok, so it's not as misogynistic as Hall Pass - and quaintly inoffensive compared to The Hangover Part II - but the components are all there, waiting to inspire a generation of male-driven sex comedies (see Road Trip, Van Wilder, etc). 

But there are other areas of culture that American Pie influenced too. Remember lacrosse player Oz (Chris Klein), a guy who joined a choir to get off with Mena Suvari, only to end up enjoying singing more than playing sports? High School Musical owes a lot to Mr Ostreiche - and so, in turn, does Glee.




THEY DID IT FIRST

 
Even more important than that, American Pie was one of the first films that actor John Cho appeared in. For the record, he was the guy who shouted "MILF" at a picture of Stiffler's mum (you've got to love the film's reference to The Graduate).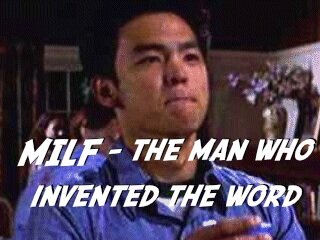 Fast forward 12 years and Cho's reprising his role as Sulu in Star Trek 2, spreading American Pie's legacy across the galaxy.

Then there's the song Flagpole Sitta by Harvey Danger, released the year before America Pie hit cinemas, which featured in one of the film's main party scenes. Now, after its teenage audience have grown up to become bitter 20- and 30-somethings, they know it as the Peep Show theme tune.
Credit should also be given to Paul Weitz and Chris Weitz, the directors who went on to give the world About A Boy, a film that kept Hugh Grant going just when his stereotypical rom-com roles were getting stale and boring. The Weitz brothers' American Pie legacy also lasted long enough to give a screen appearance to a young January Jones.
You can see her here in American Pie 3, enjoying a drink with legendary tennis player Andy Roddick: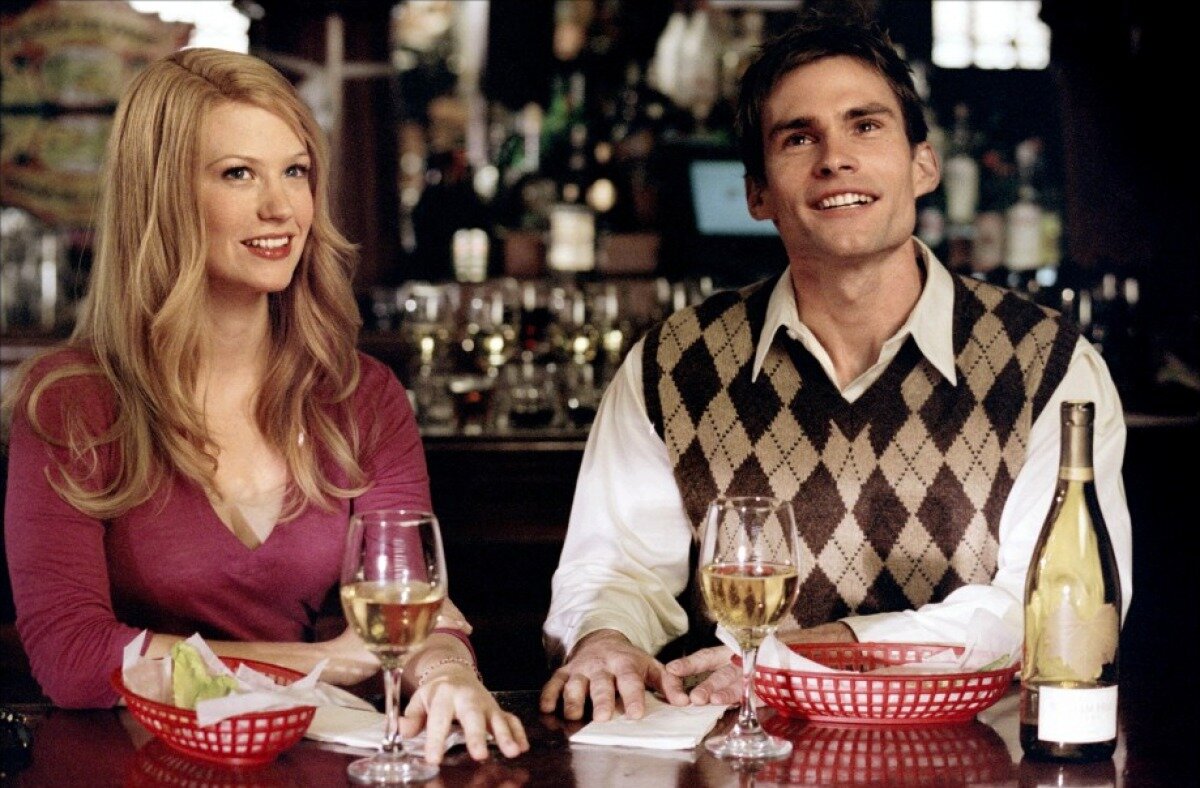 And so it's clearly scientific fact that American Pie is responsible for every significant piece of culture produced in the last decade. In addition to the genre it created (leading, ultimately, to Judd Apatow and Bridesmaids), Brit TV sitcoms, Mad Men, Hugh Grant, Glee, JJ Abrams and High School Musical all owe a massive debt to Jim and his apple pie-based trouser games. Anything that's not covered by the above list doesn't count as culture.

Is American Pie therefore a classic movie? Yes, in a way. And some fans are pleased that they're making an American Pie Reunion film - a still of which was released a couple of weeks ago. Here it is: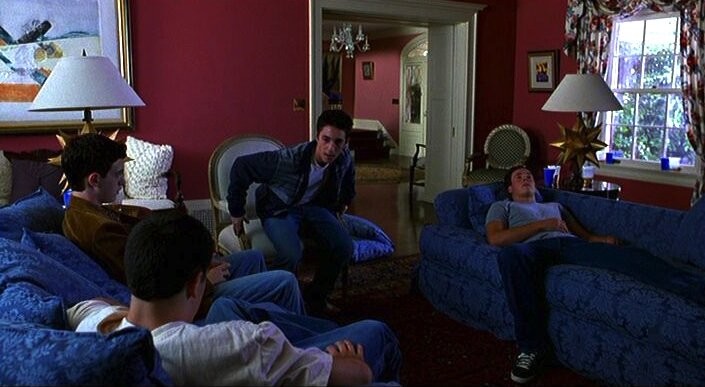 Then (1999)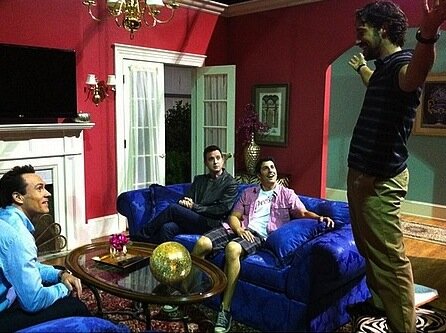 Now (2011)

 
It's great to know that they've gone to such trouble bringing back the key to the movie's emotional core: the living room furniture.

As the magnetic tape in the VHS reaches the end of its spool, you realise that American Pie is a lot like having sex when you're younger. It seems amazing in the haze of your hormonal memory, but look at it closely and it's just an awkward, spotty, soggy mess. It's sort of charming, in a vaguely naff way, but then in the middle of it all, up pops a guy with a video camera and produces a technically impressive 55-second tracking shot. No, really. It's in there. And like said proverbial sex, it's a stylistic decision that continues to haunt me until this day...
Tags:
american pie
bridesmaids
chris klein
eugene levy
glee
home videos
jason biggs
sean william scott
the hangover
vhs