| | | |
| --- | --- | --- |
| Home Videos: A Bug's Life (1999) | | |
Written by Ivan Radford
Tuesday, 24 May 2011 12:01
After last week's brilliant animated swear-fest, I picked something a little more child-friendly from the stash of VHS tapes in my attic: A Bug's Life.
This oft-forgotten 1999 film was the brainchild of Pixar legends John Lasseter and Andrew Stanton, both of whom went on to make bigger, better Pixar movies. Why does this get overlooked by the hordes of Toy Story and WALL-E fans? Well, mainly because it's pretty average stuff. It's not as bad as Cars, but it's hardly a classic.

Even the VHS box has to make an effort to sell the insectoid adventure, offering "The full-length feature!" to anyone who buys it. Just in case you thought you were getting one of those half-length videos that plagued houses up and down the country in the late 1990s.

Still, this was around the advent of DVDs and analogue tapes had to offer something special to viewers. Not just the full-length film, but bonus features too. And so there's promise of bloopers, a short movie, and - most exciting of all - a special preview of Tarzan.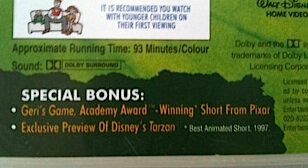 But this isn't any old Tarzan preview, dear cathode ray watchers: this is a Tarzan preview featuring Phil Collins, in all his Phil Collins glory.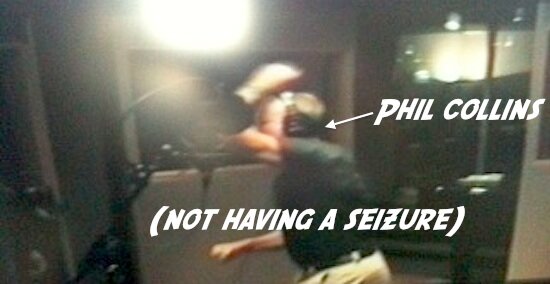 Then we have the obligatory piracy warning, now with added children's voices, saying things like "I can't hear the TV!" and "Mum! The picture's all funny!" over the top of Dumbo. I'd much rather just be shown footage of the classic elephant with the message WARNING: VIDEO PIRACY GIVES DUMBO AIDS.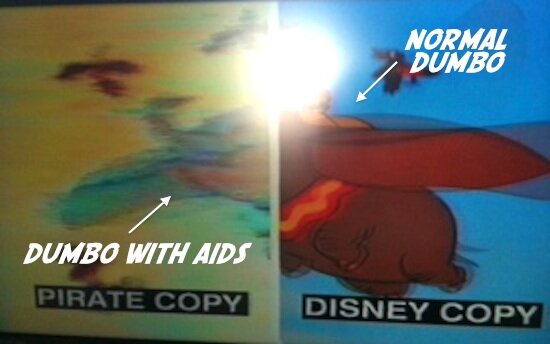 Then the actual (full-length) film starts. Meet Flik, an insecure and insignificant ant who overcomes his outsider status and ends up saving his entire colony. Sound familiar? That's because it is. It's an awful lot like Antz, Dreamworks' 1998 movie about an insecure and insignificant ant who overcomes his outsider status and ends up saving his entire colony.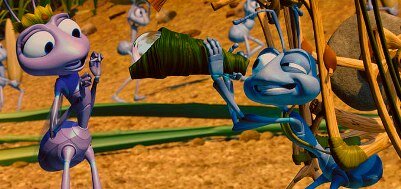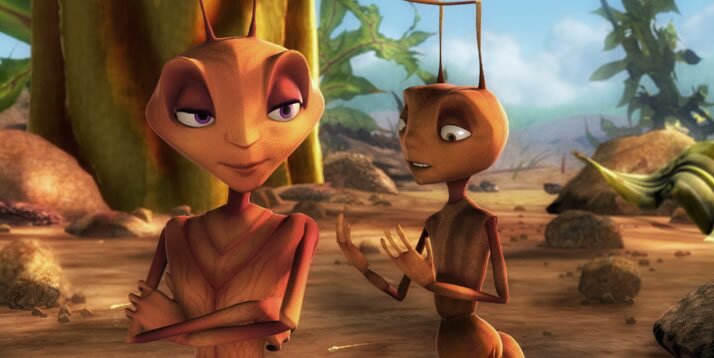 EXACTLY THE SAME FILM
It didn't help that Antz arrived just three months before A Bug's Life (November 1998 vs February 1999), but the main problem is that Antz is simply better. One of the rare times Dreamworks have come up with a smarter script than Pixar, A Bug's Life was further hampered by the fact that its lead was Dave Foley. The guy who voiced the Baldwins in South Park: Bigger, Longer and Uncut, Dave Foley was no Woody Allen.

Antz, on the other hand, starred Woody Allen. Who very much was Woody Allen.
| | |
| --- | --- |
| | |
| WOODY ALLEN | NOT WOODY ALLEN |
While Woody's rare excursion into animated voice work massively boosted the whole insecure ant angle, A Bug's Life could console itself with slightly better critical acclaim. Nominated for an Oscar for Best Music, Pixar's effort was smiled upon by uncle Oscar, while Antz got a BAFTA nod for Best Special Effects.

Then again, it's no surprise that Oscar liked Pixar's music. It was, after all, by Randy Newman. And we all know what he can do when he puts his mind to it. On a good day, he's even better than Phil Collins. Just look at his work on Star Wars:

Away from Toy Story, though, Randy Newman's music is as forgettable as the main characters. Take the beautiful Princess Atta, for example. There's almost nothing distinctive about her. Unless you count her younger sister, Dot. The only tiny antling who believes in Flik's crazy contraptions (he's an inventor, by the way), she spends most of her time saying cute things, jumping up and down, and being voiced by Hayden Panettier. Yes, that's right: Hayden Panettiere was in A Bug's Life.


They're the same person. Honest.

But if it's sexy voices you're after, you can't get much better than the villain of the piece. Leader of the grasshoppers that attack the ant colony every year and steal their harvest, Hopper is a big, mean insect with a cruel line in pithy putdowns. Which is why he's played by Kevin Spacey.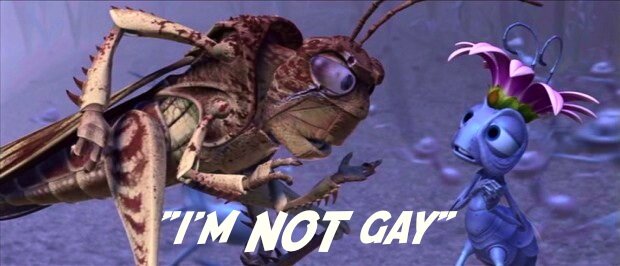 Kevin hams it up as Hopper ("Excuse me? Do you think I'm stupid? Do I look STUPID to you?"), selling the evil insect vibe with his snide sarcasm and seductive growling.

As a contrast, Lasseter and Stanton bring in the comic relief pretty early on with a bunch of oddball circus bugs. It's just a shame that they're not very funny. Lots of one-liners full flat and when they're not perfoming their circus tricks, it gets a little tiring. There's the fat one, the thin one, the tiny one, the stupid one. It's like they took Timon and Pumbaa from The Lion King and multiplied them by four.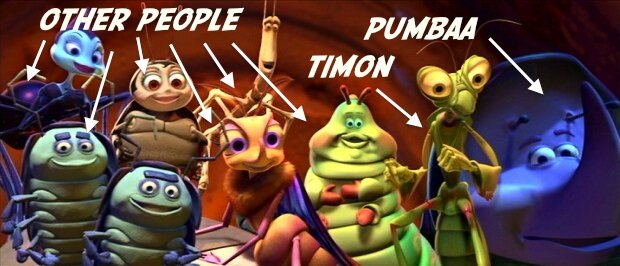 Mistaken for strong warrior types, the circus performers are recriuted by Flik to protect the colony from their evil grasshopping overlords. In other words, it's exactly the same plot as Chicken Run - a similarity that gets even stronger when they hatch a plan to build a giant bird.

Of course, Chicken Run didn't come along for another two years. But instead of proving A Bug's Life to be an influential classic, it somehow ends up just highlighting how much better Aardman's take on the idea is.

It falls to supporting cast member David Hyde Pierce to come up with the genuine laughs, voicing a world-weary stick insect with an eye for physical humour.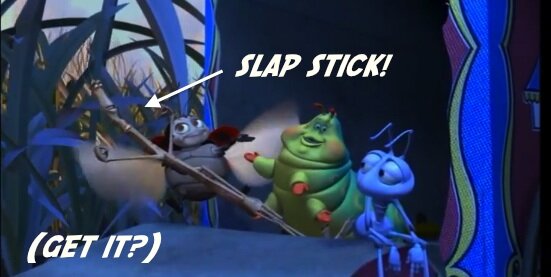 Ok, it's harsh to completely dismiss Pixar's early film. Every now and then, there's a joke that hits the proverbial insect right on the antennae. But mostly this is just bland, unmemorable stuff.

So Disney were smart after all to include those other bits on the VHS tape. Who knew a VHS could be saved by special features? Without them (Phil Collins aside), it might not be worth buying A Bug's Life on video at all.

At the very least, it's a chance to own the excellent Geri's Game for less a quid (if you buy it on VHS from your local Oxfam like a smart, charitable person).
And if that doesn't rock your boat, there's always Randy Newman to keep you going.
And before you ask, yes - that was totally worth posting twice.
Tags:
antz
chicken run
dave foley
disney
hayden panettiere
home videos
kevin spacey
vhs
woody allen