| | | |
| --- | --- | --- |
| Home Videos: Broken Arrow (1996) | | |
Written by Ivan Radford
Tuesday, 03 May 2011 13:13
In a week where everyone was watching the Royal Wedding or sunbathing in the gorgeous outdoors, I knew it would take something special to make me stay inside and continue rooting through the stack of VHS tapes in my attic.

Fortunately, it was something special: Broken Arrow.
John Woo's 1996 action film has long been confined to bargain bins in newsagents around the country. And unfairly so. Ok, it's no Face/Off - that masterpiece would arrive one year later - but this over-stylised piece of trash is more than just a test run for Woo's English-language skills. It's a big, dumb, exciting thriller.

Plus it stars Christian Slater. CHRISTIAN. SLATER. The manliest man's man that man has ever known.
The plot is your classic evil-man-steals-nuclear-warheads-and-holds-America-to-ransom scenario. In fact, that's apparently what the phrase 'Broken Arrow' means. As one character puts it: "I don't what's scarier - losing a nuclear weapon, or the fact that it happens so often we have a name for it."

Amazingly, even though their nuclear weapons have been stolen at least a billion times before, the American army still haven't improved their security to stop it happening again. Although this is no amateur thief we're talking about. Broken Arrow's bad guy is none other than John Travolta.

Hot on the heels of his Pulp Fiction performance, Mr Travolta laps up the chance to play the villain, Deakins. He wears sunglasses, smokes cigarettes in people's faces and spends most of his time on screen throwing his head back and cackling like a crazed scientologist.

At one point he even wears a polo neck top - the very height of evil.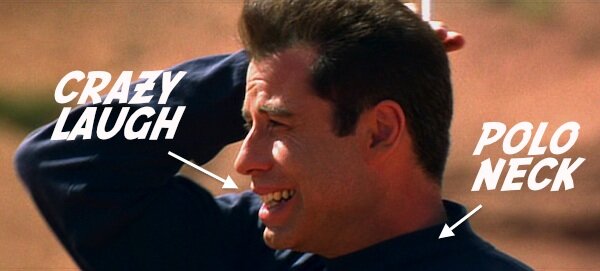 Ok, so he's only warming up for his equally cackle-heavy turn in Face/Off, but this is textbook Travolta bad guy and that's a lot of fun to watch. Especially because Deakin's not involved in some post-9/11 terrorist plot or government conspiracy. Oh no, this is the 90s and our villains are good old mentally unhinged folk. Which means that he ranks pretty high on the Travolta Axis of Evil: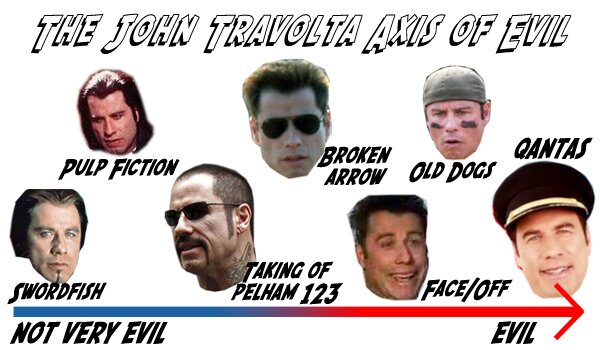 Of course, you can tell from the beginning of the film that Travolta's evil. In typical John Woo fashion, the opening ten minutes sum up everything you need to know about the film. Our two antagonists spar in a boxing ring (and then grapple inside a plane), arguing about misdirection, nuclear warheads and beating each other with their fists. They also seem to place a lot of importance on a $20 dollar bill, which they spend the rest of the film fighting over. It's probably Christian Slater's wages.

At the same time, we get an overview of the director's trademark techniques:
It's just a shame that a dove doesn't turn up at some point and fly around the boxing ring as it explodes.

Naturally, no-one has ever accused John Woo of being subtle. And just to hammer that point home, he spends the rest of Broken Arrow's 100 minute runtime zooming in on the nuclear bomb's timer, counting down to boom o'clock.
While the clock keeps counting, we meet some supporting characters, just to keep the cliche level consistently high. There's Delroy Lindo's hard-ass army officer and the naive White House work experience guy, Giles, who runs around with a side-parting saying idealistic things like: "We're better off just telling the truth."

No prizes for guessing which one of them lives to see the end of the film.
Then there's Samantha Mathis - an actress who most recently used her talents to play the voice of Ryan Reynolds' wife over the telephone in Buried. She's not required to do much with Broken Arrow's script apart from say things like "I've got a radio in my truck..." but dammit, when she says she's got a radio in her truck, you believe that 1. She has a truck and 2. That there's a radio in it. Now THAT'S acting.

Strutting about with a gun and a pout, Samantha's basically a poor man's Sandra Bullock. (Who, in turn, is a poor man's Hilary Swank.) That doesn't matter, though, because it makes her the perfect romantic partner for Christian Slater, the poor man's alternative to anyone else.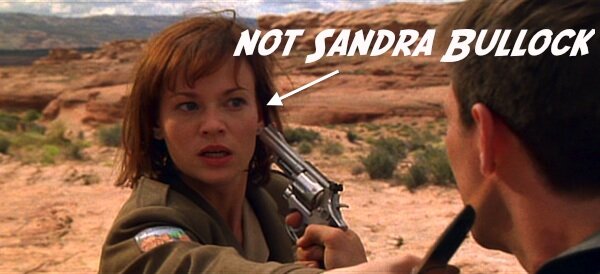 Apart from getting Christian Slater to stand next to a poor, defenceless woman, Woo has one more trick up his sleeve to make him look ultra manly: Hans Zimmer. As well as the cheesy choir music he's known and loved for, The Zimmer created a bass riff for Broken Arrow that was loaded with so much cool, they had to get in guitar man Duane Eddy to play it.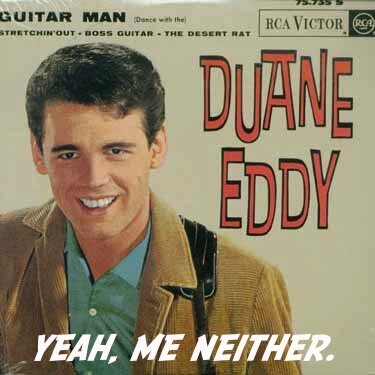 Playing off the film's Western leanings, the guitar line goes well with the vast Utah landscape, not to mention the showdown in the old abandoned mineshaft.

That riff was so cool, in fact, that Wes Craven stole it to use in Scream 2. After some positive reactions from test screenings, Zimmer's Broken Arrow theme promptly ousted Marco Beltami's score and became the signature tune for Deputy Dwight "Dewey" Riley. 
Broken Arrow Theme (Hans Zimmer)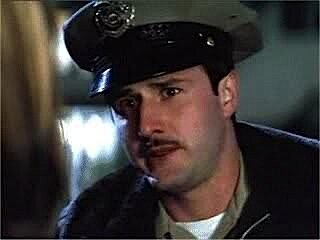 Broken Arrow - making David Arquette look cool since 1996.

So before you write off John Woo's Broken Arrow as a minor bit of explosive drivel, remember this: without John Travolta stealing that nuclear bomb, there would be no Scream 2. Or Face/Off. Or all those other films that Christian Slater made that are probably rubbish.

An action film's legacy doesn't get much better than that.
Tags:
broken arrow
buried
christian slater
face/off
home videos
john travolta
samantha mathis
vhs