| | | |
| --- | --- | --- |
| Great Scott! Cinema's Best Rube Goldberg Machines | | |
Written by Ivan Radford
Friday, 01 October 2010 09:17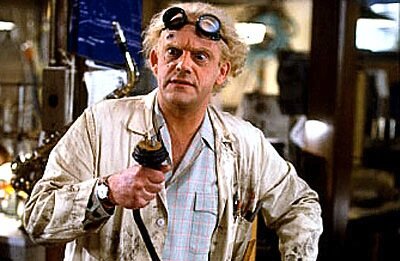 With Back to the Future back in the present, there isn't much you can say about Robert Zemeckis' near faultless sci-fi classic that hasn't already been tweeted by a 12 year old and his dog. So rather than waffle on about mainstream blockbusting at its best, here's something Darth Vader came down from Planet Vulcan and told us to write: a tribute to Doc Emmett Brown, inventor of the finest Rube Goldberg Machine ever seen on screen.

What's a Rube Goldberg Machine? It's an incredibly complicated contraption invented for the purpose of doing a moronically simple task. Like peel a banana. Or catch a mouse. Or feed your dog breakfast. Time travel's all well and good, but the Rube Goldberg Machine is what inventing is all about. Screw the Flux Capacitor - you WISH your DeLorean could do all these mind-numbingly mundane things...
5. Tom's "Better Mouse Trap" (Designs on Jerry) 
Anyone who likes to play Mouse Trap with a die and some plastic bits and bobs (and that stupid diver) is missing the fun of Tom's elaborate failure. Forget the board game, this is what the cool mouse trappers do.
Cheese > Alarm Clock > Log > Hammer > Banana > Windscreen Wipers > Fan > Snooker Table > Switch > Rifle > Cuckoo Clock > Rope > Safe
4. Pee Wee's Breakfast Machine (Pee Wee's Big Adventure) 
That Pee Wee Herman sure knew how to make breakfast. With the help of a then relatively unknown Tim Burton, Pee Wee's Big Adventure showed audiences a mental and hyperactive way to make pancakes in the morning. What started off as a cute daily ritual is probably now driving Helena Bonham Carter round the bend. Especially if she can only see it back to front and in Spanish too - thanks, YouTube.
Fan > Candle > Anvil > Turbine > Ferris Wheel > Egg > Plastic Revolvers > Nodding Bird > Pterodactyl > Toast > T-Rex > Orange Juice > Abe Lincoln > Pancakes
3. Caractacus Potts' Breakfast Machine (Chitty Chitty Bang Bang) 
If you can sidestep the singing (or if you secretly love musicals), then there's nothing more appealing than Dick van Dyke doing your eggs. Although he definitely doesn't check the sausages, so who knows if they're done properly? Great inventor, decent singer, terrible father.
Train > Plates > Sausage > Wheel > Egg > Gold Knife Thing > Hob > Winch > Trolley > Slide > Table
2. The Walsh's Front Gate (The Goonies)
Poor old Chunk - aka The Fat Kid. The other kids won't let him in the house without him wobbling his fat titties all over the street. But it's hard to get angry at them when they have such a cool mechanism for opening the garden gate. That and we all know it's OK to bully fat kids anyway.
Rope > Bowling Ball > Bucket > Balloon > Startled Chicken > Egg > Hammer > Football > Sprinkler > Gate 
1. Doc Brown's Dog Food Machine (Back to the Future)
OK, so it's not as impressive as Pee Wee's. There isn't even a singing Dick van Dyke to go alongside it, but the Doc's Rube Goldberg Machine is great because a. it requires no-one to operate it, and b. it performs something that's even more mundane then opening a front gate. It's basically a contraption designed to throw canned meat on the floor. The best thing about it? It's a cracking opener to a film that really does grab your attention. Bonus points for recycling. 
Coffee Machine > Clock > Burnt Toast > Slide > Robotic Arm > Can Opener > Robotic Arm > Floor 

And given that it's not online to view at all, you can't turn down the chance to see that on a big screen. Back to the Future is re-released in cinemas from today.
Other notable Rube Goldberg Machines:

Any of Wallace and Gromit's Cracking Contraptions. Which we can't embed on here anyway. If you can't be bothered to search through your Were-Rabbit DVD for the awesome Thunderbirds launch sequence, then check out Wallace's breakfast machine (always with the breakfast, these scientists). It makes cracking toast. And in stop-motion too.

Honda's Cog advert. This one really got a lot of attention when it came onto small screens in the middle of Coronation Street. A tiny little bit of wonder. That made no difference to me buying a Honda whatsoever.

OK Go - This Too Shall Pass. That music video from a while back that everyone kept going on about. It is genuinely impressive, though. Great contraptions with some very sneaky editing. Rube Goldberg eat your heart out.
Tags:
back to the future
caractacus potts
chitty chitty bang bang
cracking contraption
doc brown
dog food
goonies
invention
opening
pee wee herman
rube goldberg
tom and jerry