| | | |
| --- | --- | --- |
| Honey, I Spooked the Kids: 6 Ways to Scare Small Children | | |
Written by Ivan Radford
Friday, 24 September 2010 10:45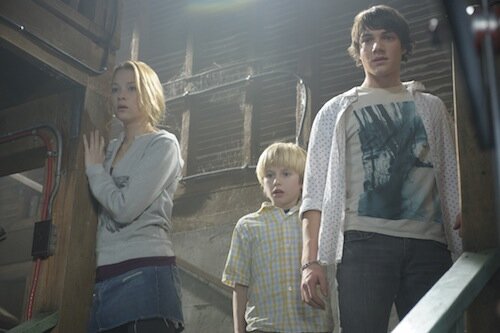 When it comes to kids, horror films fly out the window. You can't take them to see Saw, they whine through Hostel: Part II, and the Texas Chainsaw Massacre doesn't have enough fast-talking animated characters played by Eddie Murphy. Whether you have kids of your own or you hang out with someone else's, film watchers are screwed when it comes to spooky cinema.

But with the return of Joe Dante from the 80s past, The Hole 3D is all set to rejuvenate the family-friendly horror genre. In honour of its release this week, we go all Guillermo Del Toro and look at the best ways to scare small children.

Sick of them crying in the middle of The Exorcist? These films will scare their gobs shut.
1. Gremlins (1984 - 15)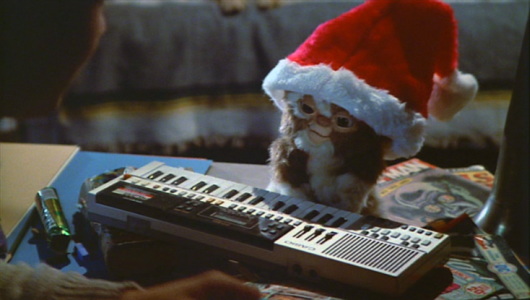 A great way to stop children asking for presents, Joe Dante's comedy horror classic sees teenage boy Billy receive a new pet from his dad, super cute Gizmo, a Mogwai. Then water gets spilt, food gets eaten, and things get put in the microwave. Setting the dial firmly on "nasty", this dark and witty B Movie works as both a satire and a great antidote to Marley and Me. It's presented by Steven Spielberg, but unlike the soppy E.T., there's none of that guns-into-walkie-talkie bollocks. This is the really furry shizzle right here. Ignore the 15 certificate: these days it would get edited down to a 12A. Probably. Now shut up and get on the chairlift.
2. Coraline (2009 - PG)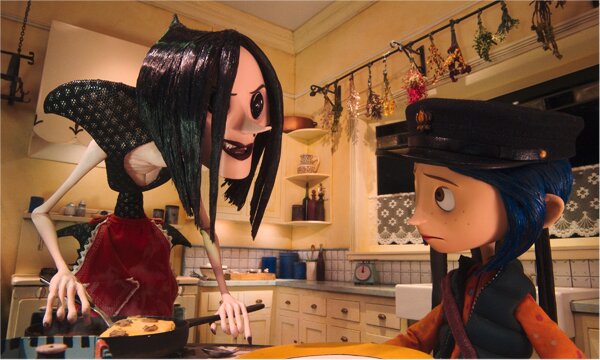 Kids came out of cinemas crying when Henry Selick's stop-motion spooked them half to death. Coraline is the eerie tale of a girl who ends up trapped in the world where her Other Mother lives. It's not so bad, really. There's cake, and there are trains, and there's a lovely pretty garden. But then there's the fact that they all have buttons for eyes. And want to steal her soul. Pretty dark stuff, despite the bright animation. Buy it in 2D and enjoy some seriously unsettling storytelling. Then give your kid a Raggedy Ann doll and watch them go insane.
3. Ghostbusters (1984 - PG)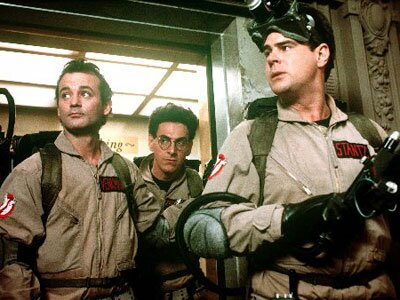 Don't cross the streams! When three parapsychology professors set up their own ghost-exterminating business, you'd expect weird things to happen. Hilarious and warped, Ivan Reitman's comedy manages that balance of adult and child entertainment. A lot of that is down to Bill Murray, who delivers Dan Aykroyd and Harold Ramis' script with perfect timing. It's an insane piece of film-making that packs a lot of laughs, but Gozer? The destructor? That's some pretty dark stuff if you're only 7 years old. Until it all goes the way of Stay Puft Marshmallow Man, of course. 
4. The Nightmare Before Christmas (1993 - PG)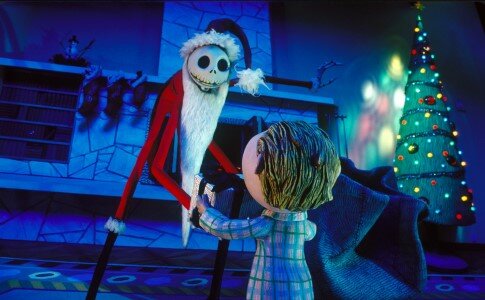 Tim Burton's twisted take on Christmas/Hallowe'en is wonderful celebration of all things festive and scary. Jack Skellington, all bones and impressive singing voice, is an unsettling figure to behold*, but Danny Elfman's music makes Burton's movie as charming as Mary Poppins. Except in his world, the Oogie Boogie man would totally kick that wussy nanny's ass. Amazing songs, great imagination and one of the few films in the world to feature skeletons that can play the saxophone.
* I forced my 5 year old nephew to watch it a few months ago. He hasn't started speaking again yet.
5. The Addams Family (1991 - PG)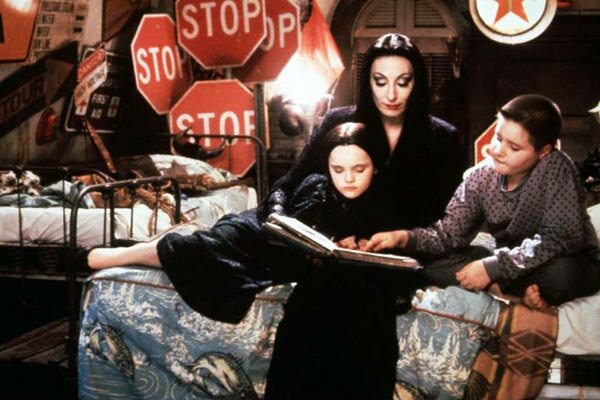 A great chance for Christopher Lloyd to shine outside of Back to the Future, The Addams Family film replicates the equally weird tone of the original cartoon series. Depraved one-liners meet black buildings and black wardrobes (Ruth Myers costume design got nominated for an Oscar). It's not in the same league as Ghostbusters, but sword fights and lightbulbs in people's mouths? I'd take that over exposing my kid to Casper the gay ghost any day.
6. Beetlejuice (1988 - 15)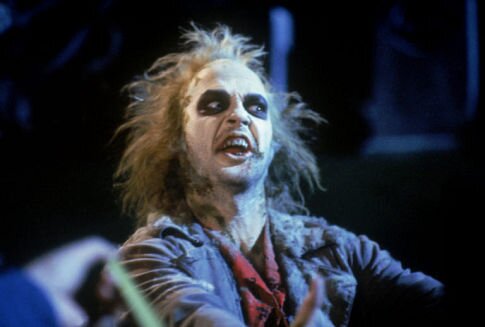 It's no surprise that Tim Burton gets two nods on this list - before Pan's Labyrinth came along, he was the king of blending fantasy and horror with a messed up sense of humour. Here, Beetlejuice finds ghosts hiring a perverted "bio-exorcist" to clear their house of unwanted human inhabitants. The result? An incredible on-screen presence from Michael Keaton, who proves that too much makeup and a whole lot of ham don't stop this from being a laugh-out-loud, demented and horrific gothic farce. Start your kids off with the animated series, then shove this in their face and promise them £10 if they chant Betelgeuse's name three times.