| | | |
| --- | --- | --- |
| Still Here? The Career of Joaquin Phoenix | | |
Written by Ivan Radford
Tuesday, 14 September 2010 10:44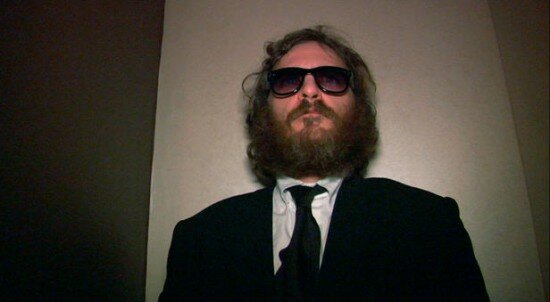 There aren't many Hollywood actors who have had a career as tumultuous as Joaquin Phoenix. Born to a family who named their children "Rain", "River" and "Summer", the third oldest Phoenix child has gone from Gladiator's success to M Night Shyamalan's The Village without blinking. Until now.

Years after being rescued from a car accident on Sunset Boulevard by Werner Herzog, he's spent 18 months of his life trying to become a rapper. Being followed around with a camera by brother-in-law Casey Affleck, I'm Still Here claims to be a documentary of Joaquin Phoenix's "lost year".

Not since the revelation that actor Russell Crowe was actually a figment of John Nash's schizophrenic hallucinations has there been such a captivating look at someone's mental breakdown. But Joaquin has something that Russell Crowe's mathematician didn't: a GREAT BIG BUSHY BEARD.

Was Joaquin always all there? Is he simply still crazy after all these years? Let's take a look back at the ups and breakdowns of his movie career...
Gladiator (2000)
Bumping off his father Marcus to steal Rome's laurels, Emperor Commodus is a nasty piece of work. Twisted, wussy and a little bit gay, he glares and pouts at Russell Crowe for most of the movie, before stabbing him with a dagger just near the end. A Freudian struggle for power? Perhaps. But even more worrying are them mood swings of his, which couldn't have been helped by losing Best Supporting Actor to Benicio Del Toro at the Oscars that year. "AM I NOT MERCIFUL?" he bellows at his sister, all eyeliner and pure rage. He's not. But he sure is crazy.
Signs (2002)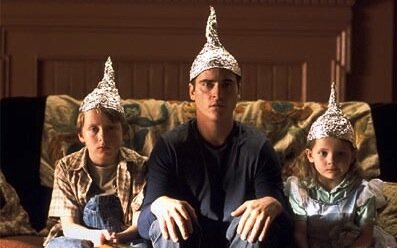 Brother to Mel Gibson's priest, Joaquin plays Merril, a backwater farm-living baseball player who never made the big time. He's distracted from his failure, though, by the children and the crop circles and the little green men who come down from the sky. Sporting a rather shiny tin foil hat, Joaquin keeps those evil aliens out of his head while rediscovering the joys of hitting things with a baseball bat. There aren't many things crazier than agreeing to appear in an M Night Shyamalan film. But JP goes one step further: he agrees to appear in two. Here, Mel Gibson's dead wife tells him to "swing away". Best not, Joaquin. Just put the bat down.
Ladder 49 (2004)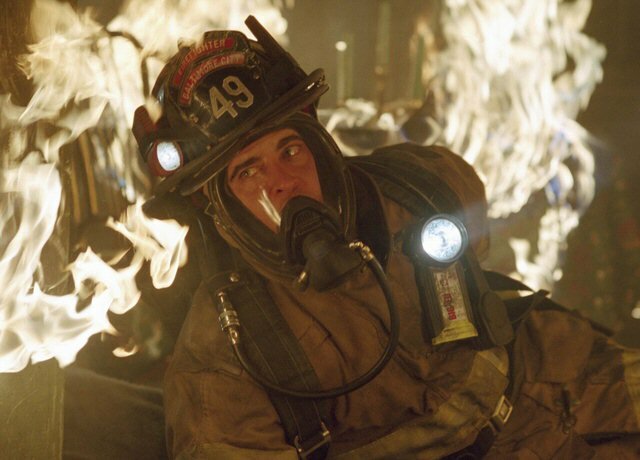 "Calm down! Sir - you need to calm down! I swear to God I'll drop you!" Now there's a man you should listen to: a fireman who threatens to drop you from 15 storeys up. This soppy, sentimental affair sees Jack Morrison join the brigade with the noble intent of saving other people's lives. Which seems pretty healthy for a mad man. Following the lead of a drunk captain (played by John Travolta), Morrison is doomed to meet a sticky end. The dumbest part of it all? When he ends up trapped in a burning building, he doesn't even try to escape. Instead he just sits there and has flashbacks. Epic brain fail.
Walk the Line (2005)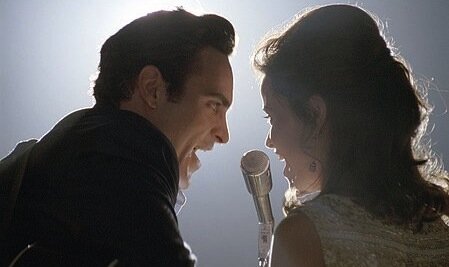 Again beaten to the Oscar (this time by Capote's Phillip Seymour Hoffman), Joaquin shows the first major signs that something is really wrong under his bonnet: he starts playing country music. Addicted to amphetamines and fond of the juice, he's haunted by the death of his older brother. Then, as he ruins his relationship with June Carter, he starts doing Johnny Cash impressions. He even wins an Grammy for the movie's soundtrack - something that maybe fuels the idea of one day pursuing a music career...
Two Lovers (2008)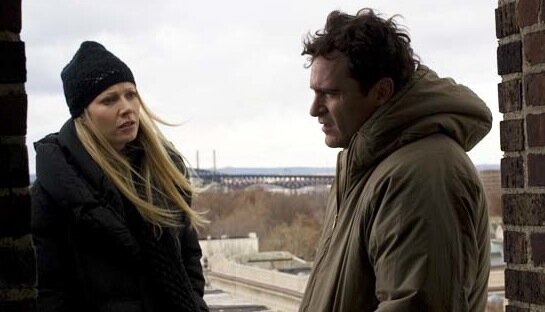 Joaquin starts calling himself Leonard for this one. Two years after Werner Herzog finds him in a flipped over car, Phoenix plays a man who struggles with thoughts of suicide. Then into his life walks Gwyneth Paltrow, a carefree woman with emotions that swing as far his moods. But she's in love with a married man, so his attentions turn to Sarah (Vinessa Shaw), a more straight forward woman. She's attractive, sensible, Jewish. She wants to save him from his mental unease, but Joaquin can't work out which partner to pick. He's not unhinged enough to be unattractive to the opposite sex, but juggling two women? That really is suicidal.
I'm Still Here (2010)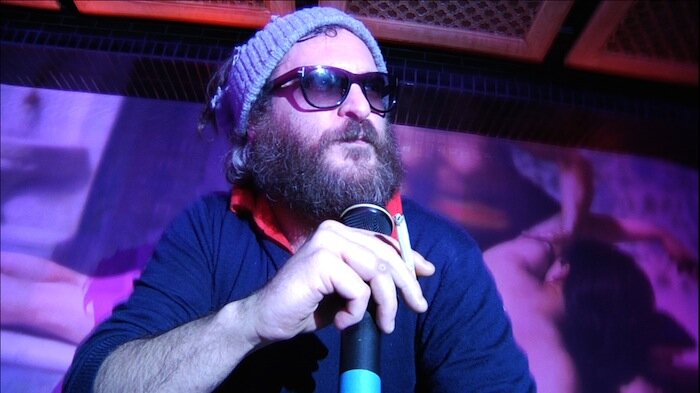 The intimate account of Joaquin Phoenix's time out from acting has been called a hoax by many. Would Casey Affleck really follow Joaquin round for a year, just to make a fake documentary? On the other hand, would he intrude on a brother-in-law's life for so long, just to showcase the man's mental breakdown? Joaquin isn't talking - especially not to David Letterman. But either way, there was a point at which JP agreed to let Affleck show the world someone pooing on his face. And that's definitely insane.
Can't decide if Joaquin's Still Here or was never there in the first place? Head this way to check out a brand new clip for I'm Still Here, which sees him seeking advice from P Diddy - the king of mentally sound hip-hop musicians.

I'm Still Here is in cinemas on Friday 17th September.
Tags:
breakdown
career
casey affleck
gladiator
hoax
joaquin phoenix
ladder 49
mockumentary
retirement
signs
spoof