| | | |
| --- | --- | --- |
| On Location: Classic Scenes Across Europe | | |
Written by Ivan Radford
Friday, 11 June 2010 12:06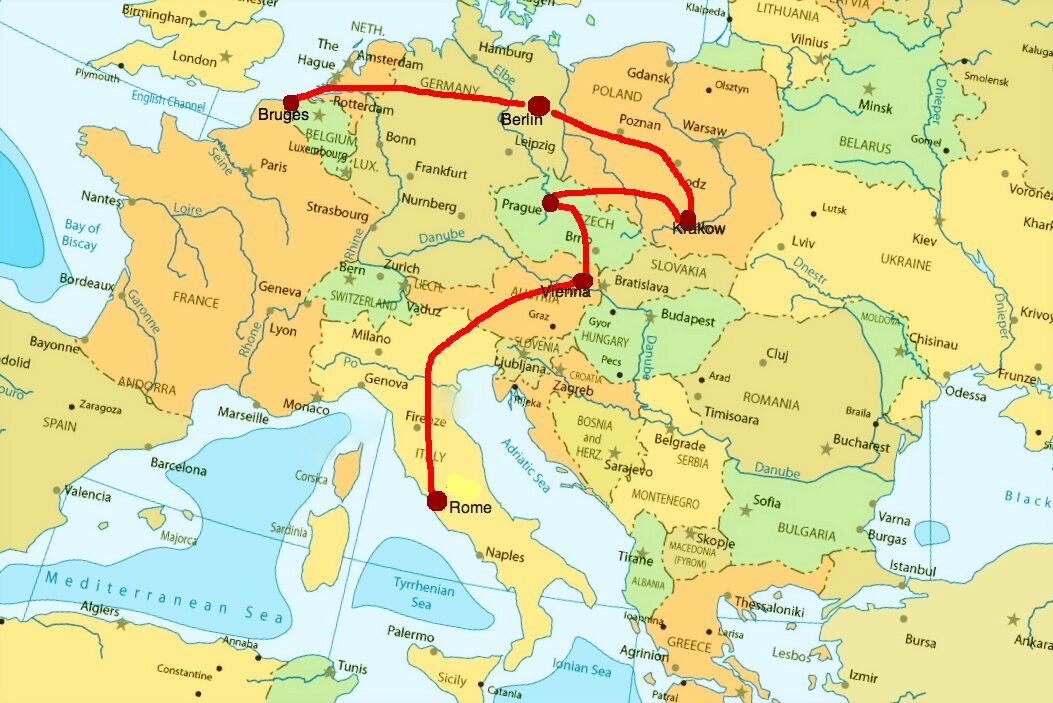 As some of you may know, I recently went on a cross-country jaunt around Europe. Jaunting, for those who aren't uber nerds, basically involves jumping through space (and time). For those are who are uber nerds, I actually took the train.

Being the sad film-obsessive that I am, I naturally spent most of my time taking pictures of locations that were used in films, desperately trying to recreate a split-second of celluloid history. When that failed, I just took photos of films that were currently showing across the continent. Because that's what normal people do on their holidays (screw you Michael Palin).

So anyway, to celebrate the fact that I'm currently wasting my time not being in Europe (but naturally listening to the Indiana Jones theme non-stop whilst playing with big red marker pens), here's a jumbled mix of the two.
Movie Moment #1: The Talented Mr Ripley - Rome
Yes, I went there - I chose The Talented Mr Ripley, reliving Matt Damon's finest role in Italy's gloriously ancient (and dirty) capital. No, I didn't kill anyone and no, I don't look like Jude Law, but when it comes to wonderful crime movies set in gorgeous locations, you can't really top Anthony Minghella's take on Rome. Especially the lovely Spanish Steps.
Ok, so I could've gone for Gladiator. Or La Dolce Vita. They would've been obvious choices. Or perhaps even Angels and Demons (Look! That's where Ewan McGregor crashed a helicopter before setting himself on fire!), but I didn't choose those. I went the other way. You got a problem with that? Well tough. Because that's the kind of attitude that makes us sociopaths steal Jude Law's identity in the first place. Here, have some pictures of other stuff to shut you up. Happy now?
| | | |
| --- | --- | --- |
| | | |
| |   |   |
| Angels and Demons  | Gladiator  | La Dolce Vita |
Movie Moment #2: The Third Man - Vienna
Ah, the zither, the zither... It's impossible not to hear that theme tune playing in your head whenever you stroll down the streets of Vienna. Unless you've never seen The Third Man. In which case you shouldn't be let out of the UK anyway. But nothing is more iconic than those sewer chase scenes ** minutes spent on that ferris wheel with Orson Welles. And so I gladly coughed up the Euros to hop aboard and witness Vienna from a rotating vantage point.
** I'm not running round no sewers, yeah?

This is what I thought I'd get: 

Instead, I got something completely different. Yes, folks, it turns out that Vienna's great ferris wheel - that symbol of culture and sophisticated sightseeing - is actually located in the middle of Austria's version of Adventureland:
Movie Moment #3: Mission:Impossible - Prague
"Look! That's the bridge where Jon Voight pretended to kill himself!" Most people don't have that reaction to the sexy Charles Bridge in Prague. They say things like "ooo" and "aaah" and "look at the pretty statues!" I, sadly, and much to the annoyance of my travelling companions, am not like most people. And so began a wonderful flashback inside my tiny little brain to that moment in Mission: Impossible the First, when Jim Phelps framed Ethan Hunt, thus creating a standard innocent-man-proved-wrong storyline, which inexplicably confused 90% of the people who watched that film. Most of those people were idiots.
Movie Moment #4: Schindler's List - Krakow
Yes, this one's a little sick to include in the list. All I'll say is that visiting Auschwitz Birkenau (and the site of Auschwitz I) is something that I do not regret doing, and that I honestly think everyone should do if they get the chance; it's important to connect with such a vital piece of recent history. Just don't travel there by train.
Movie Moment #5: Conspiracy - Berlin
Before the horrors of WWII unfolded across Europe, there was a meeting in Wannsee, just outside Berlin, where the question of the Final Solution was raised. Little referred to by most of the museums and memorial sites we visited on holiday (we were a very cheerful bunch of tourists), this crucial conference was dramatised in the excellent film Conspiracy. Notable for its incredibly snappy dialogue and some haunting performances by Kenneth Branagh, Colin Firth and Stanley Tucci, it's a 90 minute drama well worth watching. The villa at Wannsee where it all happened is worth a visit too.
Movie Moment #6: In Bruges - Bruges (well, duh)
Pick a location. Any location. Provided that it's In Bruges. That's how you relive Martin McDonagh's absolutely brilliant advert for Belgium's finest little town: it's dark, it's hilarious, it's weirdly offbeat, and it's all brought to life on the big screen by Colin Farrell and Brendan Gleeson. From the clock tower where Ralph Fiennes and Brendan shoot the shit (before Brendan jumps to his bloody death) to the park where Colin Farrell nearly shoots himself, there are literally an infinite number of places you can go that feature in that film. And by infinite I mean about 19. I say that, because we had an official map to help us. Yes, I'm pathetic.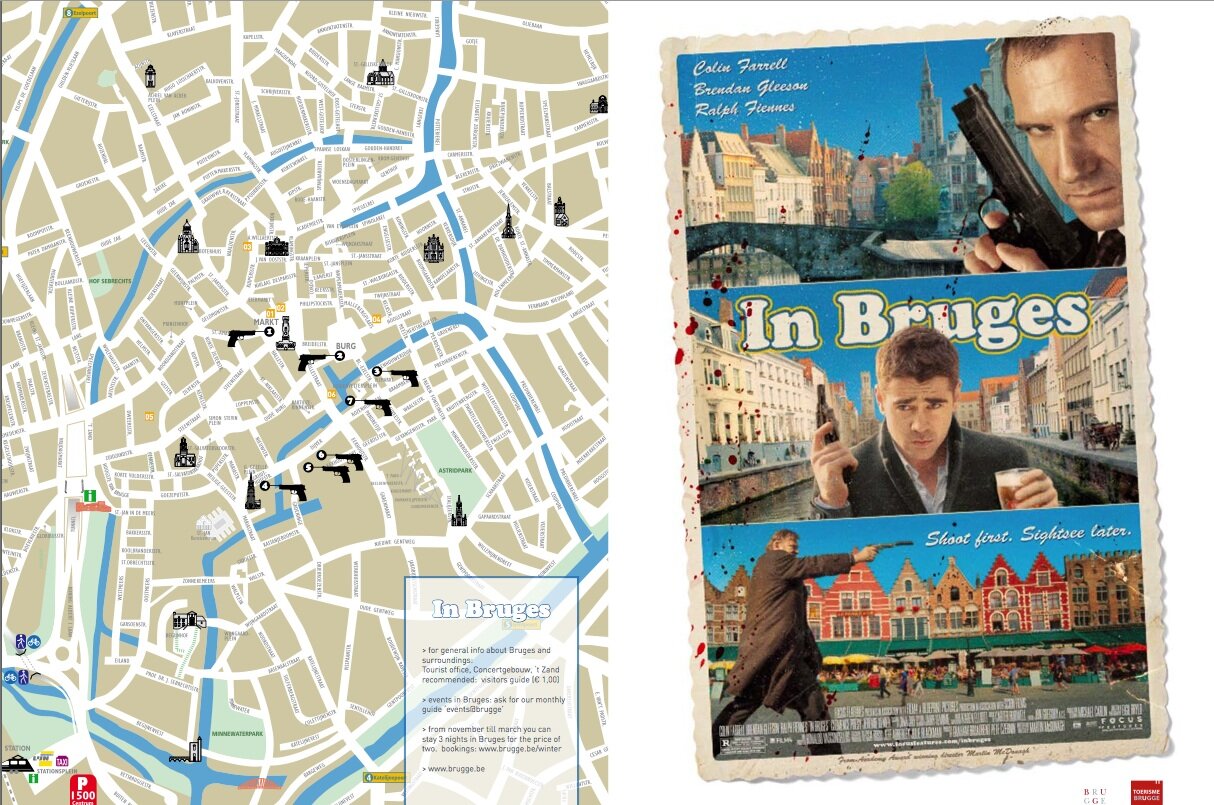 What a lovely excuse from some holiday snaps that was! But if all that movie-ness wasn't enough for you - or if you simply don't care what I saw on my holidays - then here's what currently showing in cinemas across Italy:
And here's what going down in multiplexes around Poland: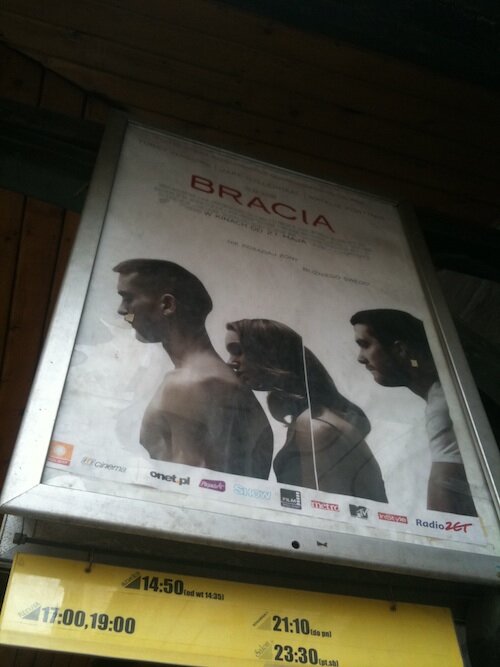 Yes, even in the heart of Krakow, there's no escaping Tobey Maguire's face. Terrifying stuff.