| | | |
| --- | --- | --- |
| Yes, Prime Minister? | | |
Written by Ivan Radford
Wednesday, 14 April 2010 09:15
Well, it's that time of the political calendar yet again: the General Election is under way, just in time for Roman Polanski's political thriller from Robert Harris's book, The Ghost. And as Ewan McGregor sets about this week ghost-writing the memoirs of Pierce Brosnan's dodgy dealing Prime Minister, which movie candidate would you like to see running the country? If it's time for a change then who's your ATM of choice? It's time for a topical run-down of Hollywood's ballot sheet to see which PM crosses your box.
Pierce Brosnan / Adam Lang (The Ghost, 2010)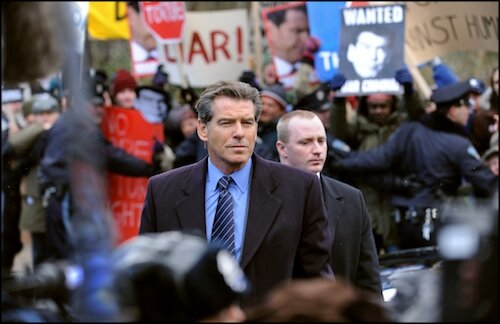 First up for your consideration is Prime Minister Pierce Brosnan. Sure, he's under scrutiny for possible war crimes and he's busy sleeping with Kim Cattrall, but this smiling, charming politician isn't one to crack under pressure. After all, this guy was once 007. Step outside Posh Boy? Pierce wouldn't even have to ask.
Reasons to Vote "Yes"
- He was JAMES BOND.
Reasons to Vote "No"
- He cannot sing.
- Potential Irish sympathiser.
- Known to associate with Robin Williams in drag.
Hugh Grant / Prime Minister (Love Actually, 2003)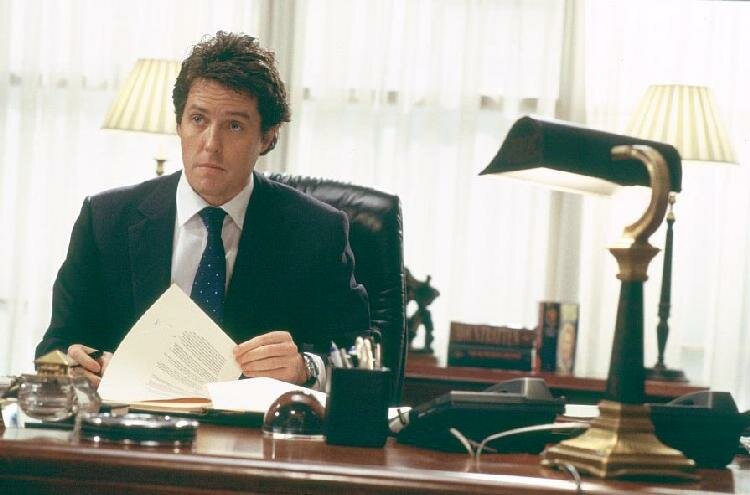 Ok, so Richard Curtis never gave this man a name, but he certainly got into office easily enough. And once he was in there, not only did he bag Martine McCutcheon, but he also stood up to Billy Bob Thornton and their "Special Relationship". Now that's impressive balls, that is. The kind of balls that Harriet Harman likes to watch on her satellite TV.
Reasons to Vote "Yes"
- His floppy hair and charming face.
Reasons to Vote "No"
- His floppy hair and his stupid face.
- He will do anything for Julia Roberts. ANYTHING.
Tom Hollander / Simon Foster (In The Loop, 2009)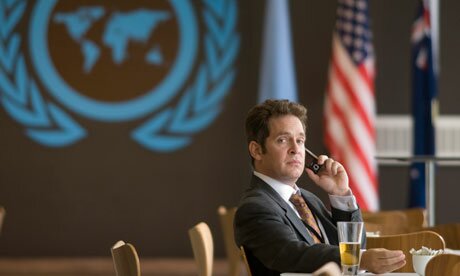 Being an MP isn't easy. In fact, it's difficult difficult, lemon difficult. But when all around you are pushing for or against war in Iraq, it takes a lot of guts to stand your ground on the verge. Especially when your constituency wall is falling down. But Simon wasn't afraid to put his hat in the ring and ship right out to Washington and face down the naysayers. The general deception of the entire world is brilliantly Labour-like. The fact that he failed and dwindled into obscurity makes him a wonderful match for the Lib Dems.
Reasons to Vote "Yes"
- He walks the path of peace.
Reasons to Vote "No"
- He is prepared to climb the mountain of conflict.
- He likes to watch shark porn in foreign hotels.
Optimus Prime (Minister) (Transformers / Transformers 2, 2007 & 2009)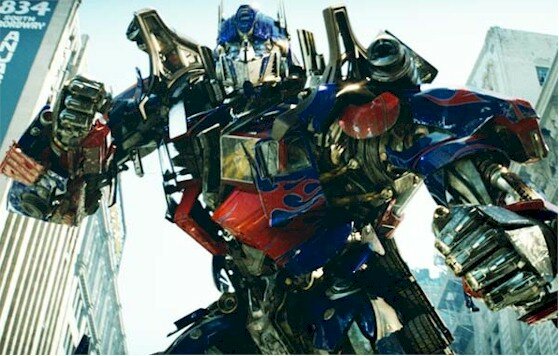 "Freedom is the right of all sentient beings... No sacrifice is too great in the service of freedom." It takes a great man to say such bold things. Or, sometimes, it takes a massive machine, which happens to be capable of transforming into a car. More a weapon than a democrat, Optimus is a hard man to argue with. Mostly because he could crush your skull with a paperclip. A shoe-in for the BNP vote.
Reasons to Vote "Yes"
- He's a GIANT ROBOT.
Reasons to Vote "No"
- He's a GIANT ROBOT.
- Has a tendency to star in Michael Bay films.
The Vote
It's a tough competition in 2010, what with giant robots and Hugh Grant vying to top Pierce Brosnan's credentials. But even with Simon Foster's wily misuse of truth, even he can't hold a candle to the fact that Pierce Brosnan used to be James Bond. A suave secret agent with a hint of Irish charm for the ladies, he pretty much appeals to every demographic. Bond even went to Eton, so the Tories can't complain.

You can cast your vote on the left. But maybe you're not so convinced by the candidate - his backing by Roman Polanski certainly isn't a selling point. In which case check out this campaign trailer below; a further feature length video follows on Friday.
tj_track_id = '60520fed471116822629a7cd0a4dce30'; tj_width = 480; tj_height = 204; tj_quality = 'med'; tj_autoplayvideo = false;