| | | |
| --- | --- | --- |
| Sandra's Split: The Curse of the Oscars | | |
Written by Jo Bromilow
Friday, 19 March 2010 16:04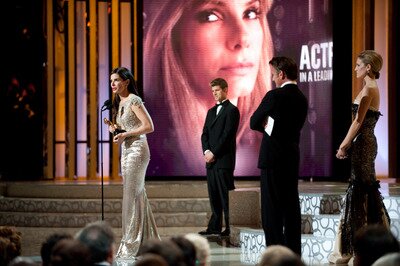 Somewhere, deep in Hollywood, a bevy of tattooed women are on the prowl. Not for a fight, as you might expect, but to snare themselves the husband of yet another beautiful, talented woman, beloved of the world and the critics. Yup, it seems infidelity comes in all guises, but the ultimate bedroom buzz-kill and marriage dampener appears to be success. On the part of the woman.

I speak, of course, of the mysterious 'Best Actress Curse', a mysterious phenomenon with a proud heritage dating back almost a century, which basically suggests that a statuette cancels out a marriage.

Katharine Hepburn is the curse's first notable victim, getting divorced from her husband the year after she won her first award in 1934. Ginger Rogers' marriage suffered the same fate, and this potent curse continues into the modern day.

This week, it appears to have afflicted two of Hollywood's shiniest stars. (Yes, I meant shiniest, not brightest. Kate Winslet has shiny teeth, and Sandra Bullock has shiny hair). Not only is Kate Winslet's second marriage, to film producer Sam Mendes, over, but Sandra Bullock's husband, Jesse James, has been accused of cheating on his wife with a woman who (as The Daily Mail was practically jubilant to announce) is almost entirely covered in tattoos.

I was talking to a friend about this recent revelation, and he concluded that poor old Sandra must be really bad in bed. Despite outrage, it reminded me of a quote from Sex and the City - according to Carrie Bradshaw, "[good-looking men are] never good in bed because they never had to be". Yet so many of the big name actors haven't had any trouble keeping their wives post-win. Some have even snagged themselves a fellow Oscar-winner into the bargain; perhaps Javier and Penelope will produce an Oscar-winning machine baby.

So maybe it's the women who decide that they are far too good for their under-achieving, non-statuette-bearing spouses and give 'em the old heave-ho? Yes, a positive feminist outlook! Hurrah for Halle Berry for ditching her husband and shacking up with some sexy toy boy! Hurrah for Reese Witherspoon for finally chucking Ryan 'Where Is He Now' Philippe (apparently they'd been having marriage counselling for four years prior to their split) and acquiring some serious star-power with Jake Gyllenhaal!

It's the next move which will be crucial. The best option would be to do a Nicole Kidman, who divorced Tom Cruise in 2001 and went on to win an Oscar, got married again and produced a cute if strangely-named baby. Or a Sally Field, who got married the year after she won an Oscar and stayed in that marriage for over a decade. Basically, come back all guns blazing, get snapped looking all tanned on holiday with a sexy male co-star and wear some very sexy cougar-esque dresses on the red carpet. Or a huge sign saying "I've still got it, godammit!" Because the public can then look at them in the tabloids and say "isn't she brave?"

Nope, it seems the only way to avoid the stigma of modern day is, well, not to be a successful woman at all. The day after the news of the Winslet-Mendes split broke, a slew of "why can't Kate keep a man?" headlines appeared in a tragic vein better suited to Jennifer Aniston. It seems everyone loves a successful actress as a punching bag and object of pity far more than as, well, a successful actress. No matter how they play it, they will always be remembered for their personal life first. And when I say remembered, I mean stamped into the national consciousness by the tabloids. Poor, poor Kate. See, even I'm doing it!