| | | |
| --- | --- | --- |
| Red Carpet: Bunny and the Bull | | |
Written by Ivan Radford
Saturday, 24 October 2009 22:00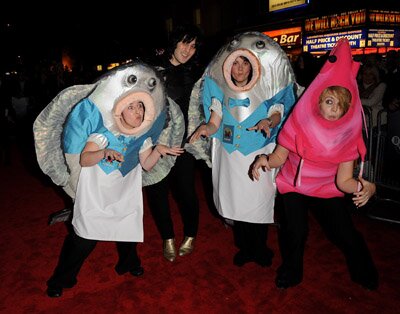 Jumping from television to the big screen is no easy feat, so when the makers of The Mighty Boosh decided to try their luck with Bunny and the Bull, the odds were stacked against them. Retaining their ramshackle visual style, director and writer Paul King has put together a crazy, inventive tale of one man's road trip. Which takes place entirely in his flat.

From newspaper cars to cardboard cows, it's a colourful journey through the memories of Stephen (Edward Hogg) and his friend, Bunny (Simon Farnaby). Things are made even madder by the appearance of Noel Fielding and Julian Barratt. How did it all come together? Luckily, they're all on hand to talk about it, along with producer Mary Burke.

Smiling sweetly, strolling down the carpet, Edward Hogg cuts an impressive figure. Then again, he did start out in the theatre, so he's used to treading the boards. Did he really know what he was letting himself in for when he signed on to enter Paul King's world? Was it a different experience to theatre?

"I don't think so. The production itself is quite theatrical - Paul came from comedy, of course, but also doing Fringe theatre, so they're all used to doing stage stuff with that certain style." He seems to have coped with the mind-bending madness rather well. Is he keen to keep working in films now, or has he been put off forever?

"Well, I'm fairly new to film, so I'm learning lots about it. After several years of being in theatre, my confidence has built up; I know what I want to do when it comes to approaching a character. The learning curve is very speech, so I feel the next film will be a lot stronger!"

What's up next for him? "I'm in a play at the National until next year, Our Class. Then a film called Ollie Kepler's Expanding Purple World." If possible, that sounds even weirder than this one.

Then along comes Noel Fielding - a man who needs no introduction. Known nation-wide for Buzzcocks and his Boosh alter-ego Vince Noir, are they working on a new Boosh film or series at the moment? "We're writing it at the moment. Well, we've started it - we've not really done anything!"

Then, an excited German lady (who was absolutely lovely) piped up with a question. The film takes in a lot of Europe, particularly museums. What does he think of the German Museum of Cutlery? Noel's eyebrows go wild. "You want me to talk about cutlery?" He smiles. "Ok... spoons are good..."

And with that he's whisked away to talk to more people. But his long-time partner Julian Barratt isn't far behind. With him comes regular collaborator Simon Farnaby. Relaxing with a couple of beers in hand, they're in the mood for mayhem. But surely they're sick of each other by now? They always work together, don't they?

"We're like loose rat pack of vigilantes," explains Julian. Is there a secret that makes the group work then? Simon reflects. "Alcohol..." He pauses. "We're Scrabble partners, too. And really just being very close friends."

"We have a therapy session once a month," adds Julian, "to unburden ourselves. Paul helms it." Is that filmed for bonus materials on the DVD? "Yeah, that's on the DVD!" Simon chips in: "We have an intervention committee too, so we can have interventions to help each other. Like, Paul's got this Jaguar. And we thought we better intervene on that. So we had this meeting, and he was like "What am I doing here?" and we said "Well, Paul, you have this car. We need to have a chat about that. We need to intervene."

Would they consider taking Boosh over to America? They've already got a bit of a cult following there. "We'll carry on as we are," says Julian, happy where he is. "We'll write something over here, and then try to take it over there. We don't want to aim specifically for over there."

As the chaos continues, up steps Paul King - ringleader of the rabble. He's to blame for all this craziness. What on Earth possessed him to come up with such an idea? "Well, I got sick of all those road movies, where people end up travelling off into the sunset. My holidays were never that! This is a sort of anti-road movie."

Obviously he wanted to work with people you were familiar with, but what about the other people in the cast? "We needed a Spanish actress to play Eloisa. Someone who could speak English and improvise phenomenally in that language. When we found Veronica, we knew we had what we wanted!"

He has a very distinct style, full of imagination and model work. Just how painstaking was it to create such a creative and wonderful world?

"Very. We had amazing people - we shot in Nottingham and an arts school there had a team of young enthusiastic people. That newspaper bridge? That was about 15 people's work for 15 hours a day for about 6 weeks. They did it all for nothing! It's very moving to know all the love that went into the film. You go "Ah, newspaper cars", but actually it's someone building those cars, then a team of people shooting overnight in stop-motion... For me, the thing I'll never lose is the love that went into the look of it all - Gary Williamson did an excellent job with the design!"

And with spot-on timing, Mary Burke arrives. It's incredible to think she gave this insane genius money. Was it hard to communicated his idea of what it would end up looking like to all the people involved?

"Yes, it was hard. I think everyone has their own definition of what "cardboard" looks like! We would describe it as "Paddington cardboard, not homeless cardboard". When we did start seeing the rushes - I had never used rear projection before - I thought it looked amazing. Given that we shot everything inside, it came out very cinematic."

She's right. It did. Read our review of it over here. And for more photos from the red carpet (including giant fish), head over here.
Tags: