| | | |
| --- | --- | --- |
| Red Carpet: 1 Day | | |
Written by Ivan Radford
Wednesday, 21 October 2009 23:40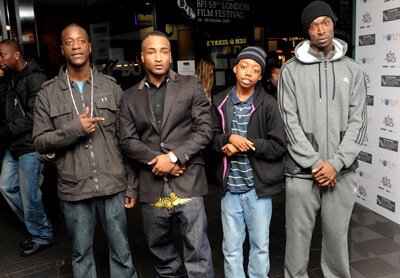 You never know what you're going to find on a red carpet. A future partner, perhaps. Maybe a tenner. But sometimes, you come across some incredible talent. 1 Day, a Birmingham-set British film, tells the tale of Flash, a guy who needs to find £100k in 24 hours., which he owes to Angel, who just came out of prison.

Chased down by rival gangs, let alone his nan, it's pretty much the world's first hip-hop musical. Featuring original music from the cast, all of whom are first-timers from the streets where its set, Penny Woolcock's movie is a major leap for them. It's great to see them strutting down towards the cinema.

First up, Dylan Duffus, who plays lead character, Flash. He looks pleased. Rightly so. How's he finding his first film role? "I've never acted before. Prior to this was nothing, so this is all a big experience for me right now. I was a barber by trade, but now I'm here! I'm enjoying every minute of it."

Has he got anything coming up next? "Well, I've got some music coming out, but hopefully some more acting. The sky's the limit."

The guy is literally brimming with enthusiasm. It's impressive. What kind of actors inspire him? "Al Pacino. Will Smith. The usual!"

The music in the film is central to each scene - is it his own work? "I'm not rapping in the film, everybody else is, but I've got my own music I'm trying to get out." So he was more involved in the production side, then? "Yes, my mum's cousin introduced my to Penny."

And how much of the film came from her, how much from him? "I gave her the ideas and she made it into a script, kind of thing. It was her story, but I helped her out - the way we talk and the way we move. Stuff from my own experience, things you see growing up in a city."

Penny arrives. She looks proud to be there - I don't blame her. How did the script come about? "I went into a community and I listened to lots of different stories - lots of them sad, involving friends who have been shot. A lot of very human and interesting people; I loved the fact that guys who were so hard could still be afraid of their grannies! It's based around all those stories I heard, but it's a work of fiction."

An outsider coming into the community can be tough. Did she spend a lot of time getting to know specific individuals? "I got to know people gradually and then one person would like me and introduce me to others. I met Dylan early on, and we really clicked - it might seem strange, but we just liked each other. It went off from there."

So he helped with the script? Was it a shared creative process? "Yeah, I wrote it, but I'd phone him up and ask him how people would say something or do something. There was one scene in a hospital and he said that wouldn't ever happen because of the cameras in the building. So I changed it to a car park. He gets credit as a script consultant."

What about the idea of turning it into a musical? Was that pure Penny or all Dylan? "In a way it came from me. You walk the streets and you hear people rapping to beats on their phone and I just thought I'd love to know more. It seemed a very authentic way for them to express their experiences. I wanted to learn more about it, so it was exciting for me to be introduced to music I didn't understand at first."

Taking these true stories and real music and sculpting a screenplay - is it all about trying to raise awareness of what happens in our cities? "The thing is that these shootings happen but no-one seems to talk about it, unless it's some white person who gets caught in the crossfire. It's like it doesn't matter that young black guys are killing each other. It's a terrible thing. And you do wonder why people get sucked into this life - it's just such a waste."

You can tell from her face she's seriously passionate about this. Does she have a hopeful outcome from the film? "I don't think films change the world - this is only part of a bigger debate." On a smaller scale, then. Is it about using this untapped talent? "Yes. The people in the film are fantastic, and hopefully things will happen to them in the future. A lot have already made short films, and so on. I hope they go on to do big things from that."

For photos from the red carpet, check out the gallery over here.

On the basis of what I've seen, I hope they do too.
Tags: