| | | |
| --- | --- | --- |
| Press Conference: Up in the Air | | |
Written by Selina Pearson
Sunday, 18 October 2009 21:22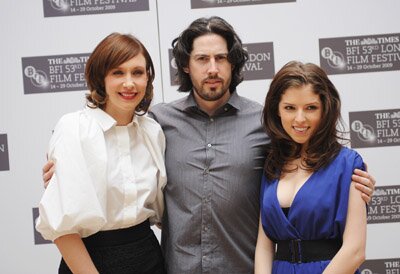 Were you upset when George Clooney ran away from London? The bright side is that he gave us more time ask questions to some other cool people: director Jason Reitman (who did Juno and Thank You for Smoking), and Clooney's co-stars Vera Fargima and Anna Kendrick...

Up in the Air is based on a book. If I'd read it, would I recognize it in the film?
JR: Yes and no. The book is about a man who fires people for a living, a man who obsessively collects air miles but if I had directed the book exactly as it was, these lovely ladies wouldn't be here because they're not in the book. I use the book as a toolbox - there's a story that I want to tell and I'm looking for the right words. In this case I took a main character, I liked his occupation, I liked his life philosophy, and from there I built a plot around it to ask the questions I wanted to ask.

What was your reaction to your characters when you first read the parts?
VF: I didn't have the luxury of reading the script without knowing what happened in the end - so it was challenging to play a woman who is very much like a man. It was a fine line to tread to have that softness, and yet also take control of her sexuality and to make demands you usually see men make. I really like the male perspective of heartbreak.
AK: It's that rare thing, this girl who is intelligent and complicated and normally so timid in real life that I get excited by characters who get to tell people off. Telling George off was pretty awesome!

You wrote the role of Ryan with George Clooney in mind - is that right?
JR: Yes, I wrote the role with him in mind, and with Vera and Anna in mind also. If you're going to make a film about a man who fires people for a living and you still want people to like him, that actor better be damn charming! I don't think there's a more charming actor alive than George. I was just lucky he said yes.

How did he get involved?
JR: I'd been writing it for six years, I told his agent that I was a month or a week away from finishing this screenplay and that in the middle of that I would be going to Italy on vacation with my wife. His agent said if you're going to be in Italy you should just go see him. I said: "well, that sounds like an awful idea! I'll send him the screenplay and if he enjoys it I'll go see him." So I drive there and the first thing George asks is "What are you working on these days?" I reply: "A screenplay, it's called up in the air." He said: "Oh, I got to read that," and for two days me and my wife stayed at his house with me just trying to prove I was a man to George Clooney! I tried drinking with George Clooney, I don't know how I didn't die of alcohol poisoning. After two days George disappeared, he came back and he said "I just read it. It's great. I'm in."

The firings in the film are very sad moments - were any of them authentic firees?
JR: When I started writing this film, we were in the tail of an economic boom. I was writing this corporate satire and by the time I came to shoot the film it just wasn't funny anymore. We were scouting in St Louis and Detroit and we put an ad out in the newspaper that we were making a documentary about job losses and were looking for people to talk about it on camera. We had an overwhelming response. The people you don't recognize are real people who sat down to talk with an interviewer. We then asked if we could fire them on camera and let them  say what they had said or what they wished they'd said. This would turn into great improv. I'm so grateful for their participation and I could never have written those moments.

You write strong female characters do you think there is a shortage of these in Hollywood?
JR: Well, many of the men's stories have already been told. I've fallen in love with many smart women over the course of my life - the most recent and presumably last one being my wife! The best scene I've ever written I only wrote half of; it's the bit where Vera and Anna talk about what they look for in a man. The only way I could do that was to ask my wife to have a conversation with herself at 18 on what she wanted in a guy. Everything they say is true to her, which breaks her heart every time she watches it with an audience because they basically laugh at her for five minutes. I love writing for women and I've been lucky working with such great actresses.

Vera, in the nude scene, was that really you...? And how comfortable were you with it?
VF: I had shot this when I had about six more pounds of chunk on my bunkadunk! I was pregnant and I did do this scene. But I think my bottom had become too large - that bit's a question for Mr. Reitman! I got to choose my body double, and Jason did a good job of selecting something pretty accurate. My tush has been in many films...
JR: I studied those films. Frame by frame! To make sure it would be an exact representation - I'm a very specific director and both actresses will tell you that...

How do you find your career progressing now? Are you out of your father's shadow?
JR: This is the first film my father and I have actually worked on together. My father wrote one line in this movie - and it's a monster line! It gets applause every time the movie plays! [It did get applause at our screening] So I'm a little jealous!

Thank You for Smoking and Up in the Air both have fantastically charming lead men. Who'd win in a fight Aaron Eckhart or George Clooney?
JR: That's a tough one! Erm, I think I'd go for George - he's quite crafty crafty!
There's no George Clooney, but these guys sure know how to dress up in style. Check out their outfits over here.
Tags:
air miles
airline
anna kendrick
comedy
corporate
fired
jason reitman
lff
london film festival