| | | |
| --- | --- | --- |
| Red Carpet: The Informant! | | |
Written by Ivan Radford
Monday, 19 October 2009 22:27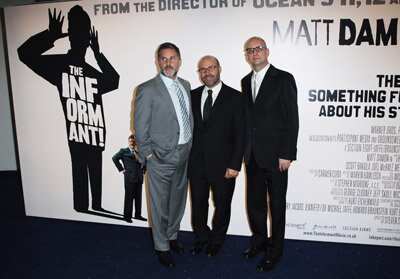 People gather around, shrieking their heads off and hoping to see Matt Damon, star of The Informant! They're disappointed - he was never down to attend the London Film Festival anyway. A comedy based on real events, the film is a strange subversion of the corporate thriller, full of nods to The Firm and a bizarrely silly voiceover.

Stylish and snappy, it's directed by none other than Steven Soderbergh. Now there's a reason to start screaming, folks. This guy's far more exciting to talk to. Which is exactly what we end up doing as he strolls down the carpet...

He looks pretty innocuous with his tie and glasses. But classy. In a clever kind of way. The kind of way that makes a man think of doing a comedy take on a true tale of whistleblowing. A lot of people would be surprised by that choice. What made him go for that approach?

"I guess it seemed like the only way to do it. I had made a whistleblower movie before myself with Erin Brockovich, and taken the dramatic approach. But in this case, seeing as it was about greed and nobody's life, it wasn't about people dying, there was a little bit of wriggle room. I thought it would be more memorable as a comedy."

So did he have to do much research, other than Kurt Eichenwald's book? "Not really. We had a 800-page welll-reearched book so I didn't have to do the kind of research we did for Erin. I think that's one of the reasons I actually decided not to meet anyone involved in the real story. I didn't need to find out the facts, I knew those, and the film is told from Whitacre's point of view and is very subjective. The funny thing is that Whitacre has now seen the movie and says it's exactly accurate!"

Matt Damon is perfect for the role of Mark Whitacre. Was he always in mind for the part? "Yes, I think perfect covers it pretty well! It's a great comic performance - it was exciting to watch, because this was a unqiue opportunity for him to get asked to play that kind of card and really transform himself. I think he really had fun."

His movies are always fun, no matter what the topic or genre. And yet his decisions as a director are very idiosyncratic - does he lean more towards a comedic outlook? Or is he more of a straight man? "It depends on what it is. It depends on the vibe for each film. I like both dramas and comedies, I go back and forth. I don't really have any rules when it comes to choosing!"

Charming and smart, he's a smooth operator. Has he ever considered becoming a secret agent? "I couldn't do that! I talk too much!"

For images from the red carpet, check out the gallery over here.
Tags:
adm
comedy
corn
fbi
lff
london film festival
mark whitacre
matt damon
premiere