| | | |
| --- | --- | --- |
| Red Carpet: Bright Star | | |
Written by Ivan Radford
Monday, 19 October 2009 21:27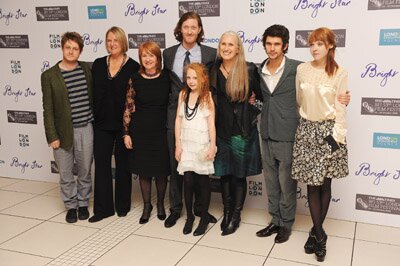 The hard concrete hurts my feet. The metal barriers are ice cold in the freezing early winter. A man with a Henry hoover ambles back and forth for no real reason. Welcome to the glamour of the red carpet at LFF 09. Tonight is the Mayor of London Gala of Bright Star - the Ben Whishaw-starring biopic of Keats, which follows the affair between the Romantic poet and his next door neighbour, Fanny Brawne (played by Abbie Cornish).

Directed by Jane Campion (one of the few women to be Oscar-nominated as a director), it's a dazzling, lyrical love story. One of subtle imagery and flagrant verse. Well suited, then, to the harsh chills of London's Leicester Square...

Braving the brass monkeys first, of course, is Miss Campion herself. She's not afraid of a little weather. You can tell from her piercing eyes - she's quite intimidating actually. But did she scare off Ben and Abbie? Were they always in her mind for the central performances?

"They really impressed with their auditions. I was looking to fall in love with both Fanny and Keats and they both of them have fantastic instincts. Abbie's so courageous as an actress, so interesting. And they both have a mystery about them."

She smiles. I can't help but notice how tall she is. Did she have to do much to encourage chemistry between the two leads? Perhaps she just threatened them from on high. "I think they know the story, and what they have to do - it's just about trust and faith in them really. That always gets the best results."

No doubting that. I would have chemistry with a carrot if she was standing over me. So did it start out as a Keats biopic? Or was she always focussed on the love story as the heart of the film? "No, I didn't think of it like that. I fell in love with the love story. I read Andrew Motion's biography. I was terrified of poetry" - I honestly doubt anything can scare this lofty film-making giant - "and thought it might help me get over it. And I was just haunted by their love story. I think it's one of the best in the whole of history. As powerful as Romeo and Juliet, but it's true."

Away goes the scary director lady. Then comes Kerry Fox - aka Keats' mother-in-law. 15 years on from Shallow Grave, she's opposite John Simm in Speaking in Tongues. A much nicer person to smile at. So what did she make of the other female figure in the poet's life? "I think she's a beautiful woman. She's forgiving, warm and accepting, and just wants people to do their best."

Did she take inspiration from her own experience as a mother-in-law? "No! I've only got small boys!" Ah, no offence on the age there, Ms Fox. Please continue. "The whole family is so accepting of each other's natures, they're kind and patient - I find nowadays, as a mother, I can get really tired of telling them off, instead of just trusting they're good people."

The PR woman prods her in the back, shepherding her away. No surprises there - she does have a play to perform in later tonight. She's got two films at the festival, too. Which does she do more of, film or theatre? "I hope to keep going between them both. I've got to dash off to work in a minute now myself, so I've brought my flip-flops so I can run back to the stage! It's quite tough on the family doing the theatre, being out every night, I'm very much aware of that. But an actor's career is always a rollercoaster."

And finally, at long last, comes Ben. As frail in real life as he is on-screen, he looks like a lovely man. He probably is. First Hamlet, then Perfume, now Keats. He's cornering the market in tortured youth - would he ever consider doing a comedy? Or does he just get offered these roles?

"I'd love to do a comedy! I'm happy to do anything that comes my way. These are the roles that come. I'm very grateful for whatever comes."

I knew it. He's totally lovely. Why did he take the role? "The thing I feel the most strongly is that he was a very rare human being - and a very great human being. He was a great human being, and they aren't many of them." You're a great human being too, Ben. He continues, not at all disturbed by my inner monologue.

"He was a great artist, and this is what comes across in his letters - they're a remarkable piece of work. He was a man of great senstitivity, but also of great strength. I mean, everyone died on him. And then he died. And he dealt with it with such grace and spirit. Not to mention what he'd achieved by the age of 25."

So was it nerve-wracking playing someone who actually lived? Did he feel a sense of responsiblity?

"Of course, there is a responsibility. But it's a fictional account - it's a poem in itself in a way. It's Jane spinning a tale out of the raw material. You have to be true to it, but there's a kind of poetic license. You mustn't get bogged down in the fear! It felt incredibly joyful - not just playing the character of Keats, but working with Jane too. I adore her."

I smile, trying to control my jealousy of Jane - who the hell does she think she is? I fail. Maybe he likes tall people. Maybe I should become taller. Does he like being here in London? Are there enough tall people for him? "It's great to have a film that I love so much here. It's wonderful that people are coming to see it in my home city. It's wonderful that we're here - it's Keats' hometown too."

It's my hometown as well, Ben. Let me give you my address... Wait, was that too much? I should probably apologise for writing my number on his arm in my mind. But alas, it's too late - the PR woman has returned (my clipboard-carrying competition) and whisked him away indoors. She's shorter than me, though. So it's fine.

To drool over Ben Whishaw to your heart's content, check out more red carpet pictures over here. 
Tags: