| | | |
| --- | --- | --- |
| Press Conference: The Road | | |
Written by Ivan Radford
Friday, 16 October 2009 16:14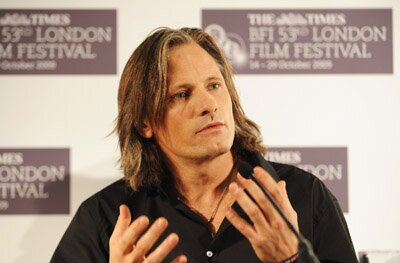 There's nothing quite like a depressing, post-apocalyptic stroll through a wasteland to cheer up your evening. So The Road, director John Hillcoat's adaptation of Cormac McCarthy's bestselling novel, is your perfect pick for a night out. But how on earth can you tackle such material, especially when you're an 11 year old boy, like Viggo Mortensen's co-star Kody Smit-McPhee? Well, John Hillcoat, screenwriter Joe Penhall and Aragorn himself are on hand to fill us in.

John, your last film, The Proposition is completely different to The Road, but it somehow had a similar look to it. What attracted you to the material?
JH: Well, I love the heat and the Sun - I'm an Australian! No, the two films are really quite polar opposites, but they're both set in extreme environments. And one of the things that interests me is the impact an extreme environment has upon people; it's like another character for them to react to.

So was it a demanding, gruelling shoot?
JH: Well, the performers all reacted in a positive sense to it, which really helped. We used harsh locations like Mount St Helens and Oregon for the grey beaches - New Orleans, too, the bits that were recovering from Katrina. As Kody said to me, it's easier to actually be cold than to act cold. I think it's harder for actors to work against a green screen really.

How challenging was it to write the screenplay, adapting such difficult source material?
JP: Well, it was all about the location really. The dialogue and plot weren't relevant, which was a challenge. You have to write every weed down, not just "they walk across an open field". Some descriptions would go on for up to half a page. It was incredibly detailed, but it really paid off.

Were you aware of the success of No Country for Old Men - the film, at least - at the time?
JP: Actually, it hadn't come out yet. We just though it was a good book and that we really wanted to do it.

It's very much about the relationship between father and son; how was that to write?
JP: I liked it. My stuff usually involves one man on his own doing something - it can be quite hard to write lots and lots of characters. So I much prefer this way of writing.

Viggo, you've read the book several times, so were you familiar with the role before you got the part?
VM: I'm a big fan of Cormac McCarthy's work. I had actually read all of his books, except for The Road. Sort of out of stubbornness in a way, you know, when everyone says "oh, you must read this book!" Then I saw Joe's script and thought it was absolutely great. So I ran straight out and bought the book. It was an honour to be offered the part. When a story moves you, and make you realise that the world is worth it, no matter how messed up it is, that you wouldn't trade it for another Eden, even if you could, then it's worth doing. I actually think this is the most faithful adaptation of any book, not just in spirit, but in letter.

What do you like about McCarthy's writing?
VM: I really like his prose description. His dialogue's quite spare, it's all about the unspoken - the emotional reactions of the characters. You're reading it, and there are bits that just stop you dead cold - I think he's a real poet.

The material itself is very sinister. Did you try to protect Kody?
JH: We started out as very protective - we approached it looking at how we could film it without Kody having to see this stuff. Some of the other kids we were looking at were even younger, 7 or 8 instead of 11. But Kody's family, half of them are actors, send this audition tape over that I didn't ask for. It included this scene where the father teaches the son how to kill himself with the gun. It was either a message from him that he was ready to do it, or that he was completely insane... 

Viggo, how did you find working with Kody? 
VM: Well you're only as good as the people you're working with. And Kody was absolutely extraordinary. The landscape was truthful, Kody was amazing - he could be joyful one second, like a child, then do the doubt, sorrow and fear that was necessary.

Joe, trying to be so faithful in adapting the book, was it hard to put your own stamp on it as a writer? 
JP: Well you come across so many screenplays these days that just read like deodorant adverts. For this I tried to use Cormac's own language - as if he had written the screenplay. He had actually written some scripts in the past; No Country started off as one, but never got anywhere so he turned it into a book. My choices were selecting what to leave out, which alters the story subtly. My understanding of the novel is obviously different to other people's (we all bring our own interpretation of a text) so some people may recognise some of my hallmarks. But I wanted the wife to be more sympathetic - in the book, she's just vaguely nuts! It makes the dilemma Viggo's character faces much harder that way. Films are sloppy because there are lots of people involved in them, but here John's direction and Viggo's acting were so precise that it was a faithful adaptation.
See what Viggo wore down the red carpet over here.
Tags:
apocalypse
cormac mccarthy
joe penhall
john hillcoat
kody smit-mcphee
lff
london film festival