| | | |
| --- | --- | --- |
| Spidey's Vulture: Malkovich Can Fly? | | |
Written by Ivan Radford
Thursday, 10 December 2009 13:48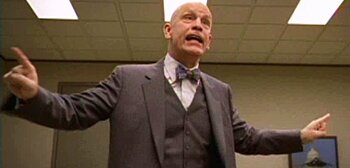 Malkovich, Malkovich? Malkovich Malkovich Malkovich! That's pretty much what goes through most people's heads at least 20% of the time. No wonder, given that this is the man who is 100% awesome. Especially when he's playing a bad guy. So it's great news to hear that, according to Movieline, The Malkovich has been offered the part of the villain in Sam Raimi's next Spidey flick. The bad news being, of course, that Spider-Man 4 exists in the first place.

Who might Malkovich play? Why, none other than The Vulture - aka Adrian Toomes, a robber who dons a hi-tech harness that allows him to FLY. The Vulture will apparently be joined by none other than Anne Hathway, who will be playing... you guessed it, The Vulturess.

The Vulturess? Who are these people?! Well, while The Vulture is a true old-school villain for Spidey, The Vulturess is a brand new one they've made up (cue obligatory fan outrage). The theories going round at the moment suggest that she'll be a tinkered version of Black Cat, whose alter ego Felicia Hardy is confirmed to appear in Spider-Man 4 (following massive Hollywood-wide auditions from all the hot young beautiful laydees).

Will two villains work properly this time? Will Tobey Maguire sort out his face? And will Hathaway donning black leather really appease the fans? I don't really care. I'm not a Spider-Man fanatic to say the least. But anything that makes John Malkovich fly has certainly piqued my interest. Filming on Spidey starts in March, before it slings into our cinemas in May 2011.
Tags:
anne hathaway
black cat
john malkovich
sam raimi
sequel
spiderman
spidey
tobey maguire
villain
vulture
vulturess