| | | |
| --- | --- | --- |
| First Photos of the Dawn Treader | | |
Written by Ivan Radford
Monday, 30 November 2009 14:55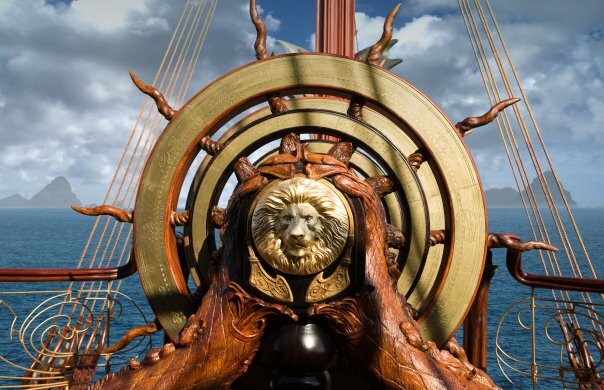 Disney definitely don't need a bigger boat. Just look at the size of that thing. The Dawn Treader, titular transport from the next Narnia film, has been unveiled in all its gilded glory for fans to drool over.

Posting pictures up on The Voyage of the Dawn Treader's new production blog, this is the first look at the boat that Georgie Henley's Lucy sets sail on next December. Until then, we get regular candid updates on Facebook, the first of which tells us all about the design of that ship.

But production designer Barry Robison isn't taking all the credit - look carefully at the mast and you can see the 200 odd names inscribed in the wood. Those are all the people who worked on building it. I don't mean look at the photo carefully - you can't see them there. But in real life you can. Apparently. And Facebook wouldn't lie to us. Neither would Barry. He seems lovely.
Tags:
barry robison
ben barnes
blog
boat
cs lewis
dawn treader
facebook
georgie henley
image
lucy
narnia
picture