| | | |
| --- | --- | --- |
| Fan Frenzy at New Moon Premiere | | |
Written by Ivan Radford
Thursday, 12 November 2009 15:13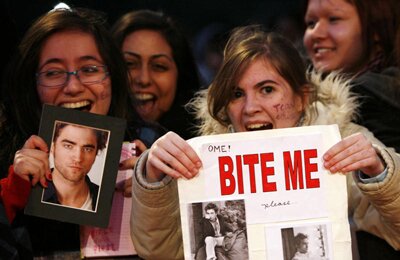 London was painted red last night. Red with the blood of fans desperate to catch Robert Pattinson's eye and hopefully set his saliva glands tingling. Gathering at Battersea Evolution for the "UK Fan Event" of New Moon (the nearest it's getting to a premiere), hordes of obsessed teenagers were waiting to scream down the eardrums of stars Robert Pattinson, Taylor Lautner and Kristen Stewart, not to mention director Chris Weitz (whose sex appeal holds less sway with the youngsters).

Standing there with gruff stubble and crooked half-smile, Robert was all vampiric for the crowds, occasionally baring his fangs with a loud smile as he was mobbed for autographs, photos (and much more). Taylor got the same treatment - goodness knows why when neither are that hot (check out this candid shot of Lautner's face). Still, at least they had better dress sense than Kristen Stewart...

Feel your Stephenie Meyer senses tingling? Then read on for a sprinkling of photos from the chaotic Twilight first night showing. And go easy on the self-sacrifice: Robert can't see you from there.
All photos Credit: John D McHugh.
Tags:
bella swan
chris weitz
edward cullen
jacob black
kristen stewart
new moon
photos
premiere
stephenie meyer
taylor lautner
twilight