| | | |
| --- | --- | --- |
| Dick Departs from Disney | | |
Written by Ivan Radford
Monday, 21 September 2009 10:51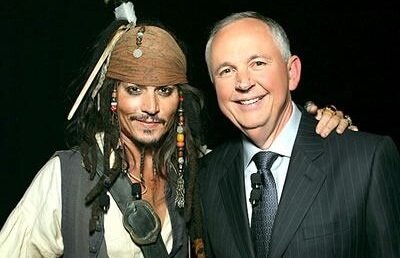 After seven years at the top, Disney's head, Dick Cook, left the company last Friday. Following the studio's recent Marvel announcement, the departure of Dick is a surprising move.

"I have been contemplating this for some time now and feel it's the right time for me to move on to new adventures," said Cook. "I have loved every minute of my 38 years that I have worked at Disney from the beginning as a ride operator on Disneyland's steam train and monorail to my position as chairman... But most of all, I love the people, my colleagues, my teammates, who are the most talented, dedicated and loyal folks in the world. I know that I leave the studio in their exceptional hands."

Whether self-inflicted or not, Disney CEO Robert Iger (who criticised the company earlier this year for a large loss of income) thanked Cook "for his tremendous passion for Disney, and his many accomplishments." He added: "Dick Cook's outstanding creative instincts and incomparable showmanship have truly enriched this company and significantly impacted Disney's great legacy."

As Disney desperately look around for a new head (hello, John Lasseter), Cook quitting may have a knock-on for one of their major franchises. Pirates of the Caribbean: On Stranger Tides, the title of which was revealed recently at Disney's D23 Exposition, looked on firm ground as Cook and Depp stood together and talked of Captain Jack's search for the Fountain of Youth. But in response to the LA Times' article, Depp commented: "There's a fissure, a crack in my enthusiasm at the moment… It was all born in that office.

With Dick protecting Depp from the Disney men who doubted his off-the-wall ideas for Cap'n Jack, Johnny's commitment to the series went hand in hand with their relationship. Now, the Pirates sequel is looking a little lost at sea. No doubt Disney will want someone to bring it back on course sharpish. Expect a new appointment shortly.