| | | |
| --- | --- | --- |
| Jedi George Stares at Goats - Trailer Online | | |
Written by Ivan Radford
Friday, 28 August 2009 16:58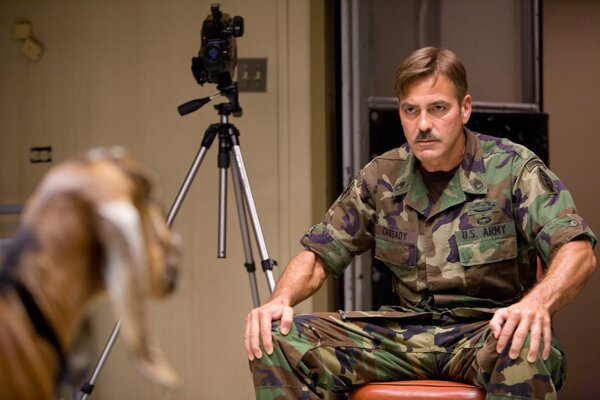 Stop what you're doing and look at this: the movie adaptation of Jon Ronson's insane (but true) tale of US Military madness, The Men who Stare at Goats. How does the US army employ psychological techniques in the War on Terror? In his book, supported by a Channel 4 series (Crazy Rulers of the World), Ronson revealed that decades of US military paranormal experiments have led to the tactic of playing the theme tune for Barney the Dinosaur to PoWs to get them talking.

Ewan McGregor plays journalist Ronson, renamed Bob Wilton (and given an American accent), who heads into the unknown to do his research. Behind Pentagon doors, he meets Bill Django (Jeff Bridges), head of the Psychic Soldier programme, which aims to create "warrior monks who can pass through walls and see into the future", and Larry Hooper (Kevin Spacey), a former student who now runs a detention centre in Iraq.

He also tags along with Lyn Cassidy (George Clooney), a re-activated psychic soldier spy, or "Jedi warrior". Don't believe his powers? Watch him stare at that goat... January has never seemed so far away.

Check out the trailer over at Apple, or read on for more.